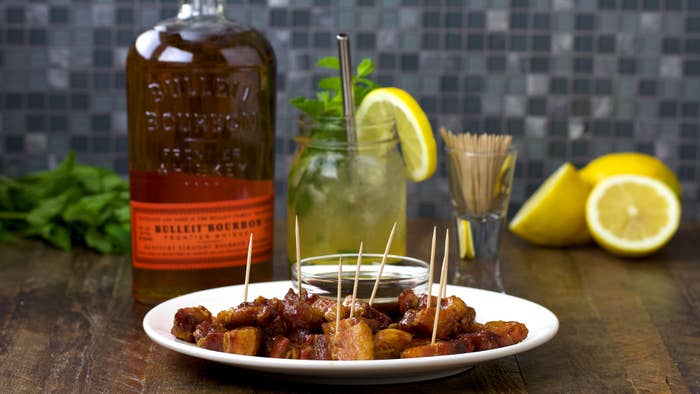 Ingredients
Bourbon-Glazed Pork Belly Bites
2 pounds pork belly, slab
1 & 1⁄4 tablespoons kosher salt
1⁄2 cup light brown sugar
1⁄4 cup Bulleit Bourbon
1⁄2 teaspoon smoked paprika
1 tablespoon Dijon mustard
2 tablespoons sriracha
1⁄4 teaspoon garlic powder
1 tablespoon Worcestershire sauce
Bourbon Lemonade Smash
5 sprigs of fresh mint
3 lemon slices
2 ounces simple syrup
1.5 ounces Bulleit Bourbon
2 ounces water
1–1 & 1⁄2 cups crushed ice
Preparation
Bourbon-Glazed Pork Belly Bites
1. Preheat the oven to 400oF.
2. Line a large rimmed sheet tray with parchment paper.
3. Cut the pork belly into 1⁄2 -inch slices. Cut the sliced pork belly into 2-inch pieces. Season both sides with 1 tablespoon of kosher salt.
4. Place the pork belly on the parchment paper–covered sheet tray and place in the hot oven for 15 minutes. Remove from the oven and using tongs, flip each piece, place back in the oven, and bake for another 10 minutes.
5. To make the glaze, add the remaining kosher salt (3⁄4 teaspoon), light brown sugar, Bulleit Bourbon, smoked paprika, Dijon mustard, sriracha, garlic powder, and Worcestershire sauce to a small saucepan over medium heat. Stir to combine using a rubber spatula, cook over medium heat for 10 minutes. Stir frequently and scrape the bottom and sides of the pan so the spices do not burn. Remove from heat and set aside.
6. Remove the pork belly from the oven and using tongs, transfer them immediately into the bourbon glaze. Mix to coat the bites with a rubber spatula.
7. Remove the bourbon-glazed pork belly bites from the saucepan, using tongs to transfer to a plate. Pour the remaining bourbon glaze in a small bowl to use as additional dipping sauce.
8. Serve with toothpicks and enjoy!
Bourbon Lemonade Smash
1. In a mason jar, place 3 springs of mint, 2 lemon wheels, and 2 ounces simple syrup. Muddle for 15 seconds.
2. Top muddled mint and lemon with Bulleit Bourbon and water.
3. Add the ice and stir to combine.
4. Garnish with remaining lemon wheel and 2 sprigs of mint.