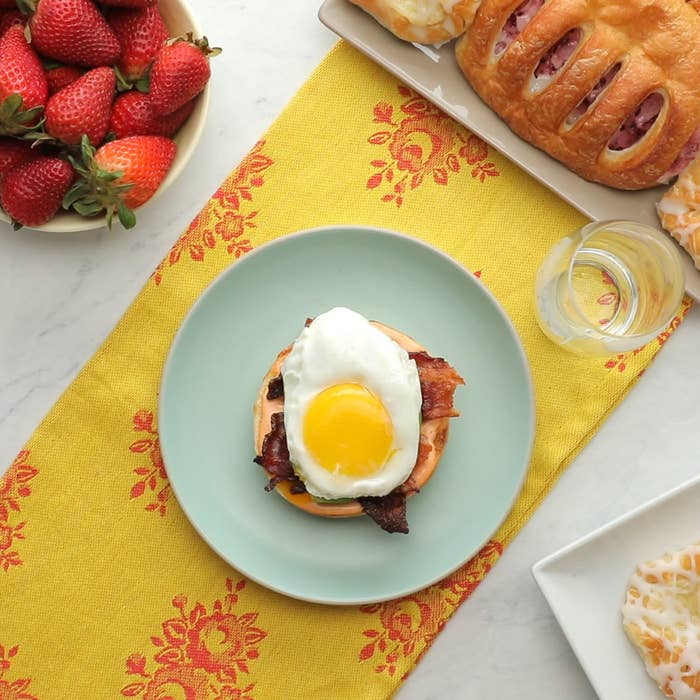 Servings: 4

INGREDIENTS:
1 cup maple syrup
½ cup brown sugar
2 teaspoons cayenne
8 bacon slices
½ cup mayonnaise
1–2 tablespoons hot sauce
4 kaiser rolls, sliced in half and toasted
1 avocado, thinly sliced
4 fried eggs
PREPARATION:
1. Preheat oven to 350ºF.
2. In a small bowl, whisk together maple syrup, brown sugar, and cayenne.
3. Place a cooling rack on top of a sheet tray. Lay the bacon out on the rack in a single layer. Brush each piece of bacon with the spiced syrup. Flip bacon pieces and brush the other side.
4. Cook bacon in the oven for 20–22 minutes, until bacon is cooked and the sugars have caramelized. (If bacon is browning too quickly, turn down the heat a little.) Remove from oven and transfer bacon to a parchment-lined tray to cool and crisp.
5. In a small bowl, whisk together mayonnaise and 1 tablespoon of hot sauce until smooth. Taste and add more hot sauce if you'd like it to be spicier.
6. Build the breakfast sandwiches. Spread the spicy mayonnaise on the bottom of a bun. Crack a piece of bacon in half and lay the two halves side by side on the patty. Crack a second piece of bacon in half and lay the pieces perpendicular atop the first pieces. Add a few slices of avocado. Top with a fried egg and the top bun. Repeat with the other rolls. Serve immediately!