Spiked Ginger Mint Lemonade
Buchanan's brings flavor to a whole new level with this bright and refreshing tasting ginger mint lemonade -- the perfect way to kick off Spring this year!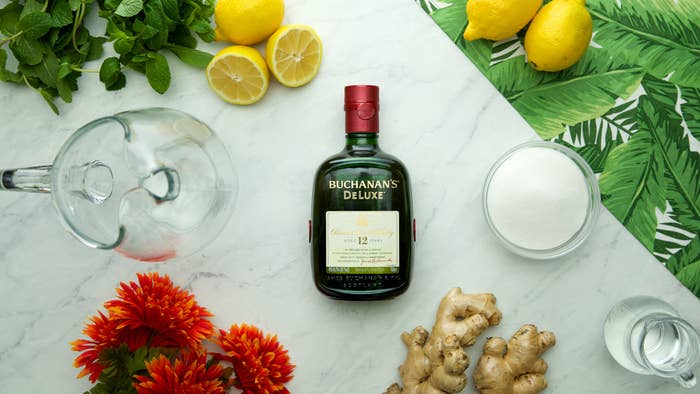 Ingredients
Simple Syrup
1 cup sugar
1 cup water
1⁄2 cup roughly chopped ginger
4 full mint stalks
Lemonade
Simple syrup
1 & 1⁄3 cups lemon juice
5 cups cold water
1 cup Buchanan's Deluxe Blended Scotch Whisky
Lemon slices, for garnish
Ginger slices, for garnish
Mint sprigs, for garnish
Ginger, cut into thin matchsticks, for garnish
Preparation
1. Simple syrup: Combine sugar, water, ginger, and mint in a pot over medium heat. Bring to a simmer, stirring to dissolve the sugar. Let simmer for 10 minutes. Cool, then strain.
2. Lemonade: Combine cooled simple syrup, lemon juice, and cold water in a pitcher. Stir. Pour in Buchanan's Deluxe Blended Scotch Whisky and stir.
3. Float a few lemon and ginger slices in the pitcher and add a few sprigs of mint.
4. To serve: Pour lemonade over ice in each glass. Add a lemon slice, a mint sprig, and 2 ginger matchsticks.