Everybody needs somebody . We all want some sort of friendship and a place where you have a sense of belonging. That is what Harlem Public represents in a bar version of those aspects. It's a bar where everybody can potentially know your name on a regular basis. If they don't know it then they will surely want to know it sooner than later.
I found myself walking into Harlem Public on a seasonably brisk autumn Sunday afternoon in late November. It is located on 149th and Broadway. I honestly received some sort of magnetic energy as soon as I stepped in their entrance way. In 2011 Harlem Public was originally created for neighborhood residents to have a place to call their go to bar without having to spend a considerably large amount of their hard earned dough on food & drinks. There was a scarcity of West Harlem bars in general back then.
Harlem Public possesses a charming, vibrant, communal spirit to it. It's has a tight-knit feel to it with a touch of Irish pub flavor but not too extreme where it's overwhelming. It's the type of bar where you would meet your next potential friend at or soulmate . Or both if you are optimistic enough.
Harlem Public's interior has a rustic but tastefully put together decor. The surrounding area inside H.P showcases vintage sepia toned photographs on the walls with a unique sign plastered behind the bar that says "Harlem Public" made of blueish subway tiles. The bar's space overall is fairly small to be community based and it was basically jam packed the whole entire time I spent there. However the liveliness of the patrons, the flow of constant scintillating drinks, and the alluring smells of their dishes makes you feel right at home at Harlem Public.
When I managed to find a seat at the bar, the bartender Nicole right away gave me extremely cheerful greetings & salutations while asking my name and explaining to me their popular Sunday Brunch menu ( 11am to 4pm)
I actually think to maybe unpopular opinion, that Harlem Public having a particularly random brunch menu that is strictly served on Sunday is quite clever. It leaves the customers excited to dine in for brunch on Sundays for the versatile selection they offer. The eclectic but limited menu ranges from Acai Bowls, Egged Out Potato Skins, Chicken & Waffles, Peach Bourbon Iced Tea, and their stand alone Bloody Mary with a vegetable kabob. The Bloody Mary actually comes in a 32 oz size too if you feel the need to indulge like a 300 pound Sumo wrestler who needs a drink after a hard fought match.
The owner of Harlem Public, Lauren Lynch was gracious enough to have a chat with me. She is a very sweet, selfless and gregarious woman. Lauren embraced me right away and asked how my Thanksgiving turned out. She explained to me how she opened up the Harlem Public on Thanksgiving day, cooked the food herself, and invited anyone who was working at the bar that day to come by and feast with her and her family. What a gesture!
Lauren recommended a Brunch cocktail favorite of theirs called Brunch Adalyn which is made with some good ole gin, cucumber, ginger, lemon, blue agave syrup, and rosemary. This drink will knock your wool socks off! It's very festive and has the right amount of gin along with a feeling that you are getting your proper nutrients as well as getting nicely boozed up. The Brunch Adalyn is served in a antique style glass jug and it is priced at 8.50 which is a steal if you asked me. During their ordinary hours beside Brunch time you can get one of kind cocktails like a Pop Rock Margarita or a Twizzler Vodka Lemonade. Who says candy can't be turnt up??
I chowed down on their Eggs Deb (eggs Benedict ) and some Sausage Gravy Tots. The avocado and bacon on the Eggs Deb made a ridiculously tasty combo. If you participate in the vegan/vegetarian lifestyle you can sub out the bacon and add Spinach for the Eggs Deb. The Sausage Gravy Tots were savory and full-flavored. Kudos to the chef at Harlem Public for a job well done.
Lauren shared with me that her and her partners own two other sister bars in the close vicinity of Harlem Public. The one is called The Honeywell ( a 70's themed cocktail bar) and the other one is At The Wallace (a more relaxed bar setting but has even cheaper drinks, a jukebox, board games & giant Jenga). Just know that Harlem Public is a community staple in West Harlem and the owners/bar staff really care about who comes in and out because they want you to come back. Even if you don't live in the area it still can be your neighborhood bar. According to Lauren she has seen certain folks meet for the first time in H.P and now they are married with kids a few years later.
Everyone at Harlem Public whether staff or patron all have genuine love for one another because of the sociable atmosphere and kind-hearted energy Harlem Public brings out of one another. You can literally pull up a chair next to anyone who comes in and start a conversation. Next thing you know you both are drinking one of their 17 beers on tap (a good number of them are locally sourced) and talking about an array of topics from gentrification, to what is your favorite Netflix show at the moment.
All I know is Harlem Public makes you feel at home. It presents a sense of belonging to you. It's a family oriented bar that is now a cornerstone bar in the West Harlem neighborhood called Hamilton Heights. So you should go to Harlem Public to experience what I did on that glorious Sunday afternoon. I felt apart of a community that actually cares about the people. I felt...dare I say "loved". Real Love too, just like that Mary J Blige song. Thank you Harlem Public, you the real MVP.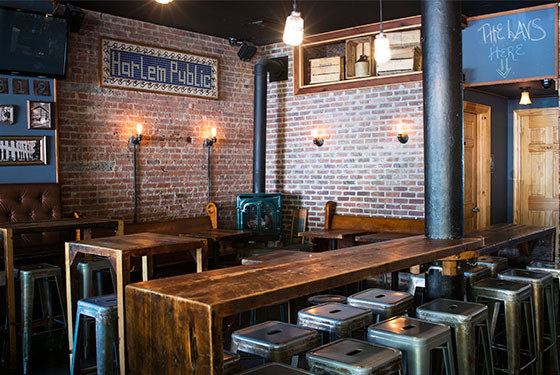 This post was created by a member of BuzzFeed Community, where anyone can post awesome lists and creations.
Learn more
or
post your buzz!