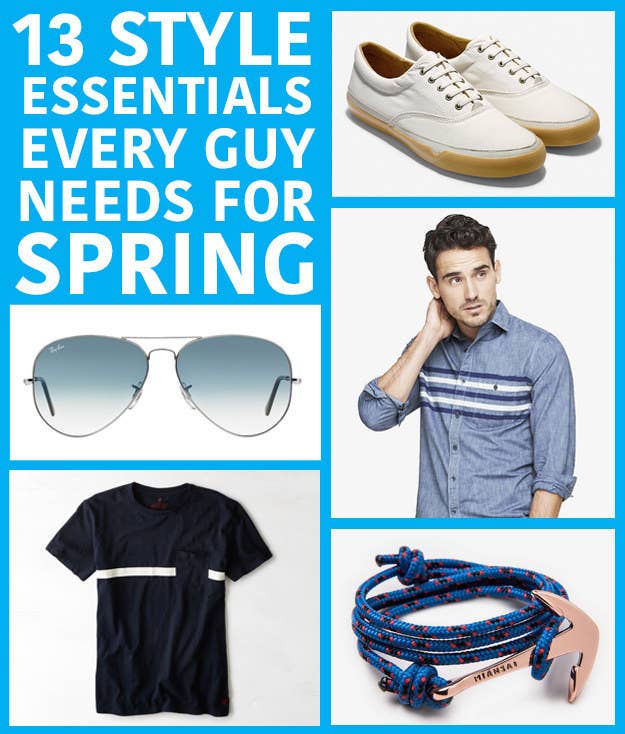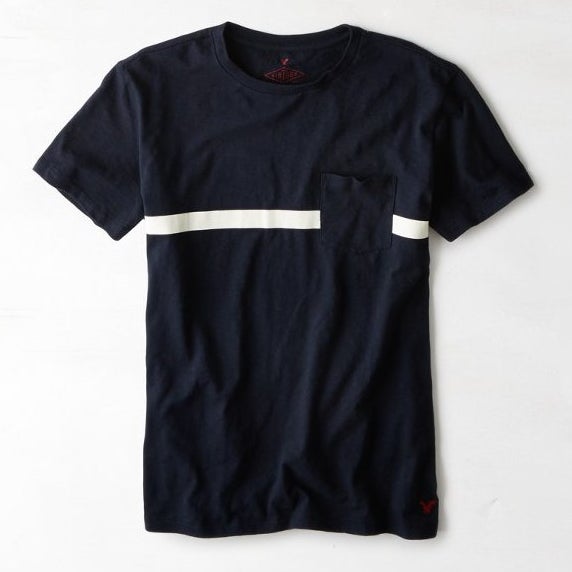 The Hanes you buy in a multipack at Target are great as undershirts, but probably shouldn't be worn on their own. Instead, try on a patterned pocket tee — they're the grown-up version of those graphic tees we all pretend we didn't wear. They look great on their own, or layered under a jacket or button-down.
Pictured:
American Eagle Vintage Striped Pocket T-Shirt in Deep Deep Navy, $19.95
Gap Essential Colorblock T-Shirt in Vintage Navy, $19.95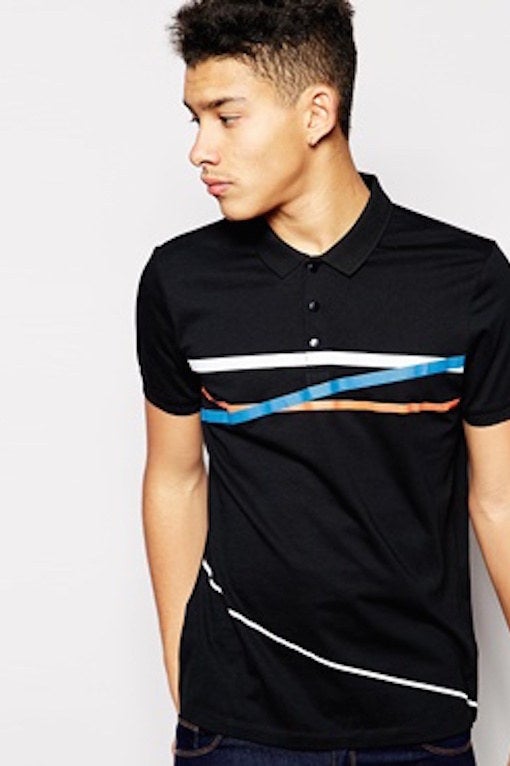 If the only polo shirts you own have a pony on them, it's time to update your closet. Move beyond the pastel-hued classics and seek out shirts with a graphic emphasis. Colorblocking, stripes, and abstract patterns add an instant drop of cool to this old spring standby. Opt for tailored fits that taper toward your waist — there's nothing worse than feeling like you're wearing a tent.
Pictured:
ASOS Polo With Chest Stripe in Black, $33.02
Original Penguin Colorblock Polo in Vivid Blue, $69
3.
Lightweight Crewneck Sweaters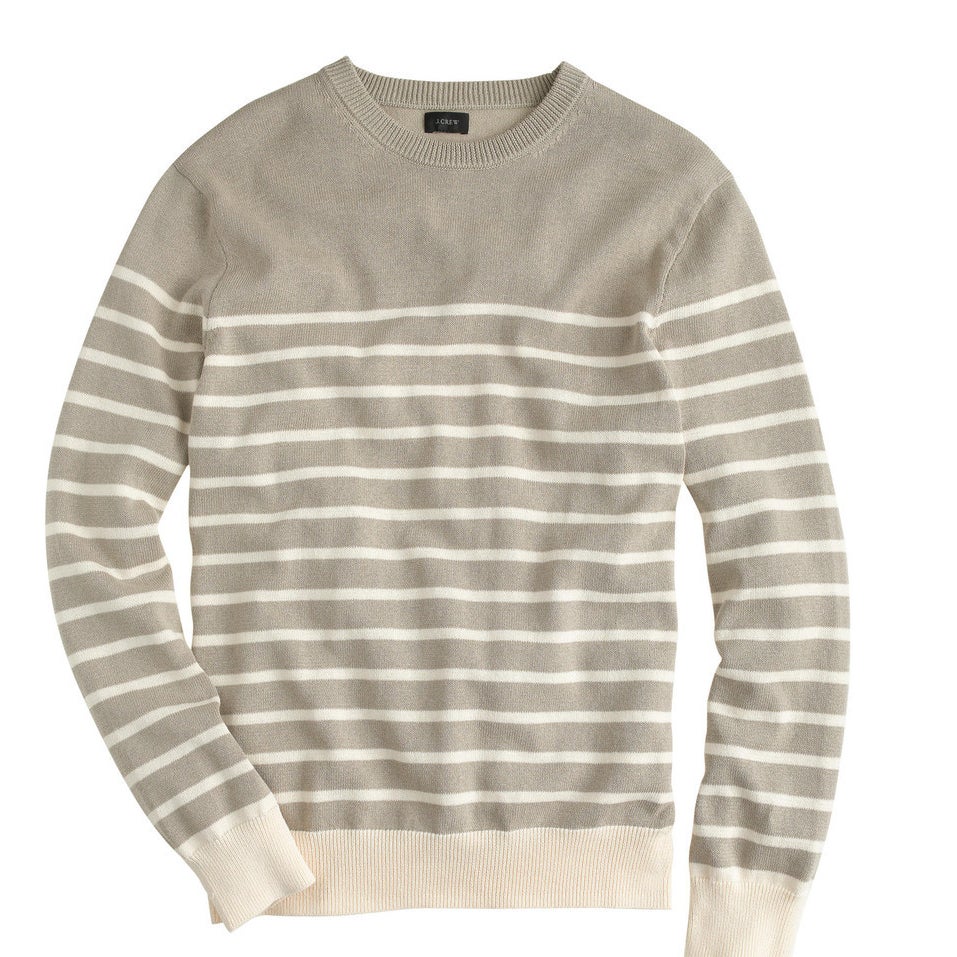 Just because winter's over doesn't mean it's all short sleeves all the time. Lightweight sweaters are great transition pieces for those days when there's a little extra chill in the air, but not enough that you need a jacket. Look for ones that are 100% cotton; they'll breathe more, just in case the temperature ticks up on you. Don't be afraid to play around with color and pattern — it is spring, after all.
Pictured:
J. Crew Striped Cotton Sweater in Pumice, $69.50
H&M Fine-Knit Sweater in Green, $24.95
Denim's linen cousin, chambray, is a good in-between weight for spring: It's not as heavy as denim, but not as light as a basic cotton. Like an Oxford, a chambray shirt can be dressed up or down, and the color options are endless — you can go light, dark, patterned, dip-dyed, ombre, whatever your heart desires. Added bonus: Chambray shirts transition from season to season seamlessly.
Pictured:
Express Striped Chambray Shirt, $59.90
Joe Fresh Slim-Fit Chambray Shirt in Blue, $49.00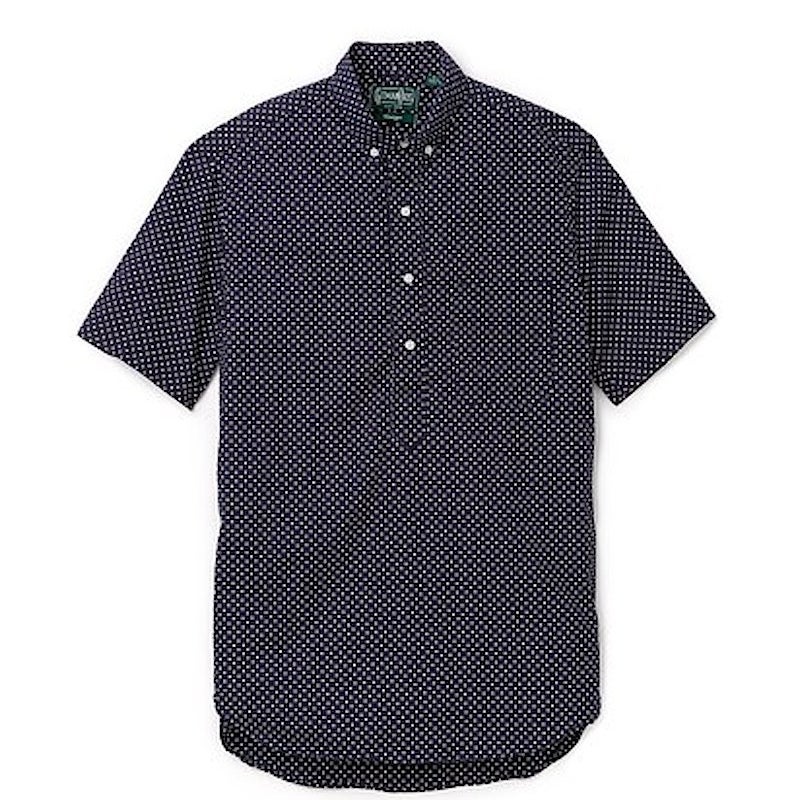 If a button-down and a polo shirt had a baby, it would be the popover. It's basically a short-sleeved button-down that buttons only halfway, so you have to pop it over your head to put it on. The style was popular in the 1960s and is making a comeback this season in both solids and patterns. Like the T-shirt, you can wear it on its own or layer it under your favorite sweater.
Pictured:
East Dane Gitman Vintage White Dot Popover, $180
J. Crew Short-Sleeve Popover Shirt in Vintage Oxford Cloth, $64.50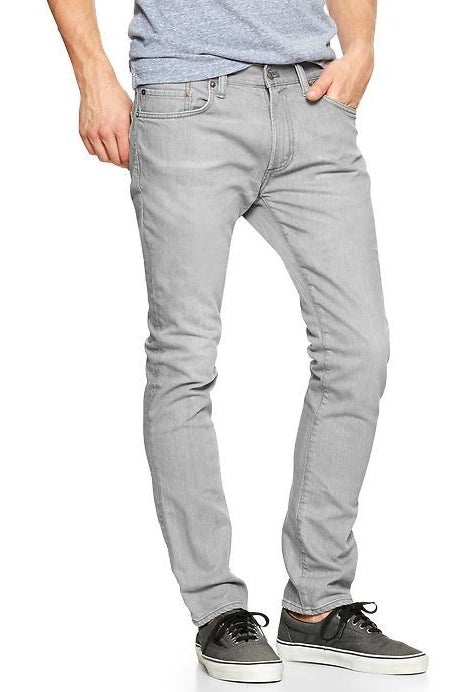 After years in the shadow of dark-washed denim, light washes are having a moment. Swap your raw denim jeans for a slightly whitewashed or gray pair, but make sure to stick to slimmer styles. Skinny and straight-legged cuts will keep you looking modern while you rock the vintage washes. Avoid extreme whiskering around your crotch and excessive distressing on your thighs, though; they'll only make your legs look wide.
Pictured:
Gap 1969 Skinny Jeans in Tallahassee Wash, $69.95
Levi's 514 Straight Fit Jeans in Blue Stone, $43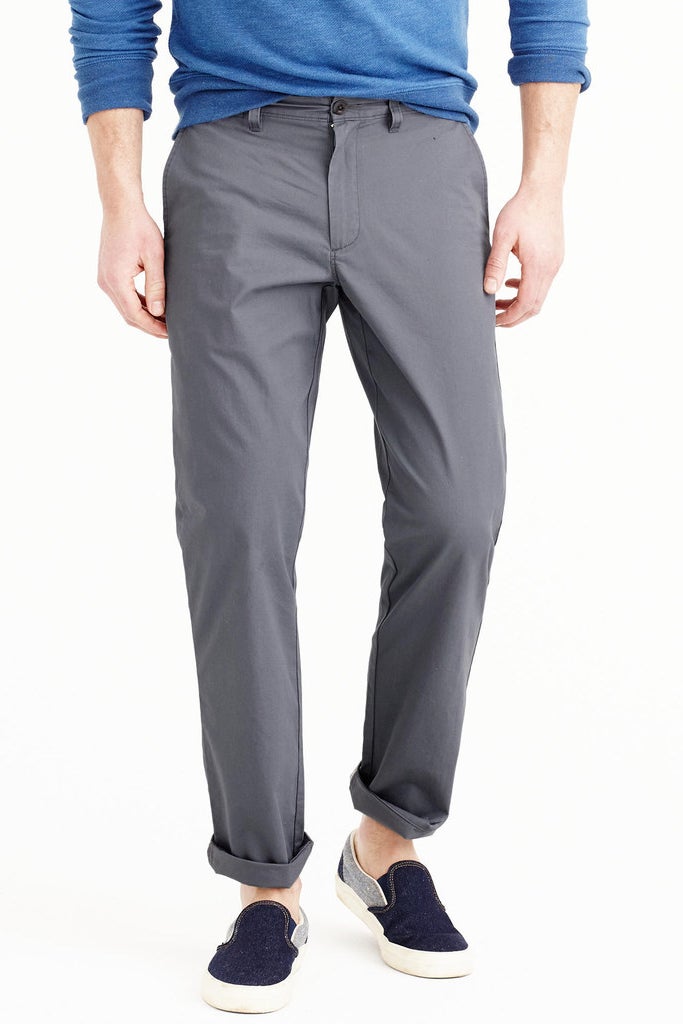 When you don't feel like jeans, try chinos; the lighter fabric will keep you cooler than denim. Just make sure the pair you pick is unlined, otherwise your legs might feel like they're suffocating as the temperature rises outside. Go for classic khaki, or experiment with color. Chinos are easy to dress up, but even easier to dress down — roll up the cuffs a little, toss on a T-shirt, and you're good to go.
Pictured:
J. Crew Lightweight Chino in Urban Slim Fit (Lancaster Grey), $75
Bonobos Straight Leg Washed Cotton Twill Chinos in True Khaki, $88
If you're still sporting cargos, it's really time to step up your shorts game. Tailored cuts that hit above the knee should be your go-to for spring — you'll instantly look more pulled together. You can go for classic solids, or test out patterned pairs made out of traditionally dress-pant fabric.
Pictured:
Original Penguin Tailored Stitchless Short in Dress Blues, $79
RVCA "Marrow III" Slub Twill Shorts in Steel Heather, $58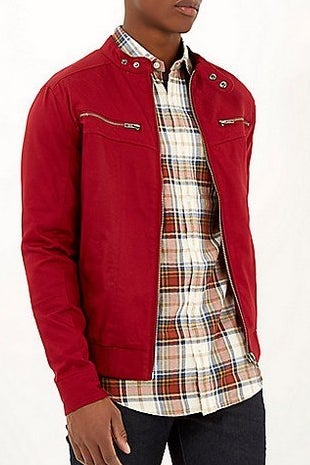 Spring can be a tricky season in terms of temperature — you walk out the door in the morning and it's cold, but by the time lunch rolls around it's 70 and sunny. Enter the bomber jacket. Heavier than a windbreaker, but lighter than a coat, the bomber can help you tackle the transitioning temperatures. Plus, it's a look anyone can pull off. Pretty much everyone is making them — from designers to discount stores — and everyone is wearing them (including Kanye West). Make a statement in a bold color, or grab a neutral shade that'll go with everything.
Pictured:
River Island Red Casual Bomber Jacket, $96
Forever 21 Colorblock Bomber Jacket in Grey/Black, $32.90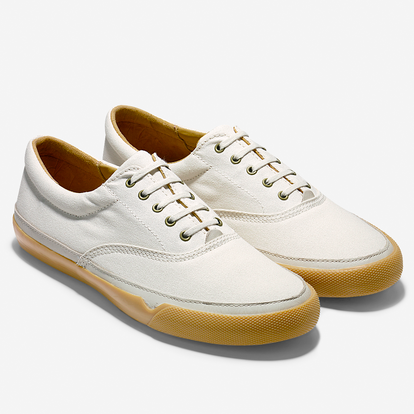 Save the boat shoes for summer and slip on a pair of sleek sneaks this spring. Monochromatic sneakers are super versatile; they can work for the office and a night out, and they'll hold up if you get drenched during a surprise spring shower. The simpler the design, the better. Stick to neutral shades like white, black, and gray so you can get the most wear out of your kicks.
Pictured:
Cole Haan Vaughn Low Sneaker in Ivory, $79.95
ALDO Salhtun Sneakers in Dark Grey, $75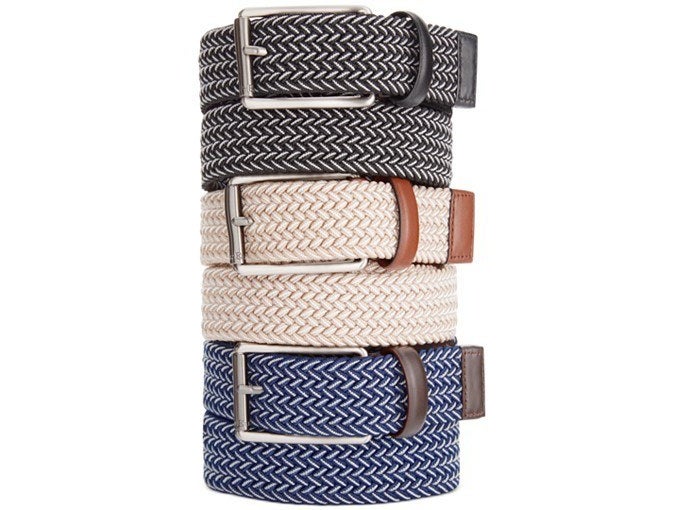 Embrace your inner prep with a woven belt. You can go old-school with leather, or pick up a bunch of colorful cloth designs to mix and match with what you're wearing. Buy a size up so that when you belt it, the tail hangs down some — it'll make your look seem effortless and not overly polished.
Pictured:
Perry Ellis Tubular Elastic Strap With Full-Grain Leather Tab Belt, $39.50
Banana Republic Braided Leather Belt in Dark Brown, $49.50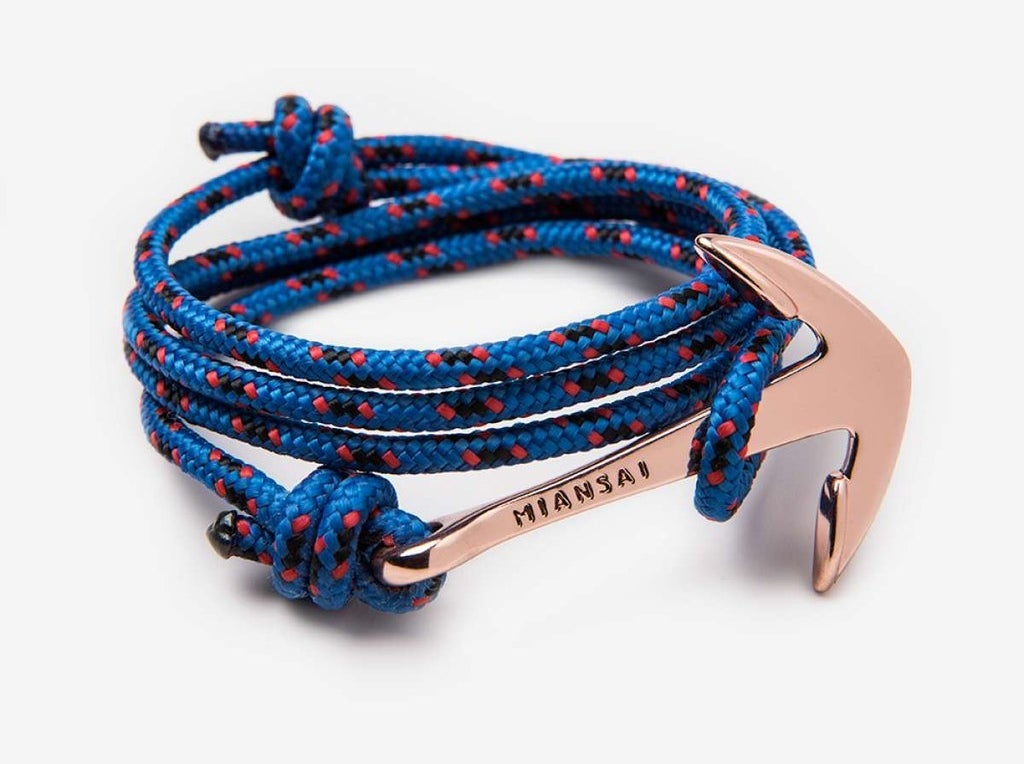 It's spring, so you'll be showing more skin, right? Well, most likely, more forearm...so don't neglect it. If you're a risk taker, you can try a rope or leather bracelet. Grab one that goes with everything, or really go for it and layer a couple — either way, it'll be a great conversation starter. If bracelets aren't your thing, test out a new watch. Metal bands can come off as overly formal when you're wearing just a tee and jeans, but a canvas-banded timepiece is great for everyday wear. Plus, you can easily swap out the strap.
Pictured:
Miansai Rose Plated Anchor Rope Bracelet in Blue Rope, $80
Timex Weekender Watch in Slate/Burgundy, $34.99
13.
Aviators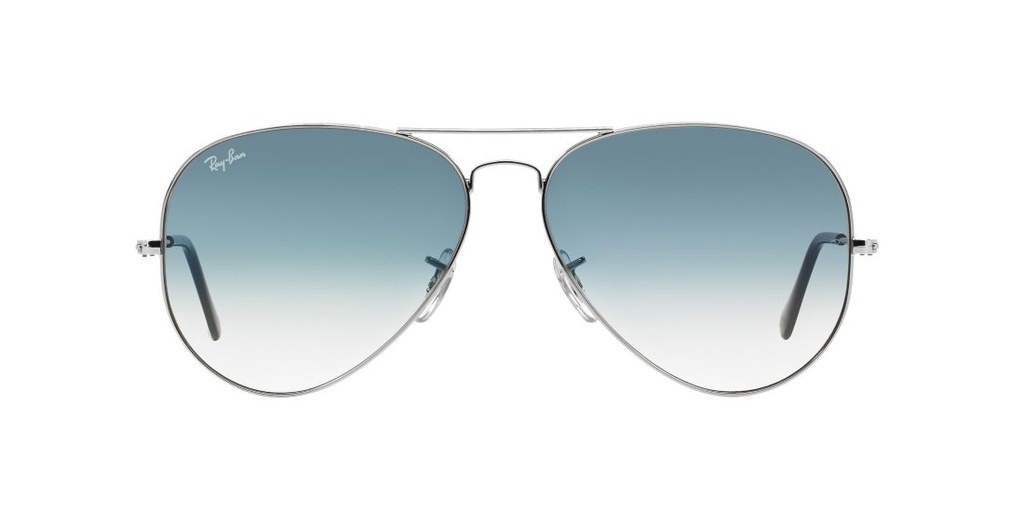 Now go forth and be a hot spring dude.