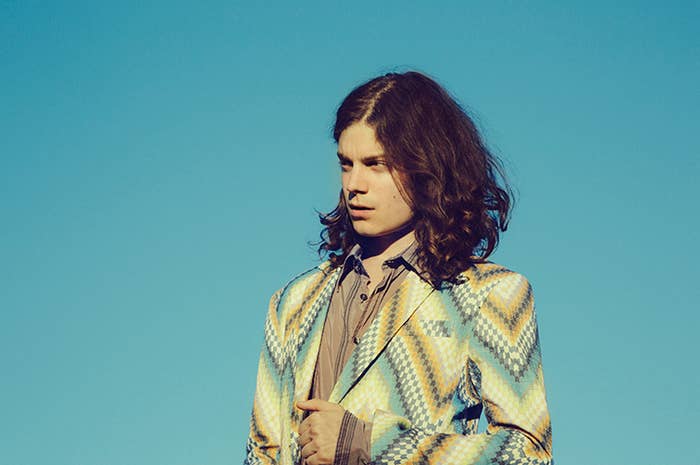 We're in the lobby of the Driskill Hotel on famed party drag 6th Street in Austin, Texas, and there are what appear to be the beginnings of a riot going on right outside. Hundreds of young kids are sprinting as fast as they can up the street. Through it all, Garrett Borns, aka BØRNS, remains unmoved, omitting a zen, peaceful bliss, a next-level calm. He pauses for a moment, perhaps because he can see that I have become distracted. One of his label reps walks outside to get a better look, comes back in, and says, "I think Kanye is walking down the street or something."
It turns out it's not Kanye, but instead just another bit of the swirling chaos that is SXSW, which is a giant party thousands of people flock to and spend big money on to walk around worried they're missing the Next Big Thing. There's also music.
"Where were we?" I ask as things quiet back down.
Unblinking and unfazed, BØRNS looks back. "I was just talking about the tree house I was living in."
Yes, the tree house. By now, if you've heard anything by or about BØRNS it's 1) his incredibly catchy songs "10,000 Emerald Pools" and "Electric Love," which will work their way into your head and never escape after only one listen, 2) Taylor Swift's Instagram rightly calling the latter an "instant classic" (more on this in a bit), 3) his name turning up in Taylor Swift's hacked phone (the two traded whale puns via Twitter DM), and 4) the tree house. He lived in a tree house in Los Angeles.
And the tree house is significant. Just a few years prior to living in it he was bouncing around New York City, having moved there from his home state of Michigan because he wanted something to "knock me off-kilter" and push him outside of his comfort zone. New York, as it does, delivered on that front, and BØRNS found himself staying with friends and acquaintances in Harlem, Bushwick, Boerum Hill — if you had a couch, he didn't discriminate. He was 21 and writing songs, but nothing that moved him. And so at the end of a big breakup and the beginning of a broken heart, he headed out West to get away.
He found the tree house on Airbnb, planning at first to stay a month, but ended up there for good after finding it opened him up and helped the music flow.
"It was definitely something I could have never planned," he says of the way it all worked out. "I booked a ticket to L.A. I just needed a change of scenery. I wanted to see what it would do for my writing. I was still trying to discover what my sound was and I was really enjoying making music in New York City, but I didn't find the sound that really resonated with me, and I really wanted to find that sound that would make people stop and listen."
In L.A., "the songs were coming out of me rather than me forcing myself to write them," he says. His "super broken heart" at the time helped too, as did the fact that he, upon arriving in L.A., knew no one, and therefore had no distractions. "Oh shit, I was so lost," he says. "So alone. Then I found this tree house in such a tranquil environment, up in the trees, all these fruit trees everywhere, in this canyon where Yogi Nanda — one of the original Yogis to come over and teach about the lifestyle — he went and made this self-realization fellowship in the same canyon there in the '20s.
"Something about that was just very zen, very tranquil, and I was meditating more, and because I was up in solitude I had to sit with my own thoughts and hear them resonate in my head and I had to deal with them, which is something I never had to do before," he says. "So it wasn't until I moved to Los Angeles and found this very unique living situation that I started writing the truest music I've ever written. It was a lot of purging ideas and feelings through music. It's sonically different than anything I've ever done before and very influenced by the California vibe, landscape, and everything."
The tree house helped in another way too. His landlords, "exuberant, loving people who collect art," lived on the property in the main house, and had three children who helped BØRNS get back to basics. "I was jamming with the kids," he said. "They brought out an inner-child creative nature in me."
The results of all that tranquility and solitude and reconnecting with the inner child resulted in an EP, Candy, released in November of last year. It is, as BØRNS intended, a ray of sunshine — a breezy, feel-good jolt of good vibes. Candy has won over critics and made people take notice, and it's part of the reason there was a line around the block for his midnight KCRW/ SXSW showcase appearance at The Parish on Wednesday night (photos above). Of course, Taylor Swift's Insta shout-out didn't hurt in upping his profile either.
"Tay Sway?" BØRNS says casually after I mention the famous pic that called his "Electric Love" an "instant classic." "That was huge. Someone that has that magnitude of a fan base, her fans are so loyal — she has so much power with just a click. It's definitely given me a nice boost, and helped the EP. It's funny, everyone who goes to YouTube to listen to that song leaves a comment under it that says, 'Taylor Swift sent me here' or just 'Taylor sent me.'"
Taylor may have sent them, but it's BØRNS' songs that are making them stay.