Australian TV news channel 7News Queensland gave the world a thing of beauty yesterday.
Between all the politics and fake news and alt-right trolling, the team at 7News came together to produce perhaps the greatest 35-second news story of the year.

And it's all about muesli bars.
Here's the report, in all of its glory. Please sit down, take a breath in and then take a breath out. Then, press play.
Incredible, isn't it? Everything from the lead in, which begins "well how many of us really take notice of used by dates when it comes to snacks?" to the troubled narration of mother Lisa Sargent: "I went like this ... I looked down and suddenly, I saw, the outline... of a muesli bar."
ALSO, TO TOP IT ALL OFF, THE HUSBAND ATE IT. WHICH IS MARVELLOUS,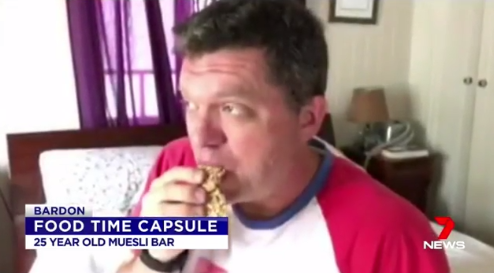 People were, understandably, impressed.
However, some NEGATIVE NANCYS did decide to critique the newsworthy-ness of the old muesli bar story.
On Facebook, the video has over 250,000 views. And deservedly so. 2016: not all bad.