Here it is: the prime minister of Australia, Malcolm Turnbull, in the middle of a Facebook Live on proposed changes to section 18C of the Racial Discrimination Act. Angry emoji reactions flood the screen. An iconic image to represent an apparent growing disillusionment in the Turnbull government. If it were real.
The screenshot of Turnbull is actually a crude photoshop, based on a similar image of US president Donald Trump's press secretary Sean Spicer, which is also 'shopped.
Here are the two images layered on top of each other.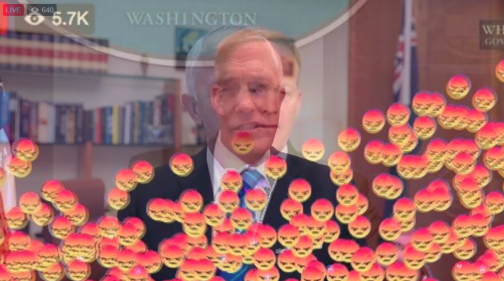 The fact the image of Turnbull drowning in a sea of anger was fake didn't stop it going viral yesterday. Hundreds of people retweeted the image.
Creator of the image @Jarred1337 told BuzzFeed News: "Some blue ticks [people verified on Twitter] got greedy for retweets without realising it was a very bad photoshop".
"I think it resonated with how a lot of people feel though. Hopefully some found it funny."
Looks like there are no comments yet.
Be the first to comment!