Outrage and criticism brewed overnight as South Australians and experts responded to the news that the state's new Liberal government would be ramping up its war on drugs — starting with cannabis.
South Australian attorney-general Vickie Chapman announced on Monday plans to quadruple fines for cannabis possession and introduce prison sentences.

Currently cannabis is decriminalised in South Australia – it became the first state to do so in 1987 – and most people caught with small amounts of the drug face a fine of $125 to $500.
But Chapman's new legislation could see that fine reach $2,000, as well as a prison sentence of up to two years.
"It is a serious drug," she told ABC radio, saying the new penalties bring the state into line with the rest of the country. "It needs to be dealt with as a controlled substance."
A coronial inquest into the 2012 shooting death of 18-year-old Lewis McPherson is being cited by Chapman as a major reason for the new policy, after deputy coroner Anthony Schapel recommended an increase in the penalty associated with cannabis.

McPherson's killer was found to be affected by alcohol, ecstasy and cannabis when he shot the teenager.
Chapman said there were "a number of medical people", including the coroner, who backed up the need for harsher punishment. She did not specify on who these people were.
On Monday, a host of prominent researchers and academics came out against the policy. The Australian Drug Law Reform Foundation's Alex Wodak told The Guardian linking the use of cannabis to murder was "nonsense" and the South Australian Labor Party's legal affairs spokesman Kyam Maher told The Advertiser his party held significant concerns about introducing jail terms for cannabis.
Australia's ever-vocal online cannabis community is also in revolt, swarming news station opinion polls and comment sections with anger.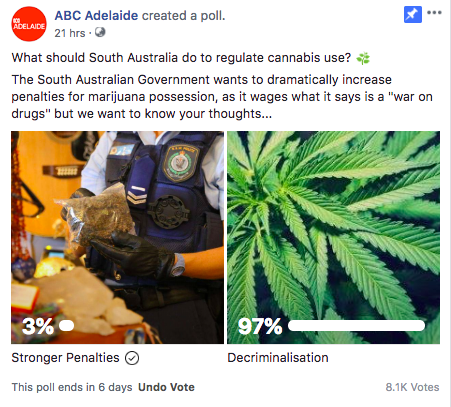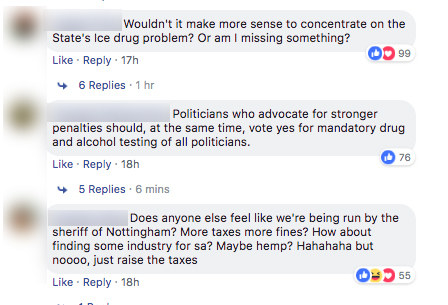 South Australian cannabis rights campaigner Jenny Hallam told BuzzFeed News she thought the new policy, if made a reality, would all but guarantee the South Australian Liberal government is tossed out after one term.
"People are furious," she said. "There are hidden cannabis users, people who aren't open about it, they're going to be affected too. The government thinks they're going after the 'unemployed scum' but really there's a lot of high profile people who use cannabis in South Australia who will be affected. I know this because I speak to them."

Hallam and other campaigners have announced a protest for midday Wednesday beginning at the rotunda in Eldar Park, Adelaide.

"We're sick of this. If the government is meant to make informed decisions why won't they even look at the evidence."
Attorney General Chapman did not immediately respond to BuzzFeed News' request for comment.