Ryan O'Donnell from NSW, Australia, was at a supermarket checkout on Tuesday when he saw an elderly lady who was having trouble paying with her card.
Realising the lady's card was being declined, Ryan leant over and paid for her groceries. A picture of the moment was uploaded to Twitter on Tuesday where it almost immediately went viral.

The original post has been retweeted over 200 times, and the story went super viral after it was shared across Facebook, where it made its way to ALP leader Bill Shorten, who described Ryan as a "good bloke".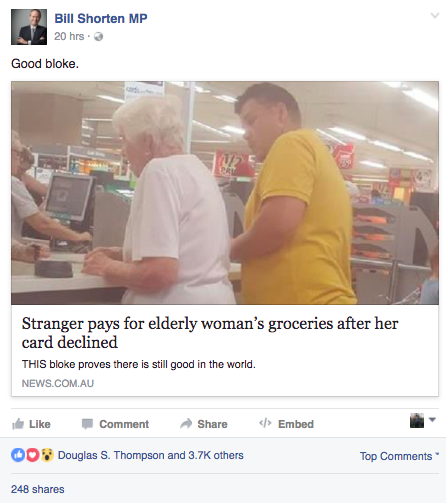 People also tweeted Ryan's praises, impressed as they were with his generosity.


Ryan also appeared on Nine'sToday show this morning, explaining why he felt compelled to help the elderly woman.
"She reminded me so much of my nan and my grandma, so I couldn't walk away," he said.

"I'm a bit overwhelmed... I was just there in the checkout with my kids and I saw the old lady having some troubles with the card.
"She was taken to the front counter to keep trying and by that stage my groceries had been put through and I went around, spoke to [the cashier] and asked how much it was. It was like $44 or something, and her card kept being declined due to insufficient funds. So I just gave her 50 dollars."
The lady kept asking how she should get the money back to him, but Ryan told her not to worry about it.
"I've been very surprised with the reaction; it's just gone absolutely crazy," he said. "It's just a small thing I've been taught by mum and dad to do."