People are experiencing heavy feelings after a photo of a seriously ill patient visiting the beach for the last time went viral on Thursday.
The patient in Queensland, Australia, was recently being transported by the state's ambulance service to the palliative care unit at her local hospital. During the trip she mentioned how she wished she could be at the beach again. So the Queensland Ambulance Service staff made a small detour ... and that's when this photo was taken: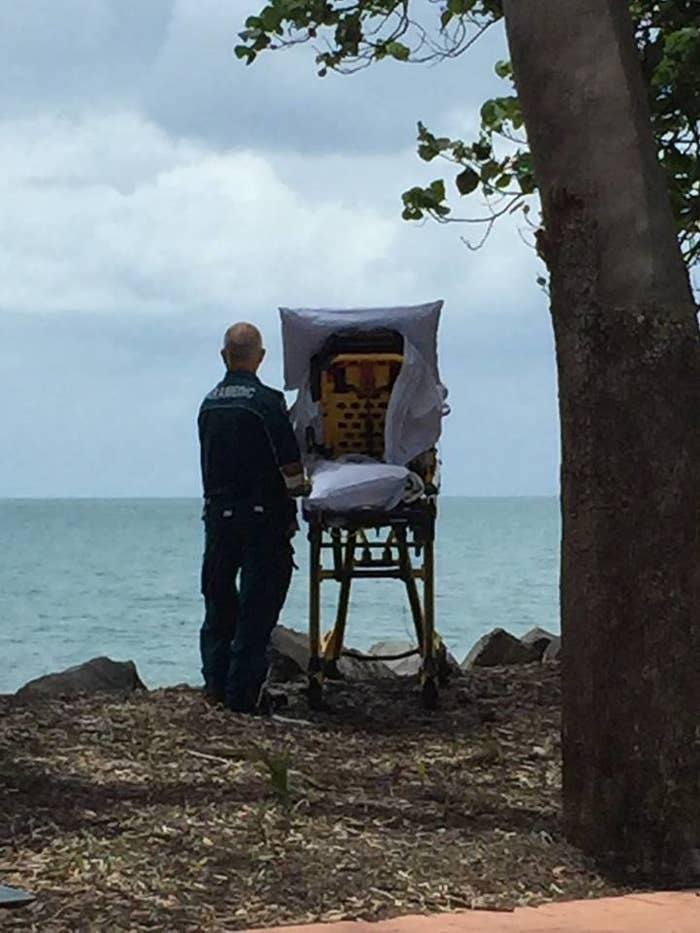 Speaking to The Courier Mail, the two on-duty paramedics, Danielle Kellam and Graeme Cooper, recounted how they ended up at the beach with the patient, a woman aged in her '70s.
A week before the photo was taken, the two paramedics had driven the elderly woman home. "It was basically a journey back to her home where she was going to pass away," Cooper said.
It was during this first trip that the woman first told paramedics how she and her husband had fallen in love with the beach after moving to Hervey Bay, some 290 kilometres (181 miles) from Brisbane.
Cooper asked if she would like to visit the beach to look at the ocean. She said yes.
On their next trip, Cooper pulled over the ambulance at a "really good spot" looking out onto Fraser Island and Point Vernon. There, he brought the patient to a cliff edge to look out at the ocean and also walked down to the ocean, where he filled a sick bag with water and brought it back to the patient so she could put her hand in the ocean again.
"I could see her heart rate just accelerated. I can't describe the feeling when you're in these situations with people. It's just very humbling," he said.
Fellow paramedic Danielle Kellam took the moving photo of Cooper and the patient, then asked her what she was thinking.
"I'm at peace," she said. "Everything's right."
The photo went almost instantly viral on Facebook and was later shared on Twitter, where it received a similar response from people who felt overwhelmed with emotion at both the image and the story.
People had some serious broken hearts:
On Facebook, people started sharing their own experiences.
But most were just caught up in the story.
Just goes to show the smallest actions can mean the world to people.