Police have recovered the third and final missing pygmy marmoset, 10-year-old Gomez, after arresting two brothers who were involved in a bizarre text message exchange with a third man, Ryan Trevascus.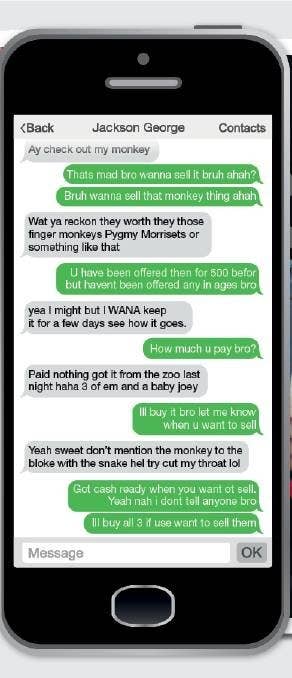 Jackson and Jessie George, both aged in their 20s, were charged on Sunday with dealing with proceeds of crime after police, acting on a tip-off, stopped the brothers in a car at the Appin Hotel, 30km from Symbio Wildlife Park, where the marmosets were stolen. It is not alleged the brothers stole the marmosets themselves.
Police allegedly found the four-week-old marmoset in the car, and found its 10-month-old sister, Sofia, in Campbelltown later that night.

After he appeared in court on Monday, police opposed Jackson George's bail, believing him to have information about the whereabouts of the final missing marmoset.

"He has shown complete contempt for police and their desperate attempts to reunite the animals with their family unit," said police prosecutor Peter Robinson. "He has laughed and stated, 'you have my phone, you'll work it out'."

A text message exchange between Jackson George and Ryan Trevascus was read out in court, and shows Trevascus saying he got the marmosets "from the zoo last night".
Ten-year-old Gomez was dropped off in a box at an Illawarra vet around 8:30pm on Monday night.
UPDATE
Four-week-old baby marmoset and one-year-old Sophie were returned to Symbio Wildlife Park last night. The park is still looking for the father, 10-year-old Gomez.
The park's marmoset enclosure will be closed for the day as the returned marmosets recover.
NSW police and staff at Symbio Wildlife Park in Sydney's south are urgently calling for help after three pygmy marmosets, including a four-week-old baby, were stolen on Friday night.
Symbio Wildlife Park staff confirmed to BuzzFeed News that the marmosets were still missing on Sunday morning. If the newborn marmoset is not reunited with its mother soon, the park fears it could die as it is still reliant on its mother's milk.
Marmosets Gomez, 10, Sophie, one, and the yet to be named four-week-old were stolen Friday night after thieves forced their way in to the marmoset enclosure.
On Saturday, NSW Police also said that the baby marmoset's twin could also die because the mother was too stressed to feed it.

If you have any information regarding the stolen marmosets, please contact Crimestoppers on 1800 333 000.