Two private groups for residents of Melbourne, Australia, are involved in a bitter online war involving racist comments, drugs, and "revenge" porn that Facebook is struggling to monitor effectively.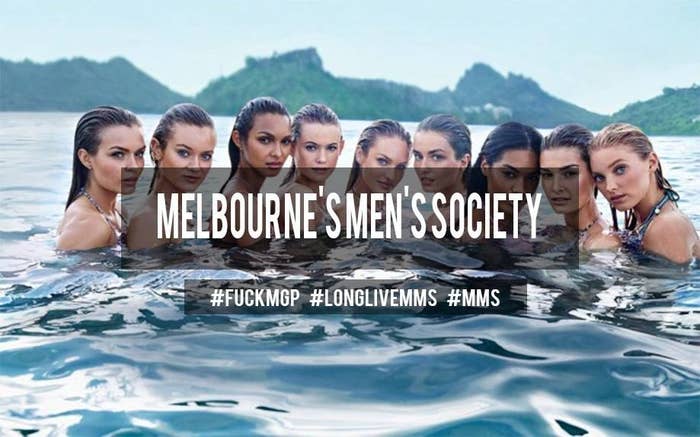 "Melbourne Men's Society" and "Melbourne Gal Pals" are two Facebook pages that give exclusive entry to members of the same sex.
Melbourne Gal Pals (MGP) was started around six months ago, with the page's admin telling BuzzFeed News it was "an all-girl group for girls from Melbourne". On the private, locked group, women shared makeup tips, talked about the city, and fostered a community. However, MGP wasn't without its faults. If a girl wishes to have a post removed from the group, she must first message the admin. "We probably get around 500 posts a day, so it's hard to keep track," said one administrator.
Slowly, the harmonious environment within MGP changed as the group grew. Now sitting at just over 35,000 members, the page has been "targeted" with "nasty" messages and personal attacks from women who are removed for bullying or not following the rules.
Rules are outlined for everyone to see, both members and non-members.
"The rules are:
- No bullying
- No promoting your own facebook group/Gal Pals rip off
- NO DISCRIMINATING
- No screenshotting of girls posts, to then send to others outside of the group
- No Instagram/social media account promoting
- Strictly no fake ID posts
- No selling of second hand clothes etc (use girls trade)
- No talking about MBT"
Around a month ago, a similar group was started for Melbourne's male population: Melbourne Men's Society.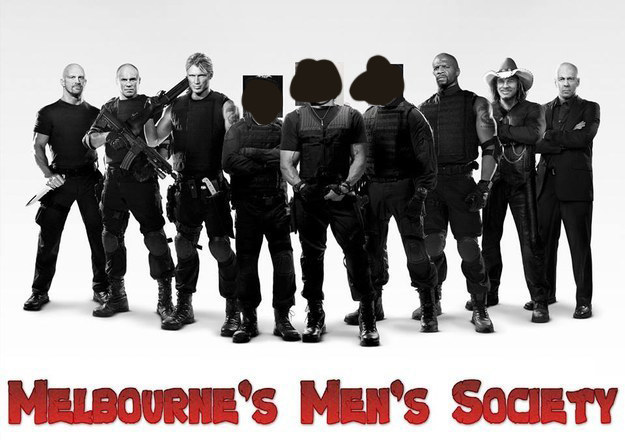 The rivalry quickly turned hostile, as members of MMS began uploading naked photos of unknowing women, as well as videos that showed sex acts.
Some of the women in the photographs didn't know their nude photos had been leaked to the page until weeks later. One source told BuzzFeed News she contemplated suicide after naked photos of her from four years ago were uploaded to the all-male group.
"They are pushing the girls to where they want to end their lives. I've been pushed to where I want to commit suicide because I'm getting bullied so much," she said.
"Nothing [provoked MMS to upload the photos]. I just woke up the next morning after my birthday with my nudes from four years ago posted everywhere."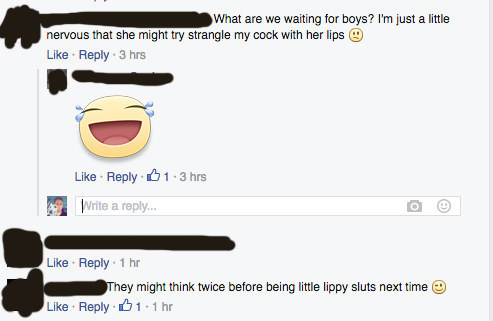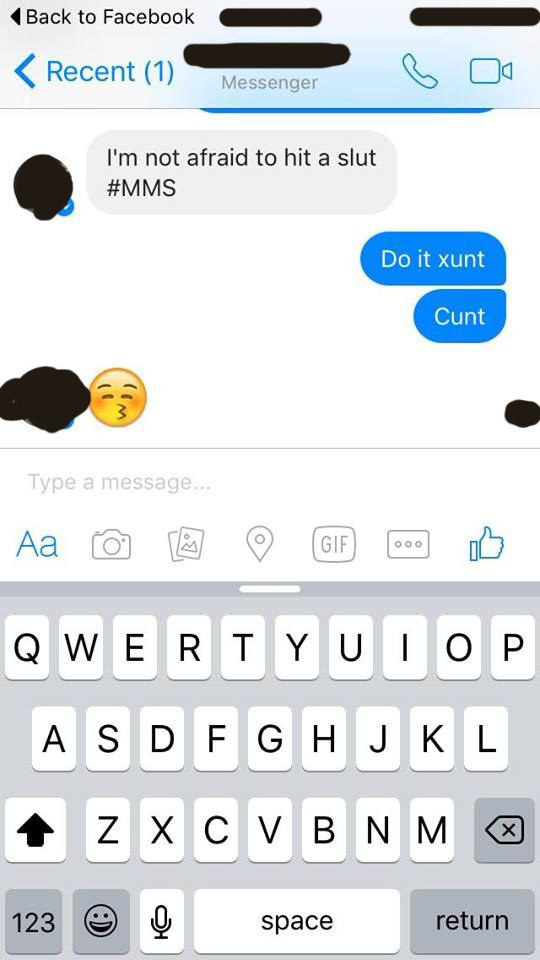 Some members of MMS have taken issue with alleged "creeper shots" taken by members from the MGP page. BuzzFeed News spoke to several MGP members who rejected these claims.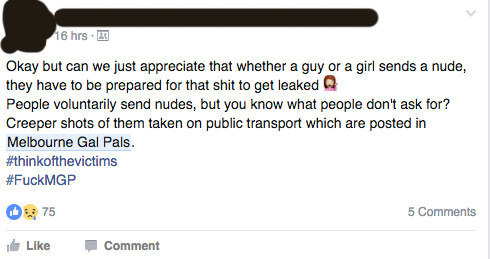 Melbourne's Men's Society spreads an almost military-like dialogue, with members encouraged to out "snitches" and post the names of "sluts" for all to see. Messages of women calling out the group, or asking for photos to be taken down, are also mocked.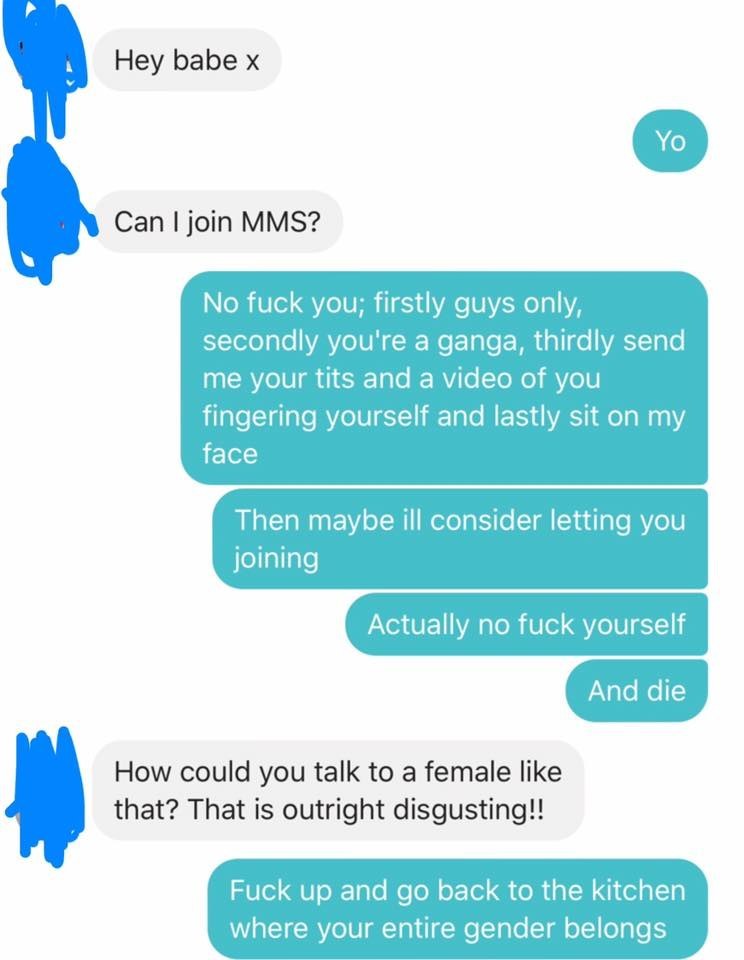 Some members are also trying to "infiltrate" the Melbourne Gal Pals page.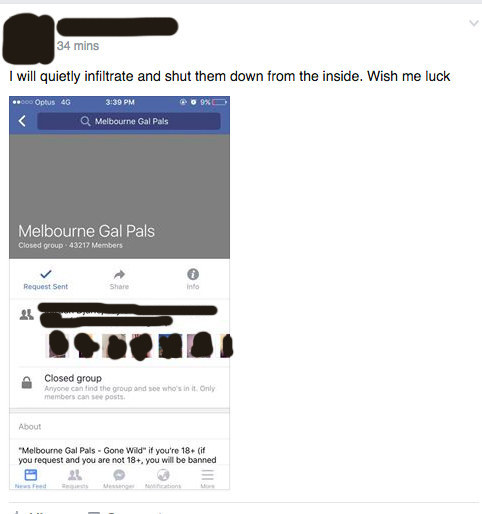 The MMS also has rules, but they seem less policed than those in MGP. The rules include things like "be a sick cunt" and a disclaimer that says the group does not promote underage pornography so as to "cover everyone's asses in court".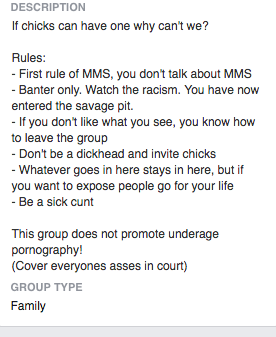 One member from MGP was allegedly told by police that there is nothing Victorian Police can do about the Facebook group, as there is "no Facebook office in Australia". This is not true.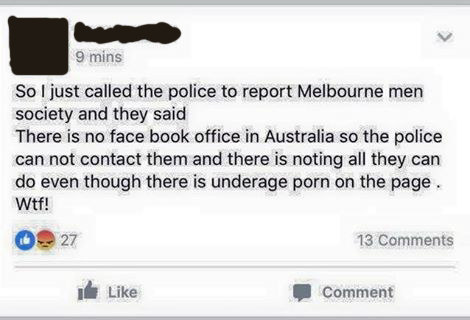 Facebook also seems helpless, with MMS members boasting about the social media giant's inability to shut them down.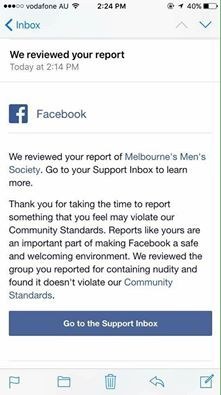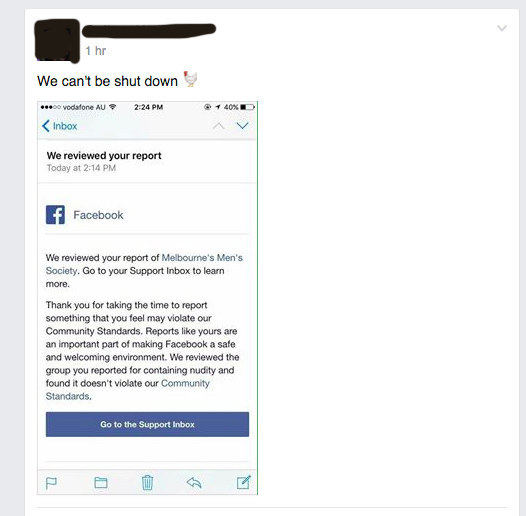 At 5:15pm AEST today the Melbourne's Men's Society Facebook group was deactivated.
BuzzFeed News contacted Victoria Police and were told that without the exact name of the person who reported the page and location they wouldn't be able to give a statement. BuzzFeed News was referred to the Australian Cybercrime Online Reporting Network.
BuzzFeed News has contacted administrators from Melbourne's Men's Society for further comment.
UPDATE FROM A FACEBOOK SPOKEPERSON.
"Our Community Standards clearly prohibit nudity, and images shared for revenge purposes. We promptly remove any content that violates our Community Standards when it is reported to us. We have removed this group and have taken steps to help stop similar groups reforming, and help prevent this abhorrent activity."