This Man Was Deported From Australia Despite Living And Working Here For Twenty Years
The only family he has in South Korea is his abusive father, who he hasn't seen since he was 15.
Jae Kim arrived in Australia from South Korea in 1996. His parents were divorced and the broken family were together only a few weeks before his father flew home. Jae has not seen his father since.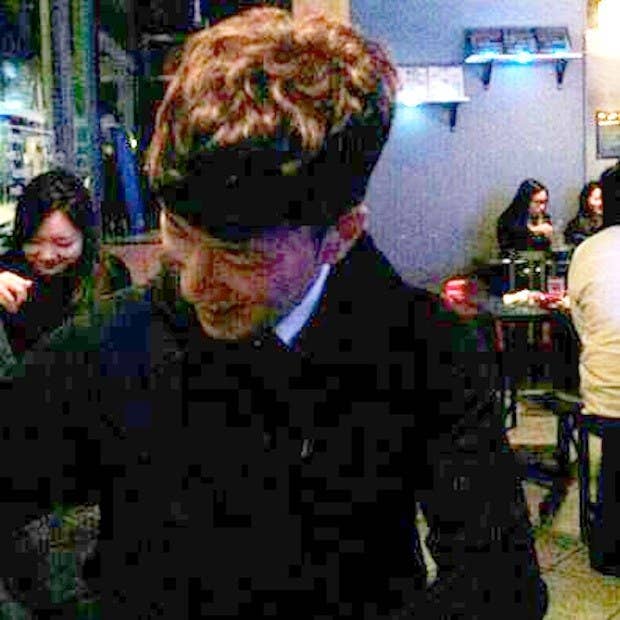 Living in Australia for 20 years, Jae studied, worked and paid taxes. But in April this year, Jae was told he would have to return to his country of birth, despite his only living relative there being the abusive father he last saw in the mid-1990s.

Jae's mother remarried a few years after they arrived in Australia to a man named Tony Woodward. They are still married, and all members of the family, other than Jae, are Australian citizens.
"He [Jae] is 36-years-old now," Tony told BuzzFeed News. "They're forcing him to return to a country and start a new life. Jay has nothing to do with his father. He has a squeaky clean record ... He worked ... He paid taxes."

Jae returned to South Korea for almost two years in 2010 to complete mandatory military service. When he returned, the family applied for an Other Family visa with a plan to eventually get Jae a permanent residency visa.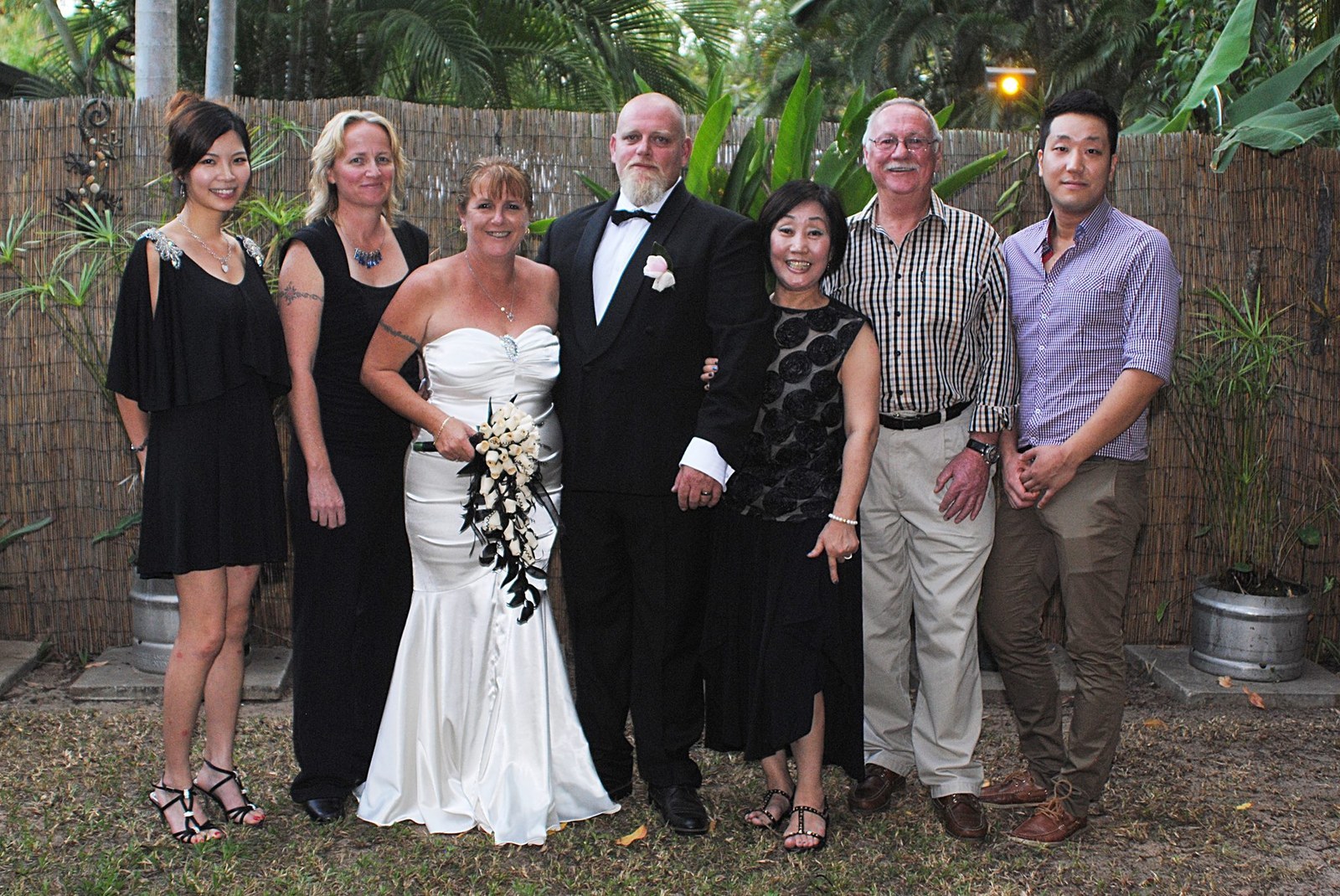 The Other Family visa is available to people who are aged dependent, the only remaining relative of your family, or a carer.

The family's application for an Other Family visa was rejected in 2012, on the grounds that Jae's father was still alive in South Korea. The Migration Review Tribunal reviewed the decision in 2013, and again rejected Jae's claim.
The tribunal noted the "consistent, detailed, and compelling evidence" given by Jae's family, but "reluctantly affirmed" the decision to reject Jae's claim, because his father is still alive.

The tribunal also noted that Jae declared "his biological father was violent and aggressive towards him and his mother and brother," and that he "does not know if his father is alive or dead, and he has not looked for him and has no wish to have any contact with him."

Ultimately, the tribunal found that "only the minister has the discretion to intervene and take these circumstances into account ... this case should be referred to the department to be brought to the minister's attention."
In a final effort to have the decision to deport Jae overturned, Jae's family sent his file to the office of the federal minister for immigration and border protection, Peter Dutton, who has the ability to personally intervene and reassess Jae's case.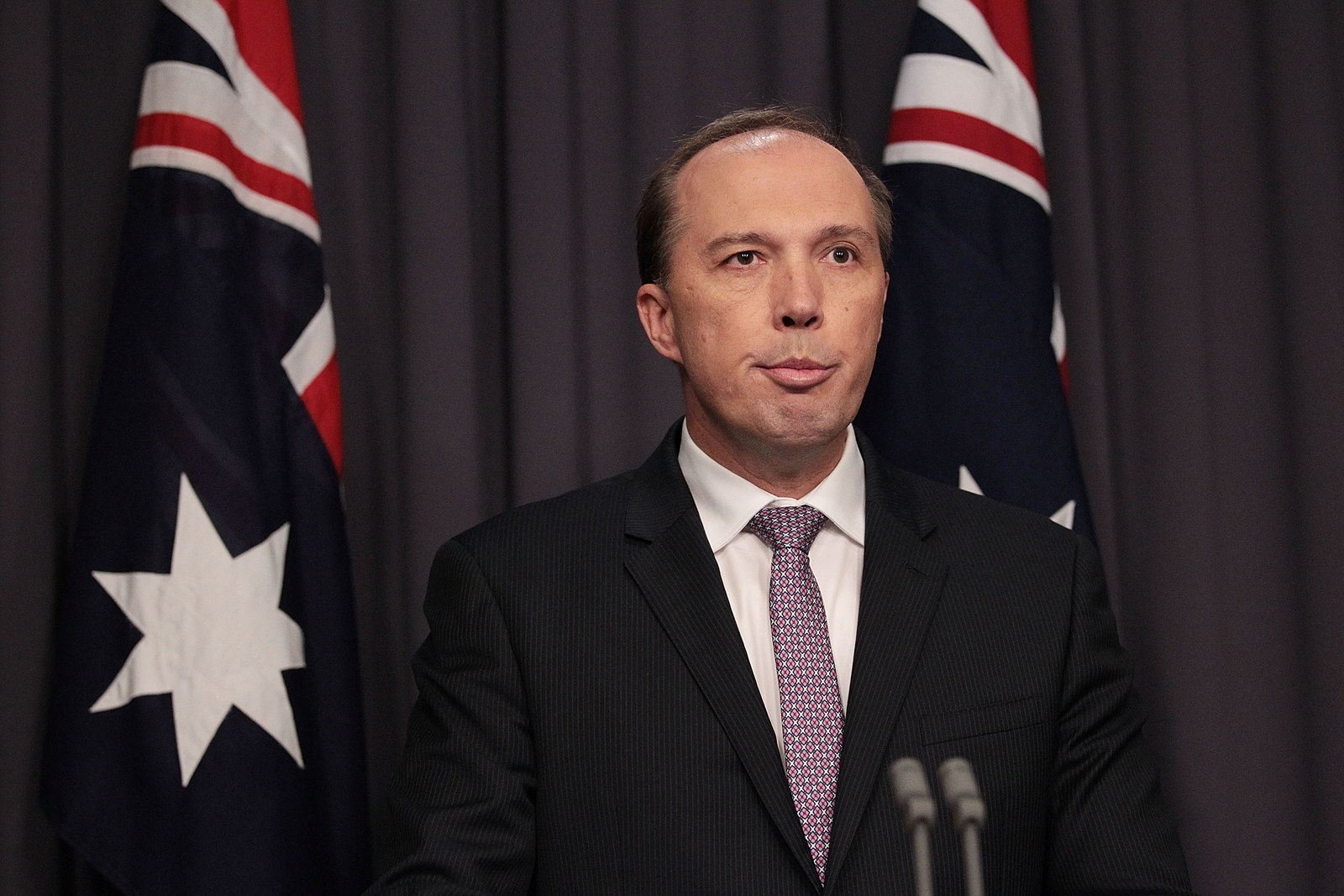 In early April, after three years of waiting, Jae's family received a letter notifying them that Dutton had personally reviewed Jae's case and rejected it. Jae was told he would need to leave the country by 5 May.

"There are no more appeals, no ifs, no buts," Jae's stepfather told BuzzFeed News. "I could not get anyone from the Immigration Department to confirm to me that Peter Dutton had physically made that decision himself."
"What really upset me, the thing I don't understand, if he [Dutton] did read that 11-page report that came from the tribunal hearing ... I can't believe he would make that decision to send Jae back."
"They've screwed him over the last three years. Even when we were waiting, we had to go to the department every two months to extend Jae's bridging visa."
Jae's stepsister, Sam, wrote on Dutton's Facebook wall about the pain the decision to deny an Other Family visa had on the family.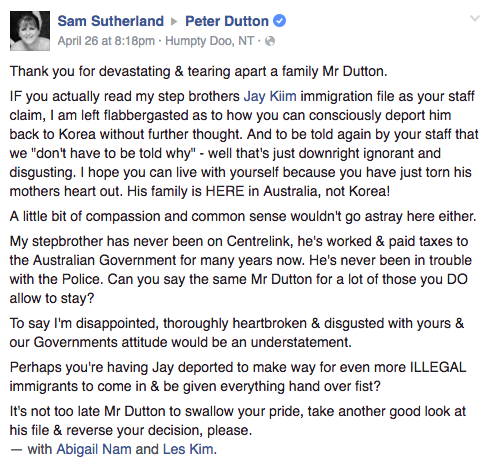 A spokesperson for the Department of Immigration and Border Protection told BuzzFeed News that Dutton only intervenes in a "relatively small number of cases".
"Ministerial intervention is not an extension of the visa or review process," a spokesperson said.
"As these powers are intended as a safety net for resolving unforeseen and compelling cases, the minister generally only intervenes in a relatively small number of cases which present unique and exceptional circumstances."
Jae's family is now left with no further options. According to his stepfather, Jae is currently in Bali on holiday with his brother, but will leave this week for South Korea. He will not be able to re-enter Australia for three years.
"I was told that Dutton didn't have to talk to me, that he didn't have to give a reason, and that he would never be talking to me," said Woodward.
"I cannot believe that any decent person with a heart, or a conscience, would say 'nah, go'."