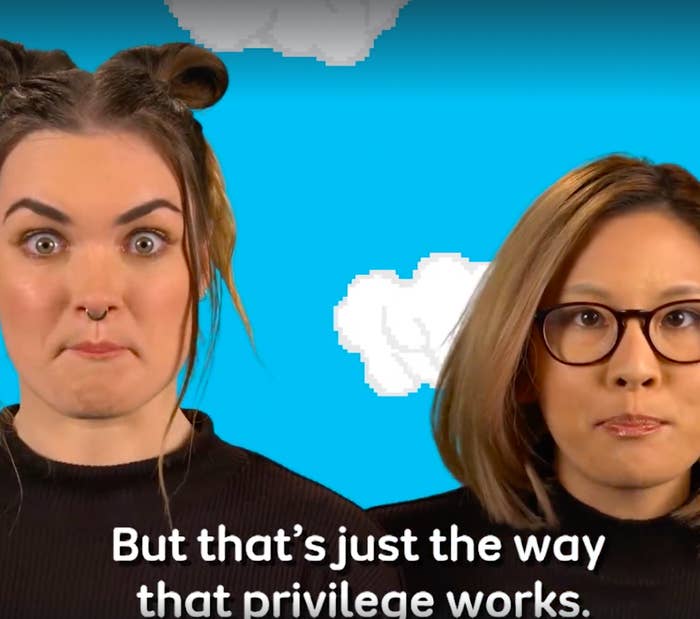 What do the Facebook groups Aussie Man Cave, Bolt Report Supporters Group, and DC9 Horseshoe Theory for Horses in Shoes, and the Memes for the Urban Gentleman page, have in common? They all shared this video from ABC Me, a 51-second clip defining "privilege" for its young audience.

What else do they have in common?
They all really disliked it — and they want the world to know.


Last week, a five-month-old video from the youth focused vertical of Australia's publicly-funded television channel ABC went viral on Facebook.
The video featured two ABC Me hosts singing about privilege using an analogy about two people trying to cross a stream: Ross, a straight, healthy and well-off 40-year-old male and Stevie, who is a refugee fleeing her home country.
Far surpassing the usual reception ABC Me's videos receive, "Privilege Song" has been watched almost 300,000 times on Facebook. Within some of Australia's Facebook groups and on popular meme pages – where the video has been ripped and re-uploaded – the views tally almost half a million.

It's not precisely clear what triggered waves of angry comments to flood the ABC's Facebook page, but it probably had a little to do with one of Australia's largest meme pages sharing the clip. Memes for the Urban Gentleman posted the video on March 18. Since then, it has been covered with angry comments and shared over 5,000 times.
The last seven days have seen hundreds of angry comments directed at the ABC calling for its defunding. BuzzFeed News understands the two stars of the segment have also faced a week of online abuse. On Tuesday evening, an ABC spokesperson confirmed to BuzzFeed News that the page had "reluctantly" been deleted due to "recent developments" regarding the page.

"The ABC ME Facebook page was created for Australian school-aged children and their families," said the spokesperson. "Due to the high level of inappropriate comments, we will consider other ways to engage with our intended audience. ABC ME content can be found at the ABC ME website and the ABC ME YouTube channel."
For Australia's growing online conservative movement the video has everything needed to encapsulate the "loony left": two women, the taxpayer-funded Australian Broadcasting Corporation, songs about sensitive issues, refugees, white male privilege, and – depending on who you ask – an underlying current of social Marxism.
All of these topics are blazed across comments sections in multiple big league Australian Facebook groups that act as echo chambers for anger and outrage.
While the anti-ABC push from Australia's conservative base isn't new – politicians Pauline Hanson and Cory Bernardi have perhaps been the most vocal when it comes to the funds allocated to the public broadcaster – the means by which this example of outrage has been generated is.

Facebook's "Groups" feature is fast becoming one of the main online breeding grounds for misinformation, radicalisation, and the fast mobilisation of outrage.
In Australia alone, there are multiple "supporter groups" unofficially set up in the name of conservative idols like Mark Latham, Andrew Bolt and Pauline Hanson. These closed groups – which you must be accepted into to join – offer both an echo chamber and a huge audience, ready to voice its curated opinion.
In the last seven days, the ABC's privilege video has been shared into and on: Political Postingmumma, Aussie Man Cave, DC9 Horseshoe Theory for Horses in Shoes, The Bolt Supporter Group, Russians in Australia, Lessons in Liberty, Pauline Hanson's One Nation Supporter Group, Mark Latham's Outsiders Supporter Group, and Memes for the Urban Gentleman.
Together, these groups and pages have a combined audience of just under half a million. Not bad for a handful of shares.
It isn't the first time conservative Facebook groups have rallied around an ABC Me video. The channel's video on Australia's Mardi Gras parade was also hit with hundreds of negative comments, with people upset that the channel had "targeted kids".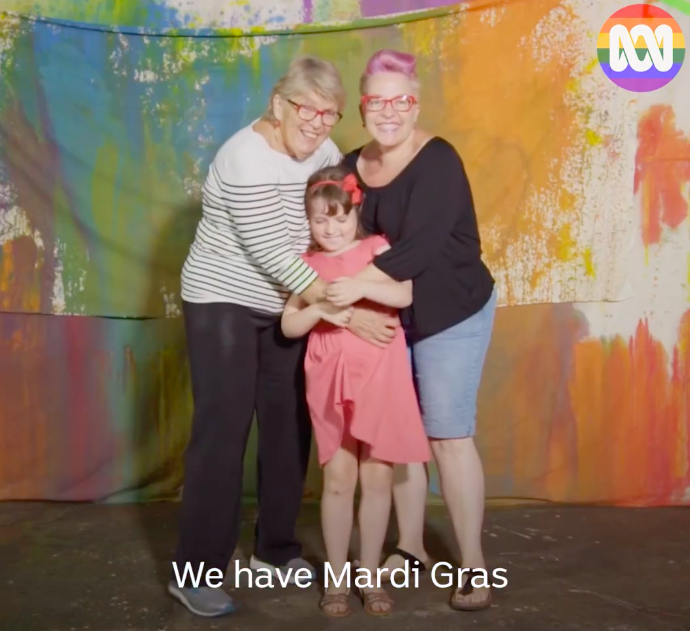 "Time to Boycott this channel," wrote one commenter. "Inappropriate viewing for children. Kids should be kids."

"This is awful, why would you guys promote the Mardi Gras to vulnerable children?" asked another.

Once again, the video had picked up steam across Facebook groups, shared to many of the same groups that had spurred on the outraged reaction to the channel's "Privilege" video.
As far as a response goes, the ABC Me Facebook page had commented on both videos before it was removed, urging users to "keep your comments civil or they will be deleted".
"We do not tolerate abusive, offensive or obscene comments of any kind," it said.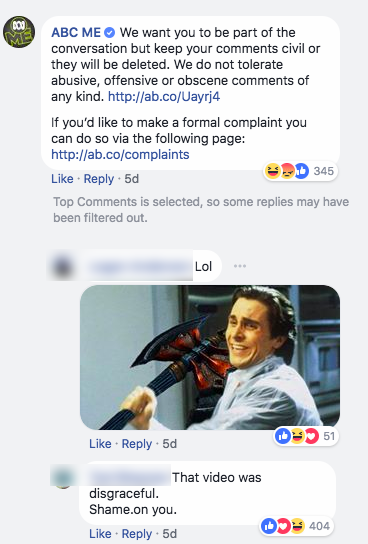 Outrage and anger are in vogue, and Facebook's groups allow irritation to bubble unchallenged. The comment section – whether on social media, in some news articles, or in tweet threads – is routinely filled with arguments, slurs, and outrage. Admin of a Facebook page can control comments to a degree, but it can't stop what people say in a Group.
The ABC may have deleted ABC Me's Facebook page, but should it create another video that upsets Australia's Facebook group community, there's an easy, ready-to-mobilise outrage machine waiting to get to work. All it takes is a few shares.