Sydneysiders headed to work on Wednesday morning to a chorus of apologies from Sydney Trains staff, after a disastrous few days resulted in lengthy delays, understaffed carriages, and thousands of angry commuters.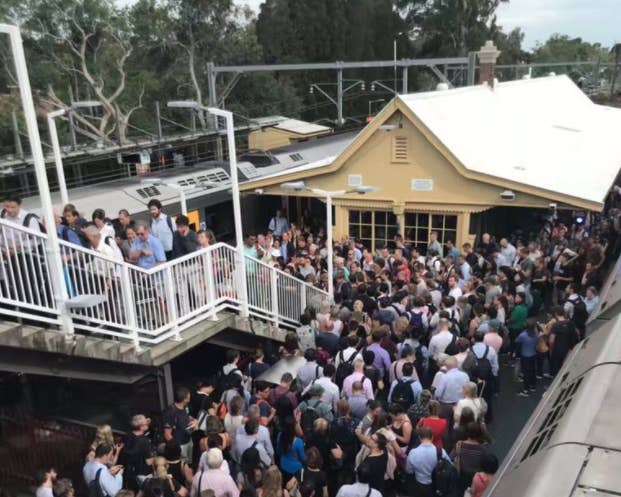 A chaotic morning and evening peak hour on Tuesday resulted in "indefinite delays" to the Sydney Trains service. At the time, passengers were told over loud speakers that the delays were caused by "unexpected incidents at various stations." Later, news broke that the issues were due to 60 to 70 train drivers calling in sick on Tuesday.
At first, Sydney Trains had blamed its issues on track work, excessive amounts of approved leave, the weather, and reduced customer demand. The Rail, Tram and Bus Union NSW released a statement accusing the state transport service of "covering up" its many issues.
"After investigations, we believe that there has been no abnormal spike in sick leave today by train drivers and [this] is another attempt by Sydney Trains to demonise their hard-working and dedicated drivers to hide their own failings," it said in a statement.
"It's absurd to think that a few workers falling ill would cause disruptions across the whole transport network."
Sydney Trains staff were reportedly growing tired of the disastrous delays.
Waiting crowds became so large on Tuesday evening that platforms were closed off and passengers turned away. Social media was awash with angry commuters.
And one particular thread of tweets from someone purporting to be related to a Sydney train driver went viral after accusing Sydney Trains of being severely understaffed for over a year due to "cost-saving" measures, using emergency staff in place of those taking sick leave, not hiring any new staff while rolling out a new timetable, and not allowing Sydney Trains crew to take holiday due to low staff issues.
On Reddit, a user claiming to be a Sydney Trains employee warned that this was only the beginning. "Sydney Trains staff does not want to inconvenience you but the railways have been stretched as far as it can by bureaucrats who have never caught a train in their lives," they wrote.
In a press conference on Wednesday, transport minister Andrew Constance said the government would be investing in new staff and new trains. "We have hired 26 additional drivers since 2016," he said.
As of Wednesday morning, regular timetables were back in place on most Sydney Trains services, but there are fears that understaffing will lead to similar issues for peak hour on Wednesday evening.
BuzzFeed News has contacted Sydney Trains for comment.