This is Thomas Resch and his mother, Deborah. Thomas is 21-year-old, lives in Maryville, Washington, and is currently trying to break into professional bodybuilding.
A few months ago, Thomas' mother suffered a cardiac arrest. She lost blood flow to her brain for a couple minutes and as a result lost some ability in her hands — leaving her unable to write. "When I was a kid and all of growing up my mum always prided herself on her handwriting," Thomas told BuzzFeed News. Following the cardiac arrest, Deborah went to rehab to learn to write again, but it was always a struggle.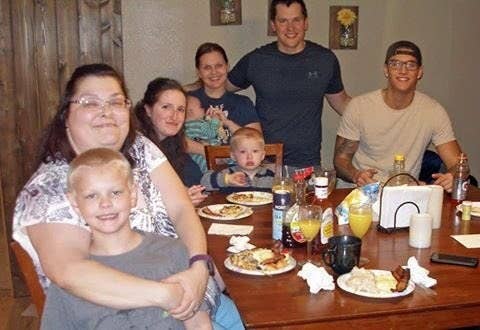 Sadly, Thomas' mother suffered another cardiac arrest in January, and she died last week. That day was also the day Thomas moved out of home, and Deborah had left a note for him: "I'm going to miss you a lot," it said. "I love you." Thomas saw the note in one of his bags after Deborah passed.
After reading the note, Thomas decided to get a tattoo of the note on his chest. He later realised that his mum had been wearing her FitBit (a fitness device that tracks your heartbeat) when she passed. "After we left the hospital I went on her phone and pulled up the last heartbeats she had and sent it to my phone," said Thomas. It was then that Thomas decided to get his mom's final recorded heartbeat tattooed on him as well.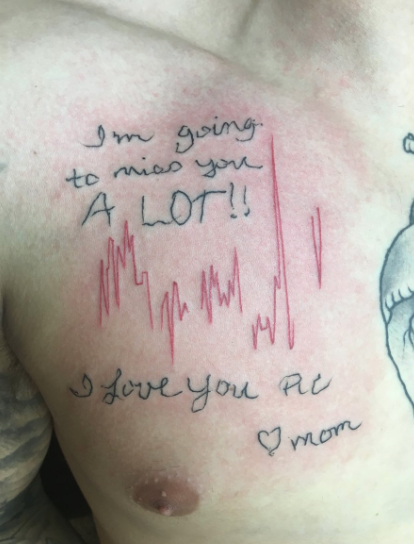 On Monday, Thomas tweeted out his tattoo. "It's beyond perfect in my eyes," he wrote.
People were immediately touched by Thomas' story and his tattoo. Thousands of people retweeted it and left thousands of messages. Thomas said he hoped it would act as a reminder to everyone not to take your parents for granted. "So many people replied saying they want to go hug their mum or see their mum after reading it."
"My mum was my best friend and I hope it opened people's eyes to how amazing their parents actually are," said Thomas.
Thomas' family is currently trying to fundraise to cover the cost of his mother's hospital bills. "Now that she's passed I'm still going to pursue my bodybuilding dream and make my mum proud," he said. "She never wanted me to give up, especially on what I loved."