It's OK For Someone On Facebook To Wish You Get "A Bullet In Your Head" If You're A Public Figure
"It shouldn't always be up to the victims to identify and report each and individual threat," said Faruqi.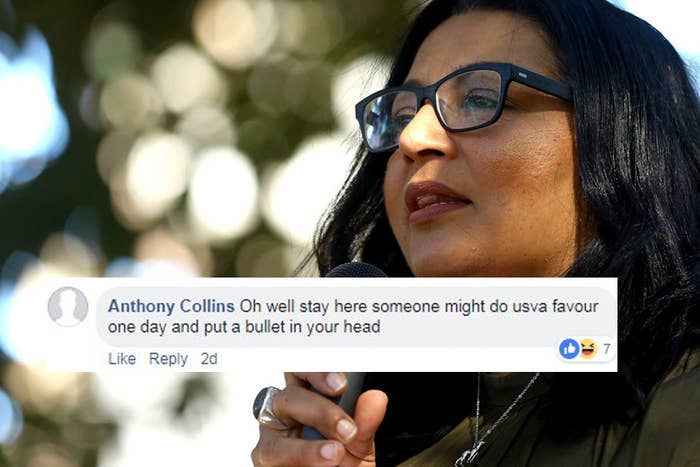 Abuse posted on Greens senator Mehreen Faruqi's Facebook doesn't go against the company's community standards, as the social giant considers them "non-credible conditional" statements.

On Wednesday Faruqi shared one of the many disturbing messages she had received on Facebook. It read: "Someone might do us a favour one day and put a bullet in your head."
After reporting the comment Faruqi was told the comment "doesn't go against any of [Facebook's] specific community standards".

Abuse and harassment about her race and gender are not new to Australia's first female Muslim senator. The Greens politician is consistently targeted in far-right Facebook groups and is often the brunt of orchestrated abuse.

Earlier this month, Faruqi used her first Senate speech to warn of the normalisation of racism in Australia, revealing she had been subjected to thousands of racist and sexist messages on social media during her time as a politician.
Unfortunately for Faruqi, Facebook's bullying policies do not apply to public figures, as the company says it does not want to stand in the way of discourse. Discussion about public figures must still meet Community Standards, however.
Faruqi told BuzzFeed News abuse and harassment online should be taken as seriously as if it were happening in the real world, and that by putting the emphasis on victims to report threats Facebook was not being held accountable.

"Too often legitimate political debate spills into openly racist, sexist and threatening behaviour, particularly for women and people of colour," she said.
"Online hate speech has real world consequences for people, their safety, mental health and their families."
Last year, Facebook's manual for moderators was leaked to The Guardian. It showed a company intent on allowing "as much speech as possible" that drew the line only where real world harm could become a reality.
"People commonly express disdain or disagreement by threatening or calling for violence in generally facetious and unserious ways," says the manual.
In other documents, it's said that threats such as "I hope someone kills you" and "to snap a bitch's neck, make sure to apply all your pressure to the middle of her throat" are deemed generic and not credible.
In December the company released tools to prevent harassment. The tools intend to allow users to prevent unwanted contact and ignore messages more effectively.
"It shouldn't always be up to the victims to identify and report each and individual threat," said Faruqi.
"Particular pages and groups out there that encourage and promote harassment are well known. Facebook and other social media companies should be accountable for hate speech and threats that occur on their platforms."