A Small Dog Famous For Taunting A Local Crocodile Has Been Eaten
Pippa the terrier had reportedly been goading the crocodile for years.
A small terrier named Pippa who spent years nipping at a local crocodile in Darwin, Australia, has been snapped up.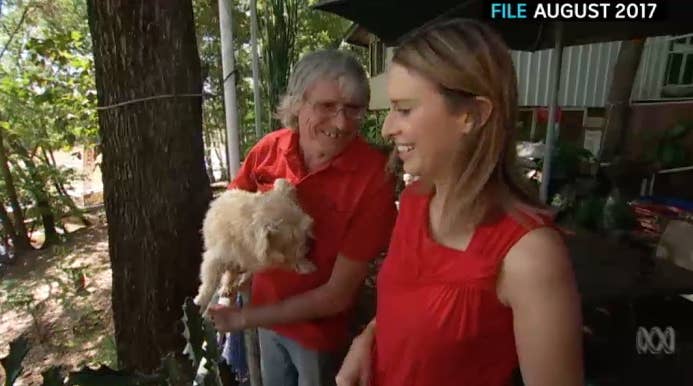 Pippa the dog routinely provoked and chased off a local crocodile in the region. The small pooch, also known as Dumb Blonde, has been doing it for over a decade. But new footage featuring the fluffy canine risking too much and ultimately being eaten was uploaded on Monday after people staying at the Goat Island Lodge recorded the incident. That video has gone viral and it's...quite something.

Warning: It's pretty graphic.
Pippa's owner, Kai Hansen, operates Goat Island Lodge, a small hub in the middle of the Northern Territory's crocodile-infested Adelaide River. He told ABC radio in Darwin that Pippa had been nipping at the local crocodile – named Casey – for almost a decade and made her biggest mistake by attempting to bite the croc on the head.

"I've watched her do it hundreds of times," he said. "It's certainly not something I've trained her to do. She's just this little terrier who has this little dog syndrome and she thinks she's equal to the croc if not bigger."
Hansen didn't think Casey lashed out because she was hungry. He said it was just an opportunity that finally presented itself.
"Crocodiles have all the time in the world," he said. "[Pippa] just couldn't help herself ... It was very unfortunate. It's something that I wouldn't say inevitably had to happen, but it had a high probability of it happening at some time."
Hansen said he would get a new dog for the lodge, but definitely wouldn't let it chase crocodiles.