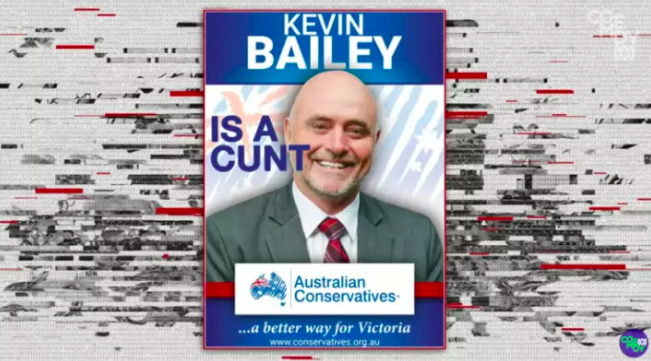 Australia's broadcasting watchdog has ruled the ABC's code of practice was not breached when the station's Tonightly program called a political candidate a "cunt."

The Australian Communications and Media Authority (ACMA) found that while the content featured coarse language and was offensive, it was editorially justified and could be accommodated in the program's MA15+ classification.

"The ACMA accepts that the offensiveness of coarse language changes over time," reads the report.
"The word 'cunt' is widely recognised as an offensive term at the strong end of the
spectrum. The word was used verbally on six occasions in the segment and
appeared as on-screen text four times. These multiple uses added to its impact
and therefore its capacity to cause offence."
Back in March, a segment on the Daily Show-esque Tonightly mocked Australian Conservatives candidate Kevin Bailey, who was running in the by-election for the Victorian seat of Batman.

The sketch proposed the region be renamed to "Batman-was-a-cunt", after the area's namesake, John Batman, who was involved in the murder of Tasmanian Aboriginal people.
Tonightly comedian Greg Larsen redesigned campaign material for the skit, but Kevin Bailey's poster did not feature the name of the electorate. Without the inclusion of "Batman", Larsen was forced to put "Kevin Bailey is a cunt", he explained.

Kevin Bailey ended up losing the by-election, and ACMA found that Larsen's persona had been established over the course of the series as that of "an unreasonably angry man", which aligned with his use of the word "cunt".
In its defence, the ABC told ACMA the use of the word "cunt" was not genuine, and that the segment in its entirety made clear that "the program fully understood the
inappropriateness of the language directed at the candidate".
When the sketch first aired in March communications minister Mitch Fifield instructed the ABC to investigate and lodged a complaint with ACMA.

But ACMA's investigation determined most viewers would have understood the remarks to be comedic in nature, rather than malicious.

Australia has a fabled history with the use of the c-bomb. In August last year, a New South Wales court declared a 75-year-old man's protest sign referring to former prime minister Tony Abbott as a "c∀nt" was not offensive under Australian law.

Looks like there are no comments yet.
Be the first to comment!