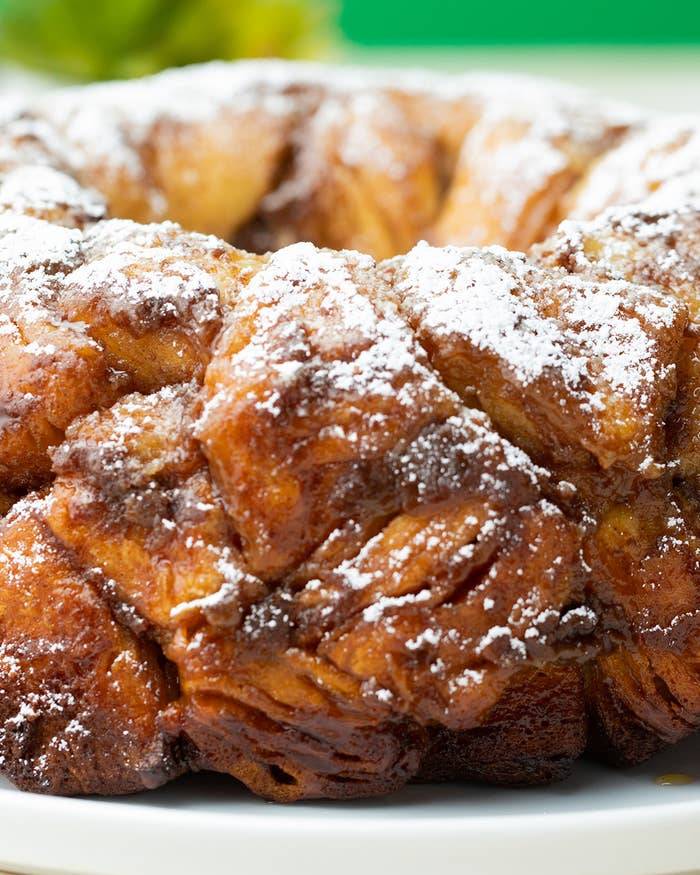 INGREDIENTS
1 cup heavy cream
2 eggs
2 tablespoons cinnamon
2 tablespoons vanilla extract
2 teaspoons kosher salt
2 cans refrigerated buttermilk biscuits
½ cup butter
½ cup maple syrup, plus more for drizzling
Powdered sugar, for dusting
PREPARATION
1. Preheat oven to 350ºF. Grease a bundt pan.
2. Whisk together heavy cream, eggs, cinnamon, vanilla extract, and kosher salt.
3. Cut biscuits into quarters. Add biscuits to bowl with liquid and fold to coat.
4. Drain excess liquid from the biscuit pieces and place all of them in the bundt pan evenly.
5. Combine butter and maple syrup in a small pot over low heat. Heat, stirring occasionally, until butter fully melts and mixture begins to bubble. Remove from heat and pour over biscuits.
6. Bake pull apart bread for 25–30 minutes or until browned and cooked through (place a tray underneath the pan to catch any drips). Let cool for 10 minutes before removing from pan.
7. Drizzle with maple syrup. Dust with powdered sugar and serve!