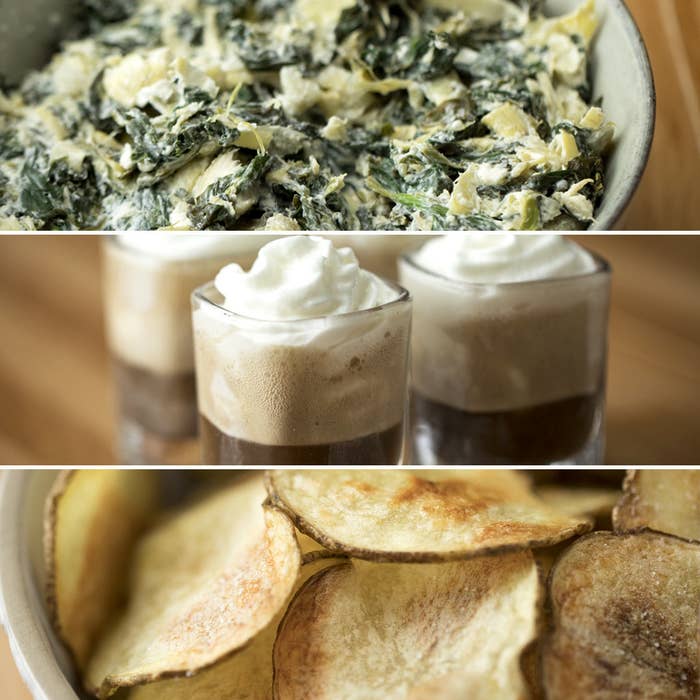 MICROWAVE POTATO CHIPS
2-4 servings
INGREDIENTS
1 russet potato
2 tablespoons olive oil
Salt
PREPARATION:
1. Thinly slice potato. Pat potato slices gently with one layer of Bounty paper towels to dry. Toss slices with 2 tablespoons olive oil.
2. Drizzle more olive oil on a microwave-safe plate. Lay potatoes out in a single layer, not overlapping. Sprinkle with salt.
3. Microwave for 6–8 minutes, until chips are golden brown and crispy (start checking at 6 minutes for doneness).
NO-BAKE SPINACH ARTICHOKE DIP
8 servings
INGREDIENTS:
12 ounces frozen spinach, defrosted
1 can artichoke hearts, drained and chopped
4 ounces cream cheese, softened
2 tablespoons mayonnaise
Juice of 1 lemon
1¼ teaspoons salt
½ teaspoon garlic powder
PREPARATION:
1. Wrap defrosted spinach in two Bounty paper towels and squeeze to remove all the water.
2. Place spinach in a bowl and mix in the rest of the ingredients until everything is well combined.
3. Serve as dip with potato chips.
ROOT BEER FLOAT SHOOTERS
10-12 servings
INGREDIENTS:
1 bottle root beer
1 pint vanilla ice cream
Whipped cream
PREPARATION:
1. Wrap root beer bottle with a dampened Bounty paper towel. Freeze bottle until chilled (15 minutes).
2. Scoop tablespoon-sized scoops of vanilla ice cream into shot glasses. Fill with chilled root beer. Top each with a dollop of whipped cream.