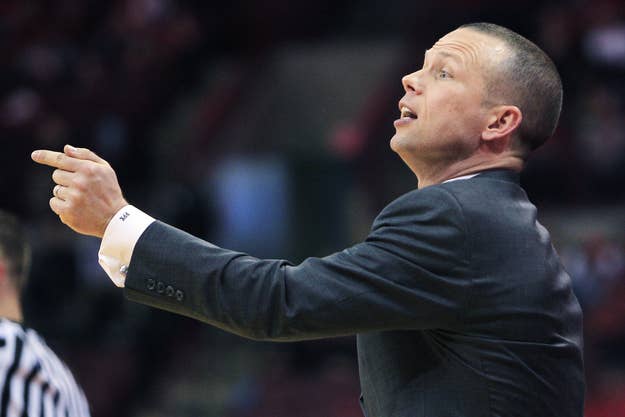 Last night coach Pat Kelsey of Winthrop, a university in South Carolina, spoke about the Newtown massacre after his team's loss to Ohio State. Here's part of what he said (transcript via Cincinnati.com):
I don't know what needs to be done. I'm not smart enough to know what needs to be done, OK? I know this country's got issues. Is it a gun issue? Is it a mental illness issue? Or is it a society that has lost the fact, the understanding, that decent human values are important? And our leaders — I didn't vote for President Obama. OK? But you know what? He's my president now. He's my leader. I need him to step up. Mr. Boehner, the Speaker of the House, he's a Xavier guy, he's a Cincinnati guy, OK, he needs to step up.

Parents, teachers, rabbis, priests, coaches, everybody needs to step up. This has to be a time for change. And I know this microphone's powerful right now, because we're playing the fourth-best team in the country. I'm not going to have a microphone like this the rest of the year, maybe the rest of my life. And I'm going to be an agent of change with the 13 young men I get to coach every day and the two little girls that I get to raise. But hopefully things start changing, because it's really, really disappointing.

I'm proud to grow up American. I'm proud to say I'm part of the greatest country ever. And that's got to stay that way. And it'll stay that way if we change. But we gotta change.
That's just a pretty good, no-bullshit assessment. (Kelsey is a Cincinnati native and the game was played in Columbus, hence the references to Boehner, who represents a district in southern Ohio.) His official bio mentions that he helped launch these shirts while an assistant at Wake Forest, which is also excellent. Seems like a guy worth rooting for.