Banana Almond Ice Cream Bites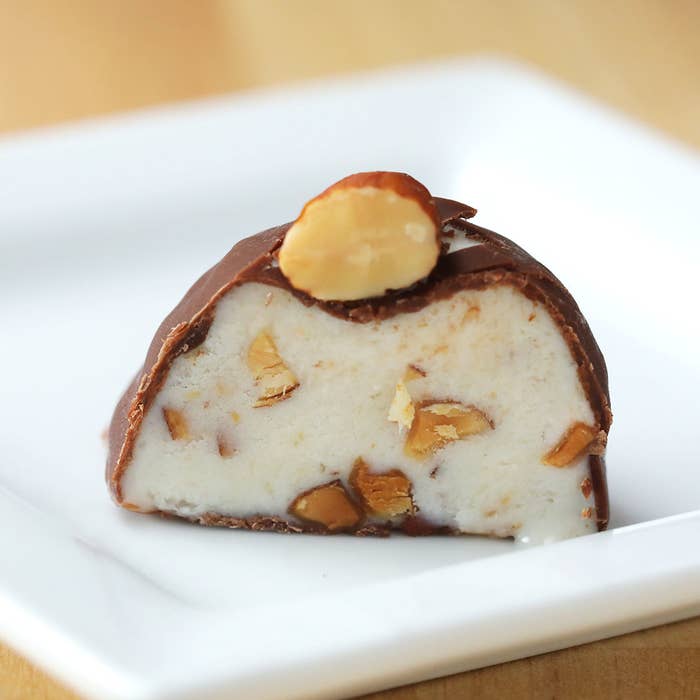 INGREDIENTS
¾ cup Blue Diamond Low Sodium Sea Salted Almonds
1 pint heavy whipping cream
1 can (14 ounces) condensed milk
2 ripe bananas
2 cups semi-sweet chocolate chips
PREPARATION
1. Preheat oven to 450°F/230°C.
2. Chop almonds and toast in the oven for 6-8 minutes, watching carefully that they do not burn. Cool completely.
3. In a blender or food processor, first pulse cream until thick (not completely whipped), then add bananas, breaking into pieces. Pulse until banana is completely blended, then add condensed milk and pulse until combined. Add ¾ cup toasted Blue Diamond Almonds and pulse once, only to combine.
4. Pour into a loaf pan and add the toasted Blue DIamond Almonds.
5. Freeze until solid (at least 6 hours).
6. Using a small ice cream scoop, carefully scoop ice cream balls onto sheet pan. Place in the freezer for another 10 minutes.  
7. While freezing the ice cream balls, melt chocolate in the microwave in 30-second intervals until melted (about 2½ minutes).
8. Using a fork, carefully dip ice cream balls into chocolate and then place on a paper-lined sheet. Top with full Blue Diamond Almond and freeze until ready to serve.
9. Enjoy!