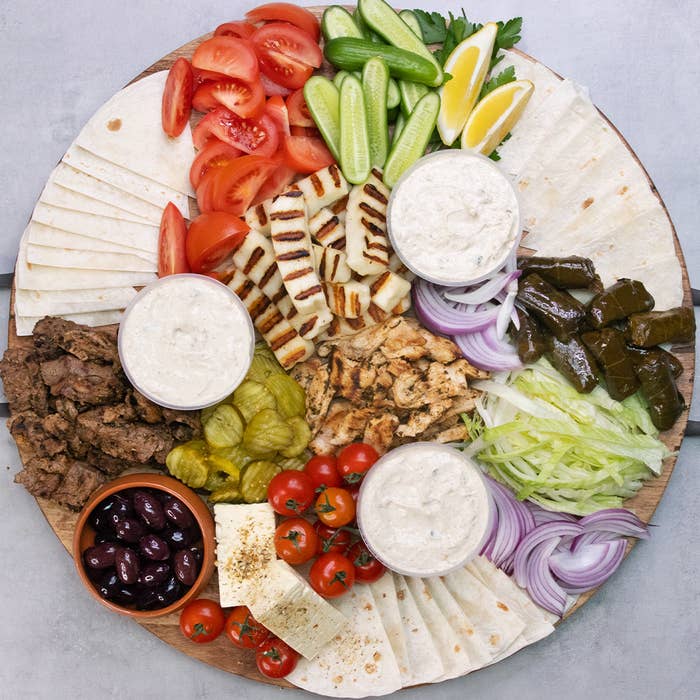 For the grazing board:
200g Black Swan What The Dip, Creamy Garlic Souvlaki
6 flat breads, cut into 36 triangles
200g halloumi, sliced into fingers
¼ head iceberg lettuce, shredded
1 red onion, sliced
200g feta, halved
1 tsp dukkah
1 cup pickles, sliced
8 baby cucumbers, halved
3 tomatoes, cut into wedges
14 cherry tomatoes
10 dolmades
1 cup pitted black olives
For the lamb and chicken
500g lamb, diced
500g chicken breast, diced
2 lemons, juiced
¼ cup extra virgin olive oil
4 garlic cloves, crushed
2 tbsp parsley
1 tsp dried oregano
1 tsp paprika
Salt, to taste
Pepper, to taste
To garnish:
2 sprigs parsley
½ lemon, cut into wedges
Equipment
1 round wooden serving board, 52cm
Method:
STEP 1: To make the marinade, add lemon juice, extra virgin olive oil, garlic, parsley, dried oregano, paprika, salt and pepper to a bowl, then mix.
STEP 2: Separate the lamb and chicken between two bowls then cover with equal portions of the marinade and allow to sit for 30 minutes.
STEP 3: Place a barbecue or hot griddle pan on high heat, then cook the lamb and chicken until charred, then set aside. Repeat with the halloumi.
STEP 4: To build the grazing board, arrange the Black Swan Creamy Garlic Souvlaki dips in 3 central zones on the round wooden board.
STEP 5: Evenly spread the flatbread near each dip, so that the curved edges of the flatbread follow the edge of the wooden board. Fan out evenly.
STEP 6: Place the meat on the board with the chicken in the centre near the first Creamy Garlic Souvlaki Dip, place the lamb on the edge near the second dip. Add the grilled halloumi fingers next to the chicken and by the third dip.
STEP 7: Place the black olives in a mini bowl and lay next to the lamb. Then surround with pickles, cherry tomatoes and feta, sprinkled with dukkah spices.
STEP 8: Add iceberg lettuce next to the chicken and then arrange the dolmades until they reach the edge of the board. Fill in the gaps with red onion slices. Add the sliced tomatoes by the halloumi, then add the halved baby cucumbers.
STEP 9: Finish off the board with a sprig of parsley by the baby cucumbers and 2 wedges of lemon to garnish.
STEP 10: Dip and enjoy!