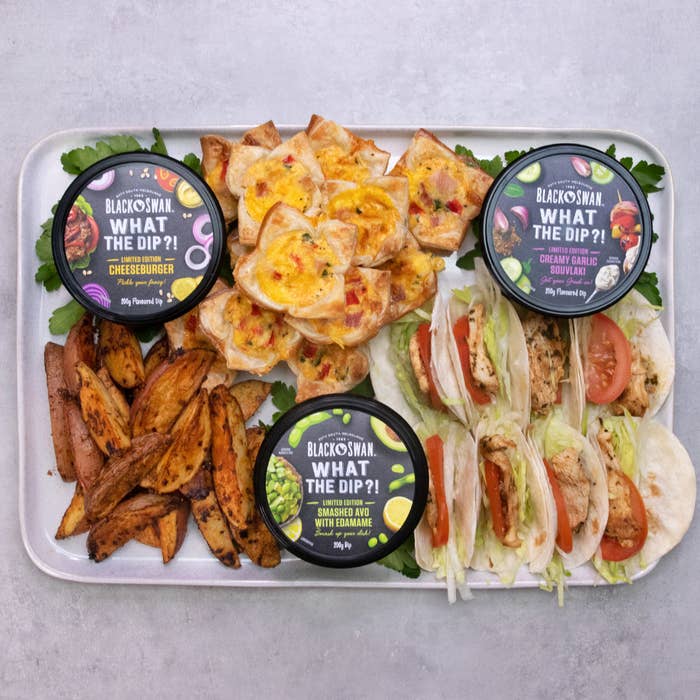 For the mini quiche
3 eggs, whisked
¼ cup mozzarella
¼ cup bacon, diced
¼ cup capsicum, diced
½ tsp parsley, chopped finely
Salt, to taste
Pepper, to taste
2 puff pastry sheets
Canola spray
For the Potato Wedges
5 red potatoes, cut into 6 wedges each
2 tbsp olive oil
1 tsp paprika
1 tsp dried onion
1 tsp dried thyme
1 tsp garlic, minced
1 tsp salt
1 tsp pepper
For the mini souvlaki
3 flatbreads
2 tomatoes, sliced
¼ head iceberg lettuce, shredded
1 cup, chargrilled chicken, shredded
To garnish:
1 bunch parsley
Method:
STEP 1: Arrange a large plate with Black Swan Creamy Garlic Souvlaki, Cheeseburger, and Smashed Avo With Edamame dips.
STEP 2: To make the mini quiche, slice thawed puff pastry sheets into 12 equal squares, approx 2 ½ inches by 2 ½ inches.
STEP 3: Spray a mini muffin tin with canola spray then press the puff pastry into the insert, so that it looks like a little cup.
STEP 4: In a mixing bowl, add eggs, mozzarella, bacon, capsicum, parsley, salt and pepper, then stir to combine.
STEP 5: Spoon the egg mixture into the puff pastry then bake in the oven at 180C for 15-20 minutes until the puff pastry turns golden and flaky. Once cooked set aside to cool.
STEP 6: To make the burger skewers, cook the meatballs in a pan on medium heat until browned on each side. Set aside and allow to cool.
STEP 7: Using a skewer, pierce a meatball, followed by two quarters of cheese, a few squares of iceberg lettuce, 1 tomato-halve and a meatball to top it off. Repeat until you've used all ingredients, then set aside.
STEP 8: To make the mini souvlakis, use a cup as a stencil and a sharp knife to trace around and create mini round flatbreads. Each flatbread should yield 3-4 mini flatbreads depending on the size of your cup.
STEP 9: Layer the flatbread with some iceberg lettuce, 1 tomato slice, and some chicken. Repeat until you've used all ingredients.
STEP 10: Arrange all the snacks around the Black Swan dips and garnish the plate with sprigs of parsley.
STEP 11: Dip and enjoy!