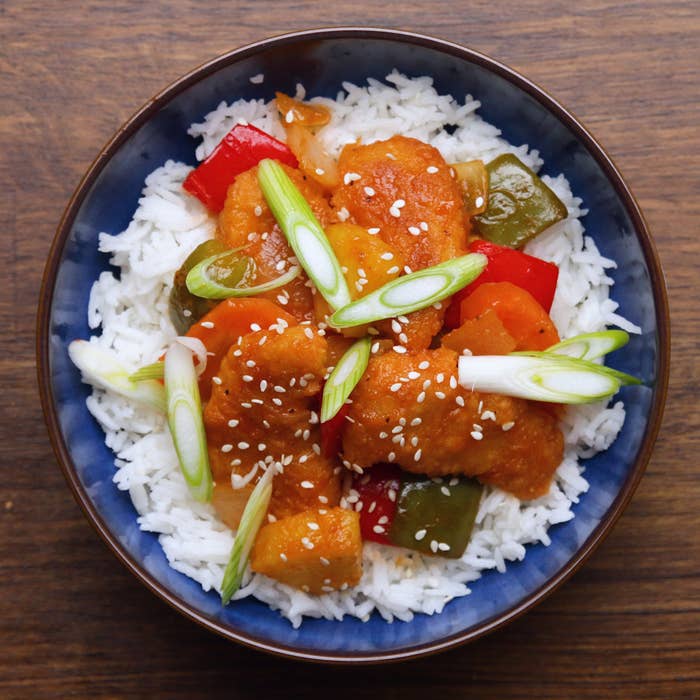 Sweet and Sour Chicken Dippers
Serves: 4
Ingredients
20 Birds Eye Chicken Dippers
1 tablespoon oil
2 garlic cloves, crushed
1 inch ginger, grated
½ onion, chopped
½ green pepper, chopped
½ red pepper, chopped
1 carrot, chopped
½ teaspoon salt
¼ teaspoon black pepper
150 grams, pineapple, chopped
80 millilitres rice vinegar
80 grams honey
2 tablespoons ketchup
To serve
Rice
Sesame seeds, to serve
Spring onion, chopped
Preparations
Preheat the oven to 210°C (410°F).

Place the Birds Eye Chicken Dippers onto a baking tray and bake for 15 minutes.

When the Chicken Dippers have around 10 minutes cooking time remaining, start cooking the sauce. Place a large wok or frying pan over a medium heat. Add the oil followed by the garlic and ginger. Cook for 1–2 minutes stirring continuously.

Next add the onion, carrot, red peppers, green peppers, salt, and pepper. Stir fry for 3–4 minutes.

Add the pineapple; continue to stir for around 1 minute to warm the pineapple through.

Next add the honey, rice vinegar, and ketchup; stir to combine. Bring the sauce to a simmer and continue to cook for 2–3 minutes.

Once to chicken dippers are cooked, add to the sauce and stir so every chicken dipper is coated with the flavoursome sticky sauce.

Serve over rice and finish with a sprinkle of sesame seeds and spring onions.

Enjoy!