No-Bake After School Snacks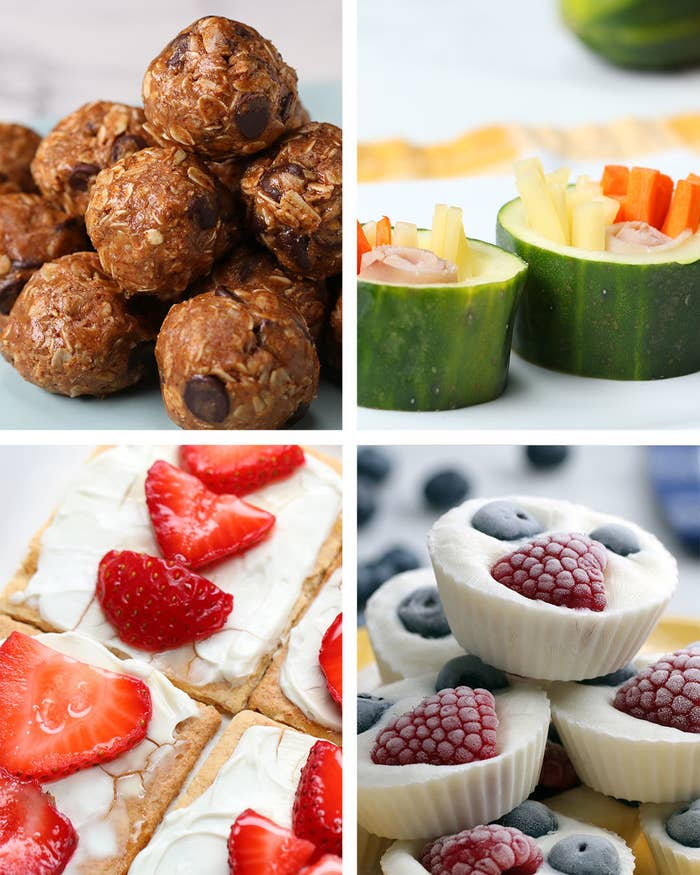 Chocolate Chip Granola Bites
Servings: 12
INGREDIENTS
1 cup old-fashioned oats
½ cup nut butter of choice
½ cup chocolate chips
⅓ cup honey
1 teaspoon vanilla extract
1 teaspoon cinnamon (optional)
PREPARATION
1. Mix together oats, nut butter, chocolate chips, honey, vanilla extract, and cinnamon in a medium bowl until well-incorporated.
2. Cover with plastic wrap and chill in the refrigerator for an hour.
3. Roll into balls the size of a ping pong ball.
4. Refrigerate in tightly sealed container for up to one week.
5. Enjoy!
Ham & Cheese Cucumber "Sushi"
Servings: 7-8
INGREDIENTS
1 cucumber
2 slices cheddar cheese, thinly sliced
2 slices all-natural deli meat of your choice, thinly sliced
⅓ cup carrots, cut into matchsticks
PREPARATION
1. Slice cucumber into large 1-inch thick slices.
2. Hollow out center of cucumber, leaving about ½ inch of cucumber inside.
3. Roll deli meat strips into a small roll.
4. Stuff cucumber pieces with deli meat, cheese, and carrots until center is filled.
5. Refrigerate in tightly sealed container.
6. Enjoy!
Strawberry Cheesecake Crackers
Servings: 12
INGREDIENTS
12 graham cracker squares
½ cup cream cheese
1 cup strawberries, sliced
Honey
PREPARATION
1. Spread cream cheese onto each graham cracker.
2. Top with strawberries.
3. Drizzle with honey.
4. Enjoy!
Froyo Fruit Cups
Servings: 12
INGREDIENTS
Blueberries
Raspberries
1½ cups vanilla Greek yogurt
PREPARATION
1. Arrange 12 cupcake liners in a muffin tin.
2. Using a spoon, dollop two tablespoons of yogurt into the bottom of each liner.
3. Top with blueberries and raspberries.
4. Freeze for at least two hours.
5. Remove cupcake liners before serving.
6. Enjoy!