Meatball Slider Bake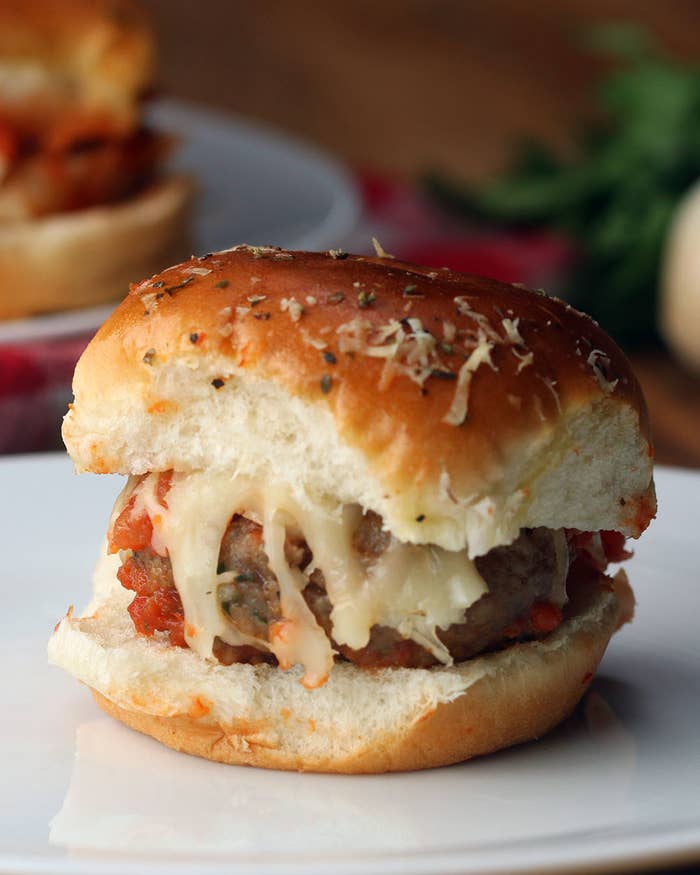 INGREDIENTS
Servings: 12
For the meatballs
¾ pound ground beef
¾ pound Italian sausage
3 teaspoons minced garlic
⅓ cup parsley, chopped
⅓ cup Parmesan cheese, grated
1 teaspoon salt
½ teaspoon pepper
1¼ cup Italian bread crumbs
2 eggs
¾ cup milk
1 tablespoon oil
12 slider rolls
2 cups marinara sauce
2 cups mozzarella cheese, shredded
2 tablespoons olive oil
3 tablespoons Parmesan cheese, grated
1 tablespoon italian seasoning
PREPARATION
1. Preheat oven to 350˚F (180˚C).
2. In a large bowl add the ground beef, Italian sausage, garlic, parsley, parmesan cheese, salt, pepper, bread crumbs, eggs, and milk and mix until thoroughly combined.
3. Roll the mixture into 5 ounce meatballs.
4. Add 1 tablespoon of olive oil to a pan over medium heat and brown the meatballs on both sides for 15 minutes total.
5. Slice the rolls in half lengthwise.
6. Place the bottom half on a 9 x 13-inch baking dish.
7. Spoon a little marinara sauce on each bun. Top a meatball on each roll, add another spoonful of sauce, and top with mozzarella cheese.
8. Place the remaining half of the rolls on top and lightly brush them with oil.
9. Combine the parmesan cheese and the Italian seasoning in a small bowl and sprinkle it over the buns.
10. Bake for 15 minutes.
11. Enjoy!
Inspired by: http://www.homemadeinterest.com/easy-meatball-sliders/