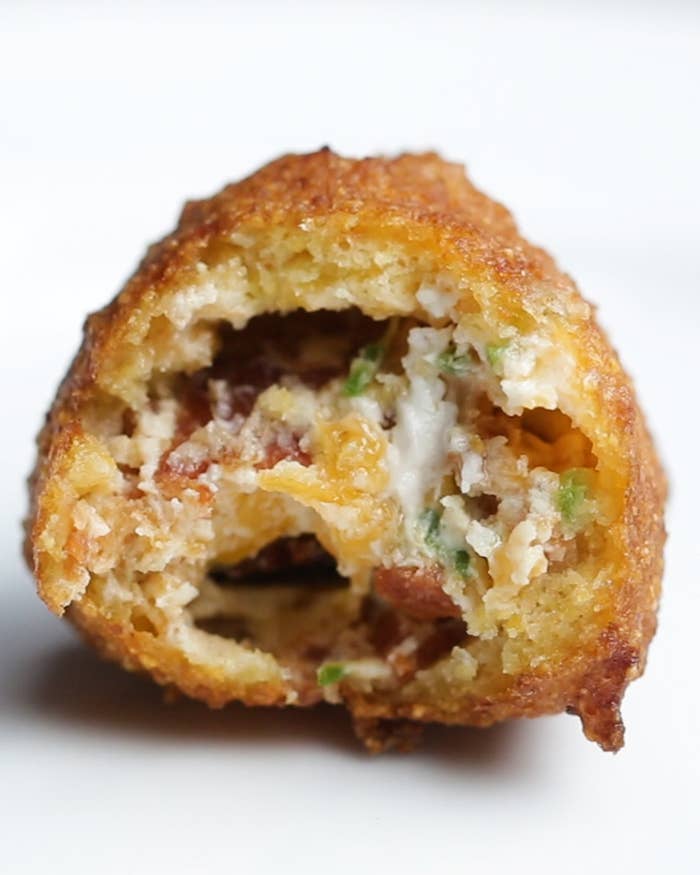 Ingredients:
for 6 servings
8 oz cream cheese, room temperature (225 g)
1 cup shredded cheddar cheese (100 g)
2 jalapeñoes, seeded, minced
1 pack bacon, cooked, crumbled
1 ½ cups yellow cornmeal (210 g)
½ cup all purpose flour (60 g)
3 teaspoons kosher salt
2 teaspoons freshly ground black pepper
1 teaspoon baking powder
1 teaspoon baking soda
2 teaspoons sugar
½ teaspoon cayenne pepper
1 cup buttermilk (240 mL)
1 egg, beaten
1 yellow onion, grated
oil, to fry
Preparation:
1. In a medium-sized bowl, add the cream cheese, cheddar cheese, jalapeños, and bacon, and use a hand mixer to blend until combined.
2. Using a teaspoon, scoop out the cream cheese mixture and roll into a ball.
3. Place onto a parchment paper-lined sheet tray and freeze for 30 minutes.
4. In a bowl, add the cornmeal, flour, salt, pepper, baking powder, baking soda, sugar, and cayenne pepper, and whisk to combine.
5. In a separate bowl, add the buttermilk, egg, and onion, and stir until combined.
6. Slowly add the buttermilk mixture to the dry ingredients, whisking until just combined. Let rest at room temperature for 30 minutes.
7. Preheat a pot of oil to 350˚F (180˚C).
8. Dip the cream cheese balls into the batter, ensuring they are fully coated on all sides.
9. Add the hush puppies to the oil and fry until golden brown on all sides.
10. Transfer to a wire rack or paper towel lined-plate to drain.
11. Serve immediately.
12. Enjoy!