Peanut Butter And Jelly Pull Apart Brain Bread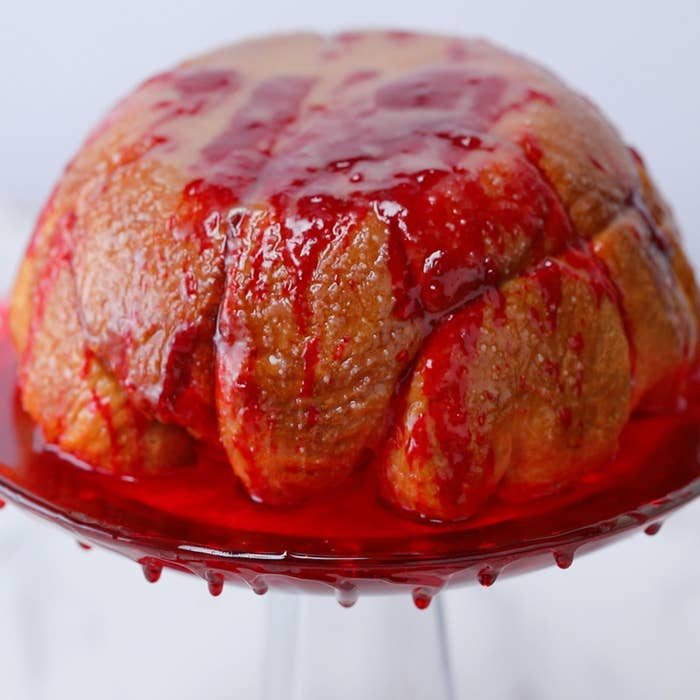 INGREDIENTS
Serving 12
1 can (16.3 oz) Pillsbury Grands refrigerated original biscuits
1/4 cup peanut butter
1/4 cup strawberry jam
Peanut butter glaze
1 cup packed brown sugar
1 cup butter, melted
1/4 cup peanut butter
Strawberry glaze
1/4 cup strawberry jam
5 drops red food coloring
1 tablespoon hot water
PREPARATION
1. Preheat oven to 350°F (180°C). Spray an 8-inch round aluminum bowl with non-stick cooking spray.

2. Separate biscuits and cut each one in half. Press out each half biscuit with your fingers and smear about 1 teaspoon of peanut butter and 1 teaspoon of strawberry jam inside the biscuit. Press the edges together to seal in the peanut butter and jam to form a small ball. 

3. Place the filled biscuits in the greased bowl, arranging them into an even circle. Repeat with the rest of the biscuits.

4. In a medium bowl, whisk together the brown sugar, butter, and peanut butter. Pour half of this mixture over the bowl of stuffed biscuits and place the bowl into the preheated oven. 

5. Bake for 30 minutes. Then, cover with foil until the middle is cooked through, another 15 minutes. 

6. Once removed from the oven, let cool for 15 minutes.

7. While the bread is cooling, in a medium bowl whisk together the strawberry glaze ingredients. Set aside.

8. Flip the bowl over onto a plate to release the pull-apart bread. 

9. Pour the remaining brown sugar mixture over the warm bread.

10. Using a spoon, place the strawberry glaze on top of the lines of the pull-apart bread, to resemble a brain. 

11. Enjoy!