1.
LITERALLY THIS.
2.
I mean wow, how relatable is this please?
3.
I've literally never related to anybody or any tweet more in my life.
4.
Yes, it was Zara Larsson who realised sex toys are the new diamonds.
5.
You're literally lying if you say you don't do this.
6.
Don't worry Zara, I'll give you an alibi girl.
7.
Just like the rest of us, Zara enjoys mulling over the greatest mysteries in life, like how the fuck milk and butter were discovered.
8.
I mean yes, me too.
9.
This is probably my life 98% of the time.
10.
Congratulations Beyoncé and everything but also there are other important questions to ask.
11.
No but seriously, I need to know the answer to this question.
12.
Zara is just the ultimate fangirl.
13.
Who tweets mottos we should all live our life by.
14.
And makes great, if not slightly unrealistic, resolutions for the year.
15.
She is all of us at peak procrastination.
16.
And literally all of us after doing one sit-up.
17.
I relate to this on a deep level.
18.
Zara's wary of certain types of people, and rightfully so.
19.
And she's happy to spill the true tea.
20.
Like seriously, Zara does not mind telling it how it is.
21.
And she's always up to date on the latest memes.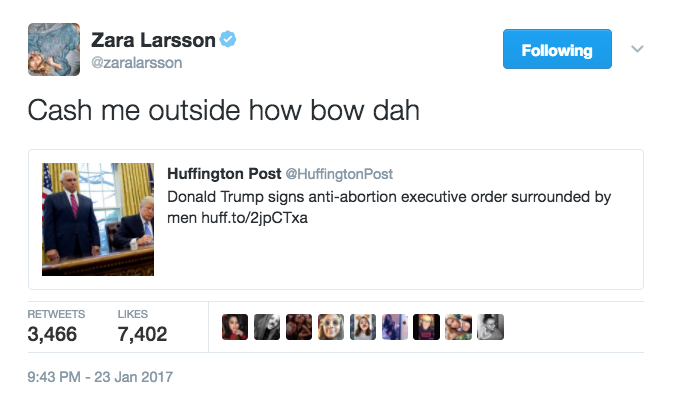 22.
So basically, Zara Larsson, first of her name and queen of pop, is quite possibly the most relatable celebrity on twitter.