We all dream the same dream: to have our entire social life take place in our own house and nowhere else. Ever.
There's a problem though. Your friends are always trying to get you to "go places" and "do things" that are well outside the boundaries of your home and therefore completely unacceptable. So what's a millennial to do? End the debate by making your backyard so enticing, so relaxing, so unimaginably chill that it reigns supreme as the undisputed champ of summer party spots.

"But how do I do that?" I can hear you asking. "That sounds like work," I can hear you groan. Don't worry, boo, BuzzFeed's got you. Just follow these steps — and it's easier than you think.
1. Keep the Cooler Stocked, Duh
This one is really a no-brainer. You can't have the essential summer party spot if there's no *party* to be had.
Stock a variety of colorful drinks, both alcoholic and non, for your party guests to keep cool with. Add a little DIY dopeness by painting a planter box and lining the bottom and sides with heavy-duty plastic lining for a stylish, waterproof little drink station. A large metal bucket also makes a good drink cooler.
2. Remember No One Really Ever Grows Up
Remember when you were younger and adults would say things like "one of these days, you're gonna have to act like an adult" or "that's not how things work in the real world." Good news! They were lying! You're the adult now, so you get to decide how the real world works...at least in your own backyard. Think of some games you loved as a kid and make them adult-size.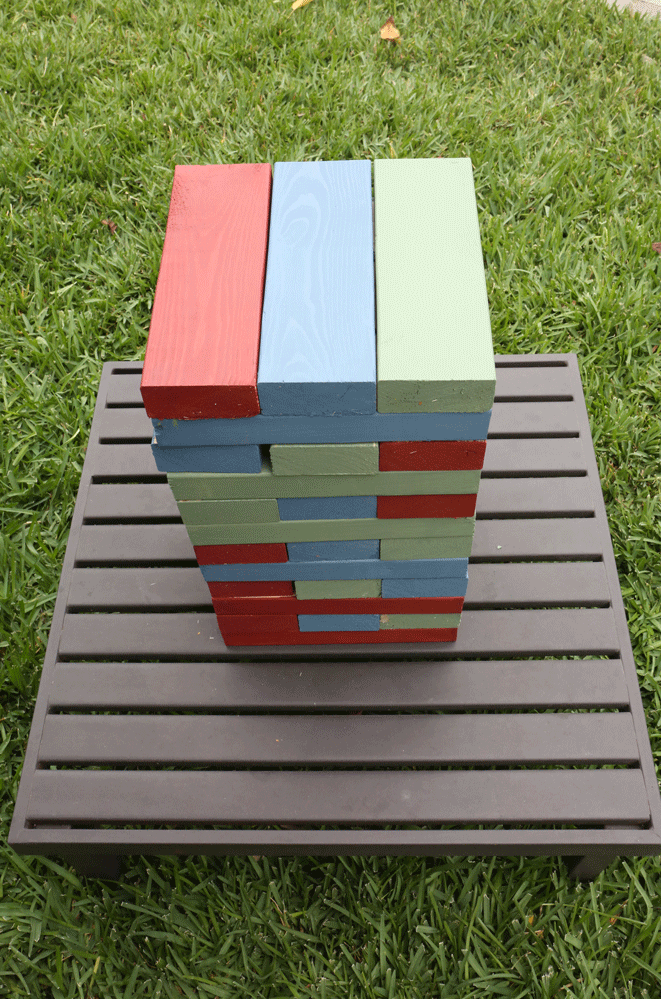 We went with Scrabble and Jenga, but you can supersize just about any childhood game. Standard 2x4's cut to 10.5" length make up the Jenga set. Add some exterior paint in three different colors to give the pieces some pop and make them more durable in all kinds of weather. For Scrabble, we went with foam flooring tiles like the kind you find in nurseries, some alphabet stencils, and a light-colored exterior paint.
Regressing to childhood (at least entertainment-wise) will help you clearly set your fiesta zone apart from more "adult" activities your friends might suggest, like going to a bar, seeing live music, or (gulp) actually going to a social gathering somewhere other than your house.

3. Show Some Respect for the Classics
Beer pong is the once and future king of party games. There's no point trying to deny it, that's just the way it is. And if your backyard is going to own the party scene, you need to get yourself a pong table.
A regulation-size table is usually made from a sheet of plywood about 7'x3'. And you're gonna want your table to be regulation-size to avoid any technical "disagreements" that arise during the more heated matches. Bolster your plywood with a couple of sawhorses for table legs and all that's left to do is draw up a tournament bracket, talk some trash, and get some team T-shirts printed up.
A few coats of semigloss exterior paint will not only help to personalize your table (like our BuzzFeed yellow) but will protect the wood surface from inevitable spills. After all, every good beer pong table will eventually be used for some intense games of flip cup too.
4. Blur the Lines Between Indoors and Outdoors
Outdoor furniture can be so much more than a few lawn chairs in a semicircle or a blanket on the ground. Creating the sense of an "outdoor room" will take your event space from party hangout to luxe getaway.
Think about what makes your favorite room your favorite room. Is it the color? The lighting? The flow? Whatever it is, chances are good that you can figure out a way to replicate that effect in an outdoor space. For us, it was plenty of seating area, so we stained three palettes we grabbed from a hardware store and constructed this outdoor palette lounge/sofa under our tree. It really gave people a place to relax in between rounds of Jenga and trips to the buffet.
We amplified the indoor/outdoor aesthetic with this simple outdoor lighting setup, which consists of terra-cotta pots, a little concrete, some wooden posts, and twinkle lights. Then we turned our light anchor into a handsome planter by painting the terra-cotta pots and planting a variety of succulents in them!
Having a daytime party paradise would be meaningless if you couldn't keep the fun going after sundown. For nighttime festivities, use a combination of electric light from your light strings and natural light from candles placed on surfaces around the yard. For our candles, we placed tea lights in one-pint mason jars along with decorative rocks, citrus peels, and different types of herbs.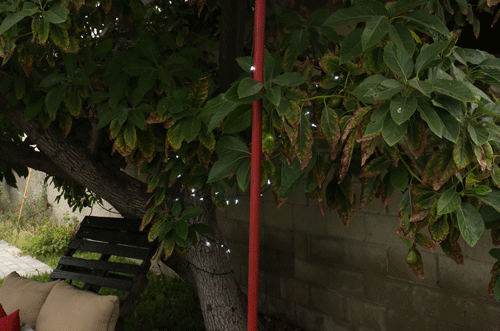 If you fill the jars with citronella oil up to the rock line, when lit you can make the candles serve multiple purposes: They will brighten up the party, they look great as colorful decorations, and they'll keep the bugs from hassling your guests! Win-win-win. See? This whole "designing an utterly flawless party environment" thing is babytown frolics.
5. Portable Food Is Party Food
Obviously you need to feed your partiers so they don't get grumpy. Unless it's a fancy sit-down dinner party, the menu can present some sticky challenges. Literally. You don't want anything too heavy or messy — nothing that interrupts the flow of the other activities you've got planned — but you need something more than just chips and dip. The ideal party food is light, flavorful, and one that can be carried around and eaten as your guests interact.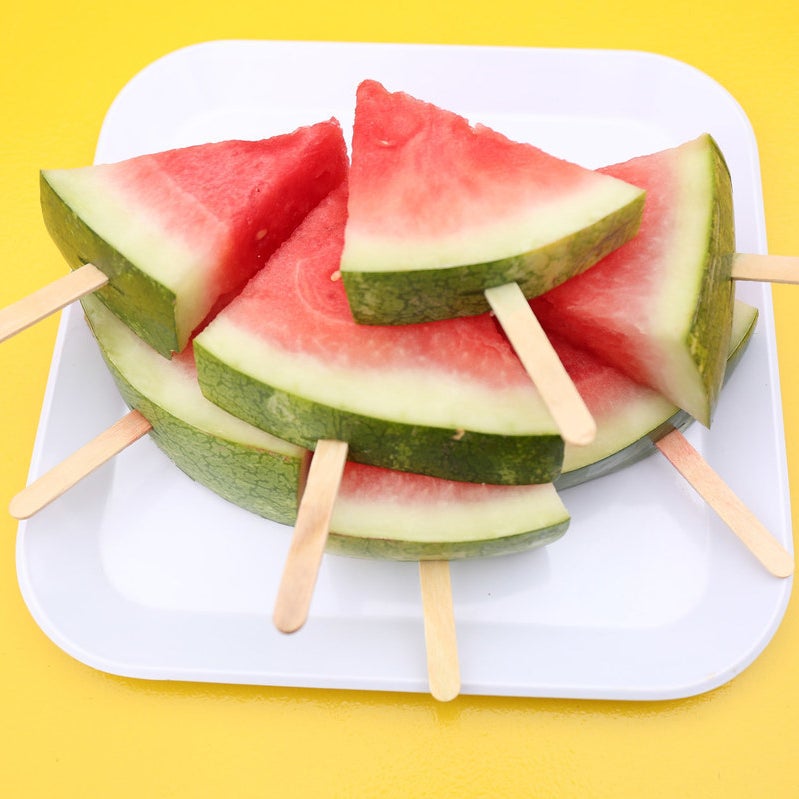 We present to you watermelon pops and "walking tacos." The recipe for the watermelon is (we hope) pretty self-evident. Cut watermelon. Place on stick. But the recipe for the "walking tacos" is much more complicated. Take a bag of individually packaged snack chips, remove about half of them, then fill the bag with whatever combination of taco fillings and condiments you choose. The result is a savory, snackable morsel that can be held easily in one hand and enjoyed with a fork. Both of these little self-contained marvels will also save you a ton of time in cleanup mode.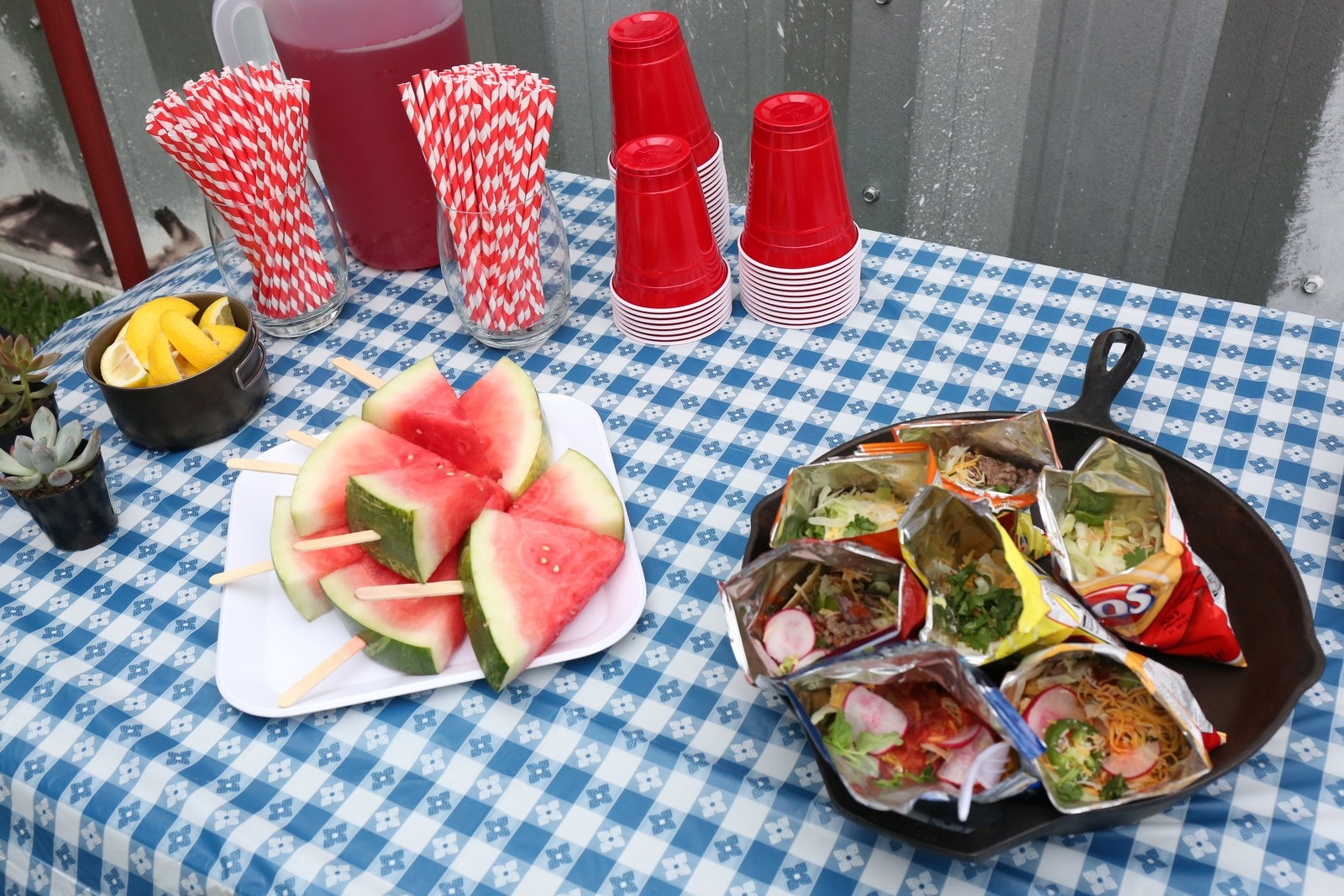 So let's see what we've got. Food? Check. Drinks? Check. Ambience? Double check. Entertainment? Check Republic. If your friends still think they have a better idea than hitting up your place for their summer party needs, then we have one more helpful little tip for you: Get new friends.
This summer, it's going down at your house, and the BEHR family of paints has all the durable, great-looking exterior colors and stains you need to make your backyard party dreams a reality.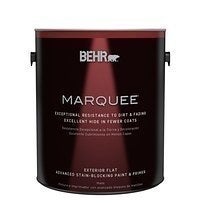 *Go ahead and paint on properly prepared and cleaned coated and uncoated exterior surfaces. Please remove rust and loose or peeling paint (because nobody has time for that). Don't forget to repair imperfections and sand smooth. Also, scuff sand or de-gloss smooth or glossy surfaces while also cleaning and sanding new or weathered wood.