1.
Huckleberry biscuits
Ingredients:
1 egg
2 1/4 cups flour
1/2 granulated sugar
3/4 teaspoon salt
1/4 teaspoon soda
1 tablespoon baking powder
1 teaspoon fresh lemon peel
1/3 cup shortening
3/4 cup buttermilk
2/4 cup unthawed frozen huckleberries
Toppings:
3 tablespoons melted butter
3 tablespoons granulated sugar
1/3 teaspoon ground cinnamon
dash of ground nutmeg
Directions:
1. Start by mixing 2 cups of flour with the baking powder, sugar, salt, lemon peels, and soda in a bowl.
2. Add shortening until the texture is coarse.
3. Mix the egg and buttermilk separately, and then add to the bowl.
4. Stir in frozen huckleberries.
5. Spread the remaining flour across the countertop and pour the dough mix onto the flour, kneading 6 or 7 times.
6. Preheat the oven to 400 degrees.
7. Once the dough holds together, pat it into a rectangle about 1/2" thick and then cut into circles about 2" thick.
8. Place the biscuits onto a (lightly) greased baking sheet and bake for 12-15 minutes.
9. Finally, mix the topping ingredients together and brush that sweet stuff over the biscuits.
2.
German puff pancakes
Ingredients:
6 eggs
1 cup flour
1 cup milk
2 tablespoons salted butter
1/2 teaspoon vanilla extract
1/2 teaspoon ground cinnamon
1/4 teaspoon salt
Directions:
1. Preheat oven to 375 degrees.
2. Add the eggs, milk, flour, vanilla extract, salt, and cinnamon in a bowl and whisk.
3. Add the butter to a 9x11" baking dish and throw it in the oven. Check on the butter until it melts (about 5 minutes). Remove, and pour the batter into the baking dish with the butter.
4. Put back in the oven and bake until it looks puffy; usually 20-25 minutes.
3.
Pioneer cut dumplings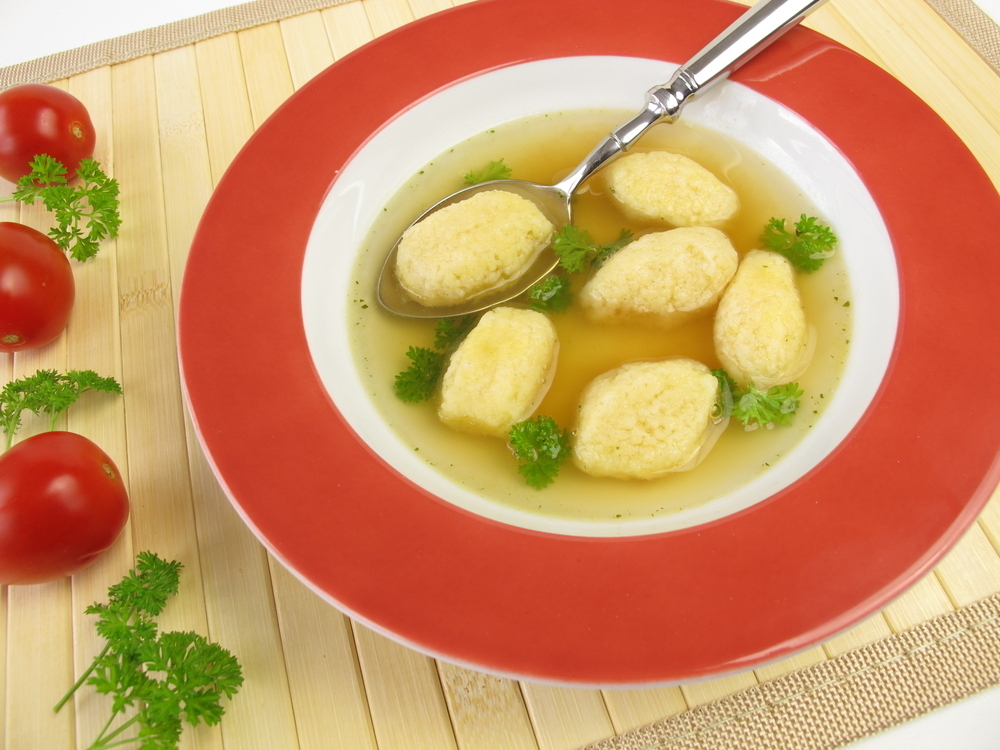 Ingredients:
1 egg
3 cups flour
1 cup milk
1 1/2 teaspoons salt
Directions:
1. Add flour and salt to a bowl. Add the milk and egg, mixing it until it's doughy.
2. Spread flour out on the countertop and knead until smooth. Roll out as thick as you want—thick for dumplings, thin for noodles.
3. Cut into strips, squares, or whatever you'd like—traditionally they were strips. Let dry while you heat broth.
4. Add dumplings to boiling broth and cook until tender, testing periodically.
4.
Ham balls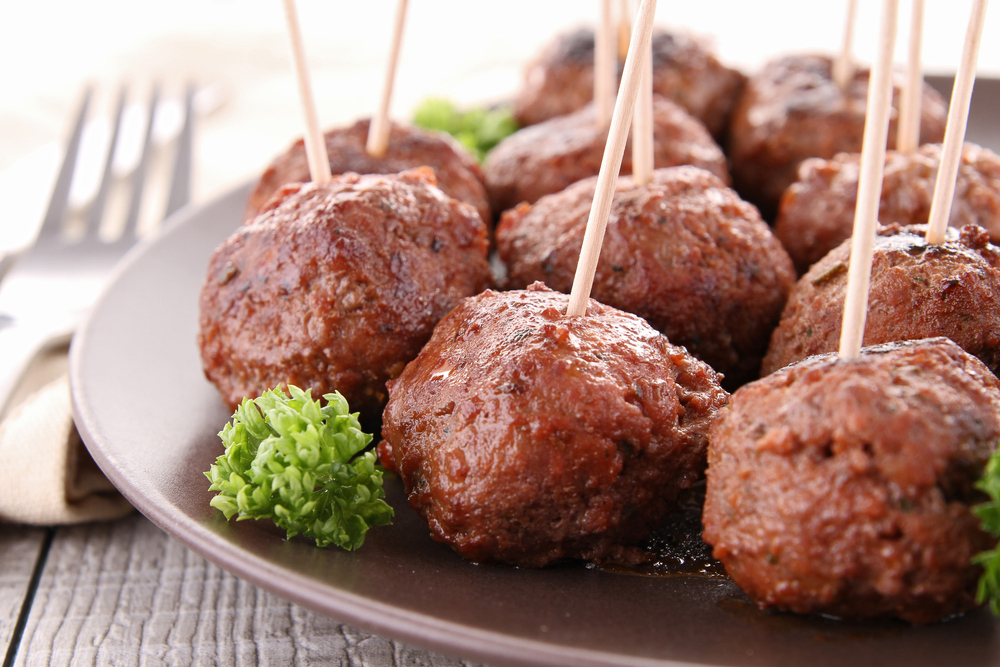 Ingredients:
1 1/4 lbs. ground smoked ham
1 lb. ground pork
1 lb. lean ground beef
2 eggs
1 1/2 cups graham cracker crumbs
1 cup milk
1 cup packed brown sugar
1/4 cup cider vinegar
1 (10.75oz.) can tomato soup
1 teaspoon mustard powder
Directions:
1. Preheat oven to 350 degrees.
2. Add ham, pork, and beef to a bowl. Stir in milk, eggs, and graham cracker crumbs, mix well.
3. Form into balls about 2" in diameter, place into 9x13" baking dish.
4. In a separate bowl, mix soup, vinegar, brown sugar, and mustard powder, then pour over meatballs.
5. Bake at 350 degrees for 1 hour.
5.
Potato omelette
Ingredients:
2 large potatoes, thinly sliced
8 eggs
1/2 cup green onions, sliced
1/4 cup milk
6 tablespoons butter
salt and pepper to taste
Directions:
1. Add potatoes and 3 tablespoons of butter to a large skillet, cook for 15 minutes. Leave on low heat to keep warm and add sprinkle on onions.
2. Melt the butter in a nonstick skillet over medium-high heat. Then, whisk the eggs, milk, salt, and pepper and add to the skillet with the potatoes.
3. Once eggs are set, push the cooked parts to the center of the skillet, leaving the uncooked part to flow underneath. When they're solid, spoon the potato mixture onto one side and fold the other side over the filling. Invert the omelette onto a plate and cut into 4 servings.
6.
Harvey's sawmill gravy
Ingredients:
4 sausage patties
1 1/2 cups milk
3 tablespoons flour
1/8 teaspoon salt
1/8 teaspoon pepper
Directions:
1. Fry sausage patties in a saucepan, pour out all but about 2 tablespoons of grease and keep on low heat.
2. Mix in flour with the remaining grease and stir until brown.
3. Slowly add milk (or water) and mix well.
4. Bring to a boil, then reduce heat and let simmer.
5. Crumble the sausage patties over the gravy and add salt and pepper.
6. Simmer for two minutes, serve over whatever you want—but hot, open-faced biscuits were the traditional counterpart.
7.
Family mince pie
Ingredients:
6 lb. apples
4 lb. raisins
3 lb. lean beef
2 lb. beef suet
2 lb. currants
1 lb. brown sugar
1 qt. Madeira wine
1/2 lb. citron, sliced
1 tablespoon salt
1 tablespoon nutmeg
1 teaspoon ground cinnamon
1/2 teaspoon cloves
Directions:
1. Boil lean beef until tender. Remove from heat and let cool, then chop it till it's fine.
2. Chop beef suet and mix in with the lean beef, adding a tablespoon of salt.
3. Pare, core, and chop the apples; crush and chop the raisins; wash and dry the currants; add them all in with the meat.
4. Season with a tablespoon of cinnamon, nutmeg, crushed cloves, and brown sugar.
5. Add a quart of Madeira wine and cut up citron to the mix.
6. Traditionally stored in a stone jar, you can immediately instead add this mix to any premade or homemade pie crust and end up with enough to feed a decently sized dinner party. Perfect for Thanksgiving or Christmas.
8.
Egg cream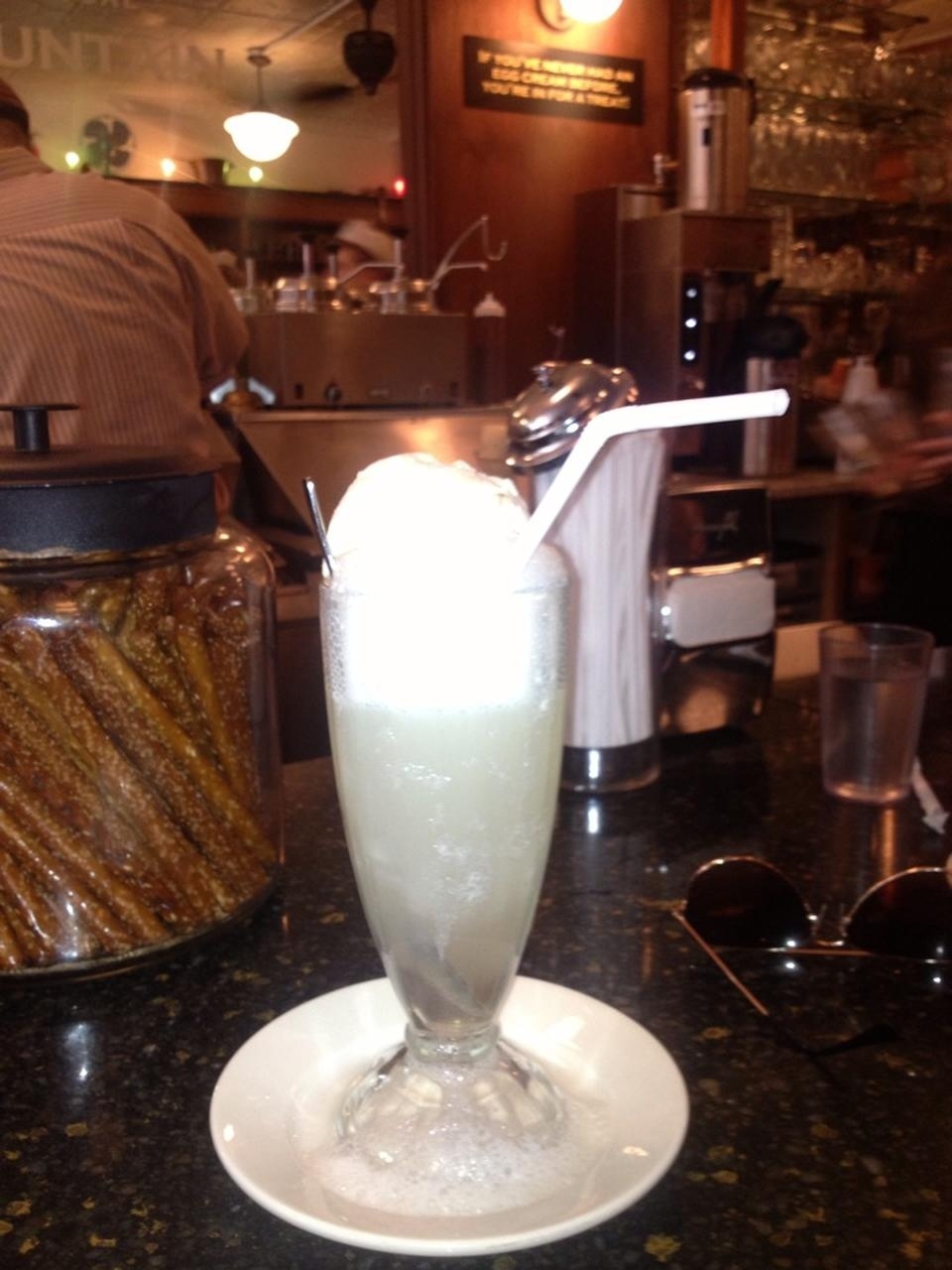 Ingredients:
5 ounces milk
3 ounces seltzer
2 tablespoons chocolate syrup (traditionally Bosco)
Directions:
1. Mix the milk and chocolate syrup together.
2. Add seltzer, continue stirring.
3. Once thoroughly mixed, enjoy. For the full experience, wipe your mouth on your sleeve.