iStock
Can You Figure Out Which Of These People Is A Private Detective?
Interesting guess! Rapunzel, being a corgi, does have a better sense of smell than your average human, and that would be handy as a detective, but she isn't one. She does pal around with real detective though, so keep guessing! Everything is connected…
Sorry, no! Ken is a hacker turned tech assistant, not a private detective. Don't let his friendly face fool you, however: Ken's line of work has trapped him in some increasingly difficult and bloody circumstances, forcing him face-to-face with some odd and odious characters…including our private detective! Keep guessing — everything is connected.
Wrong, sorry! Bart Curlish isn't the private detective; she's a badass female assassin on a mission to kill the private detective. She's terrifying, homicidal, deranged, fearless, and nearly invincible. She doesn't determine who she kills or when and how she kills them — it's all instinctual. Keep guessing! Everything is connected…
Close, but no! Todd Brotzman is the private detective's reluctant sidekick. A frustrated loser and fallen punk-rock frontman, Todd is drawn into the detective's world after he stumbles onto a bizarre murder scene. He quickly realizes that he's better at being a detective (and pretty much everything else) than the private detective and sticks around to help solve matters with the fewest steps possible. Everything is connected, so keep guessing!
Interesting guess! The Rowdy 3 are a chaotic, violent group of emotional vampires who feed on distress. They're hunting the private detective, deliberately entering his life in moments where it will cause him the most emotional terror. Also, there are four of them. Everything is connected, so keep guessing!
Sorry, wrong! Amanda Brotzman is actually Todd's sister. She's a lonely young woman who suffers from a rare nerve disease, pararibulitis — a hereditary illness that turns everything around her into a potentially agonizing physical hazard. She's deeply connected to her brother but is finding herself drawn toward the dark forces converging on his life. Remember: Everything is connected, so keep guessing!
Correct! Dirk Gently is the private detective! But he's nothing like your standard detective: funny, eloquent, rude, and a tiny bit presumptuous, Dirk has strange psychic abilities that enable him to sense tangential connections. He's turned these abilities into his new profession: that of a "holistic detective," a term that reflects his belief in the fundamental interconnectedness of all things. Dirk exists on the assumption that everyone around him will instantly recognize his authority…even though said authority doesn't exist, and pretty much no one ever acknowledges it ever.
Nope, sorry! Gordon Rimmer is an enigmatic loser with an impressive series of horrible secrets. A high ranking member of a cult called Men of the Machine, Rimmer is by nature a perpetually scrambling, unreliable, egomaniacal agent of the Brotherhood's intent. Rimmer loves giving orders and whenever possible, reminding his fellow brothers of his seniority within the cult.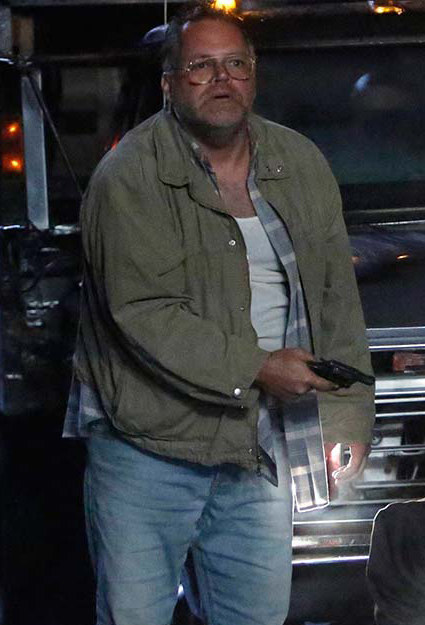 Sorry, wrong! Farah Black is a tough-as-nails bodyguard, hired by millionaire Patrick Spring to protect his daughter Lydia. After her boss is killed and his daughter kidnapped, Farah is joins forces with the detective to find Spring's daughter without the help of police. She makes every attempt to keep the group safe, even if she herself isn't so sure she's capable of doing so.
Want to know how everything is connected? Watch the series premiere of Dirk Gently's Holistic Detective Agency on Saturday, October 22, at 9 p.m. ET/8 p.m. CT, only on BBC America!
All images courtesy of BBC America.