Do you have absolutely no idea where to even start when it comes to this whole cooking thing? Yummly has all the bases covered — it learns your dietary restrictions and checks in on your allergies. It even asks you what foods you dislike and types of cuisines you couldn't live without.
Price: Free
Keeping fresh food fresh is hard, y'all. Perfect Produce tells you exactly how to store produce and provides secrets to knowing when your fruits and veggies are ripe and ready to eat.

Price: Free
3.
The Photo Cookbook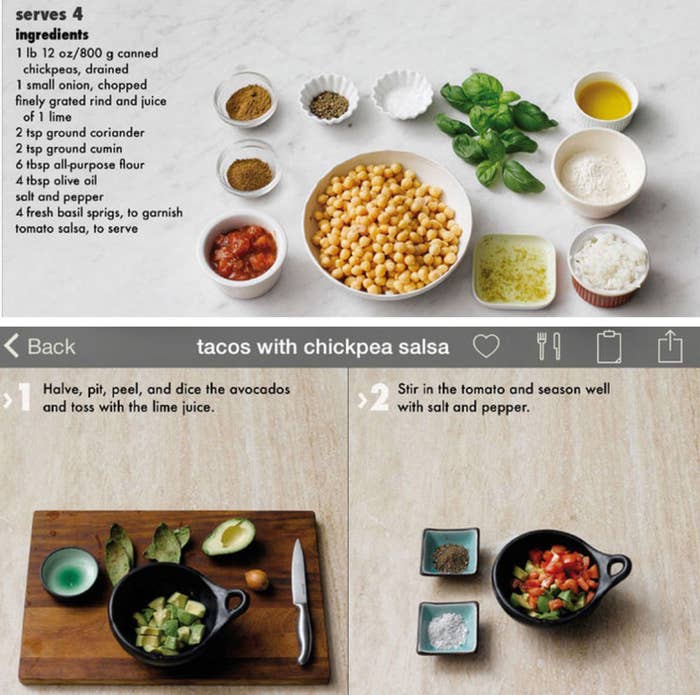 Do you need an app that will do literally everything for you? OK, not everything (like, you still have to cook the food), but MealBoard helps with all the other stuff. It's fully customizable and super easy to use.
Price: $3.99
This app was created for people who have trouble keeping things organized. Make everything easier with the ability to find, share, and store over 350,000 recipes.
Being a kitchen noob often means not having all the right stuff to make your favorite meals (there are a lot of spices in the world). With 1,200+ substitutions for common household foods, this app is a godsend.
Price: $2.99
7.
Paprika Recipe Manager
This app is perfect for novice chefs and long-term cooks alike. Discover recipes and organize them in one place. You can even plan out your meals for breakfast, lunch, and dinner for the entire month.
Price: $4.99
Could your mom's homemade recipe feed a village? You're just trying to eat for one, and nobody's got time for mental math. Let KitchenMath do all the brain work.
Price: Free
9.
How to Cook Everything
Experimenting in the kitchen and trying new recipes doesn't have to be more difficult just because you're a vegetarian anymore! Garden Plate is perfect for people trying to eat green.
You've got goals. You like attempting to make those dishes on your food boards, but you only have certain ingredients in your house at any given time. Kitchen Wizard takes what you've got and tells you how to make it into something amazing and edible.
Price: Free
Dinner doesn't have to be stressful. Help make dinner even easier with one pan, no boil, no drain Barilla® Pronto™ pasta.
Check out all the meals you can make with Pronto™ here!
*All thumbnail images courtesy of Thinkstock