Lady Gaga's third album, ARTPOP, is out today, and to celebrate she threw "artRave," a massive, awesome party at a secret location in Brooklyn. Lady Gaga sent out invites to artRave months ago, and fans didn't find out the location until the last minute. There were 1,800 die-hard fans who attended the event and basically had the time of their lives. The red carpet included friends of Gaga, like Marina Abramović. Lady Gaga has been pretty vocal about how Abramović helped her quit smoking pot. BuzzFeed asked the performance artist what the detox process was like, and she purred (no, really, she did), "Ahhhh...come and learn from me. It's called cleaning house."
Sounds zen.
When asked by a reporter if anything over the top happened when the two collaborated, he replied, "Yeah. I painted her nude."
Wait, what?
"Well, I figured if Michelangelo did it, why shouldn't I try it?"
You go, Tony.
Project Runway star Christian Siriano stopped by and took a selfie.
And so did speed rapper Twista.
Twista appears on ARTPOP on the track "Jewels N' Drugs," alongside rappers Too $hort and T.I. He said he was surprised by Gaga's knowledge of hip-hop when they got in the studio, and that he considers her one of the most creative artists he's seen in a long time. "I'm from the old school. I watched Prince and Michael Jackson do their thing, so different [from the norm]," Twista said. "And I feel like she's in that caliber."
And, of course, Gaga graced the carpet, and she spoke with BuzzFeed about how she translates her songs into visuals. "It really depends on the director. When I worked with Inez & Vinoodh on 'Applause,' it was a lot of time spent ahead of time planning out the abstract story," she told BuzzFeed. "Then we get there. We're looking at the clothes, we're looking at the frame, we're looking at the lighting, we're changing the clothes, the hair, everything. It's almost like making a painting. We spend most of the time painting it, and then we shoot for a short bit of time."
But not every experience is the same, she notes: "Then, I worked with Terry Richardson last week with R. Kelly for 'Do What U Want,' and that was a totally different thing. We have a loose concept that we really believe in, and it was all about the performance. He presses record and me and R. Kelly just go, and it's all about him capturing that raw artistic spirit. It really depends on the director. It's all about a true collaboration and ARTPOP is about bringing art to the front, so it's really about me allowing these artists to use me as the vehicle for their ideas. So I'm just, you know, a canvas for them to paint on."
Artist Jeff Koons was the honored guest of the night, and he told BuzzFeed that he'd always been a fan of Gaga and knew she was talented. "I was very, very moved by her generosity, and the meaning and content she puts into delivering her message to help her fans to realize their own potential," Koons said.
When asked whether he was initially skeptical, given the critics who question her involvement in the fine art world, he asked, "How does she make you feel?"
"Feeling is really very important," he continued. "It gets the chemicals going to your brain and when you start to feel, you also start to contextualize and you can experience transcendence. And Gaga knows how to make herself feel the way she wants to feel, but she'd like to also communicate to her fans that they can control the way they feel through thinking."
So, how does Gaga make Koons feel?
"You can feel excited, stimulated, but the art always happens inside the viewer, about your own potential," he told BuzzFeed.
And in case you were wondering, his favorite song on ARTPOP is "Applause."
Gaga decorated the mega party space with the Jeff Koons sculpture as seen on her ARTPOP album cover.
Just for perspective, here are three artRave-goers standing next to the giant-sized piece. The venue also had other works of art, like this statue. And this one. There were also numerous big screens lining the walls with artistic videos of Gaga.
And dancers entertained guests with performances right behind the open bar. Including ballet dancers... And, uh, this: There was also a lot of twerking.
And Gaga showed off some intricate outfits designed by TechHaus, the technical branch of the Haus of Gaga. Fans were treated to free booze and grub, with three popular food trucks outside. They were also lucky enough to get a photo op with Gaga's "Binary Chair." The chair was designed by artist Benjamin Rollins Caldwell. Haus of Gaga artists spotted his piece at Industry Gallery in Los Angeles and later asked if they could use it in promotion for ARTPOP. "I was very excited, very honored for it to be there," Caldwell said.
"It's a completely revolutionary thing, combining the pop world, music world, and the fine art world," Caldwell said of Gaga. "It's completely different from what's been done before, and it's giving a lot of people who wouldn't otherwise see someone like Robert Wilson the opportunity to know who Robert Wilson is and see his work, to be able to see Jeff Koons and see his work and understand his work, to see Marina's work and understand that, and to see my work. It really is great."
Speaking of fans, their costumes were INSANE.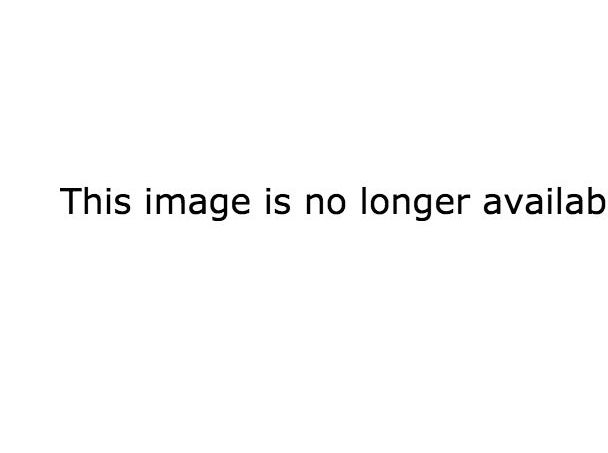 And when it came time for the show to start, the singer showed up like this: Here's a closer look at her costume. She worked her way from the Jeff Koons sculpture up to the stage, traveling through a star-struck crowd.
In a press conference earlier that day, Gaga said the meaning of the walk was to transition from art (the sculpture) to pop (the stage). She got on stage and violated her piano.
And she even did a little crowd surfing.
And you didn't need to be there in person to enjoy the show, either. If you had a lucky friend in the audience, all they needed to do was FaceTime you in.
If you didn't have a friend lucky enough to score an invite to the party, you were still able to watch the live stream online. (You can still catch it on VEVO if you haven't yet!)
Basically, artRave was insane. And that's how you throw an album release party.
All hail the Queen of Pop.