Hello, fellow campers! As a backpacker who tries to get outdoors as often as possible, I have a few tips and tricks I'd like to impart. So if you've been looking for a reason to invest in some new gear this summer and hit the trails, let me enlighten you on a brand-new piece of gear that all avid campers should be aware of: the Sea To Summit Telos TR2 Tent ($499 from Sea To Summit or REI).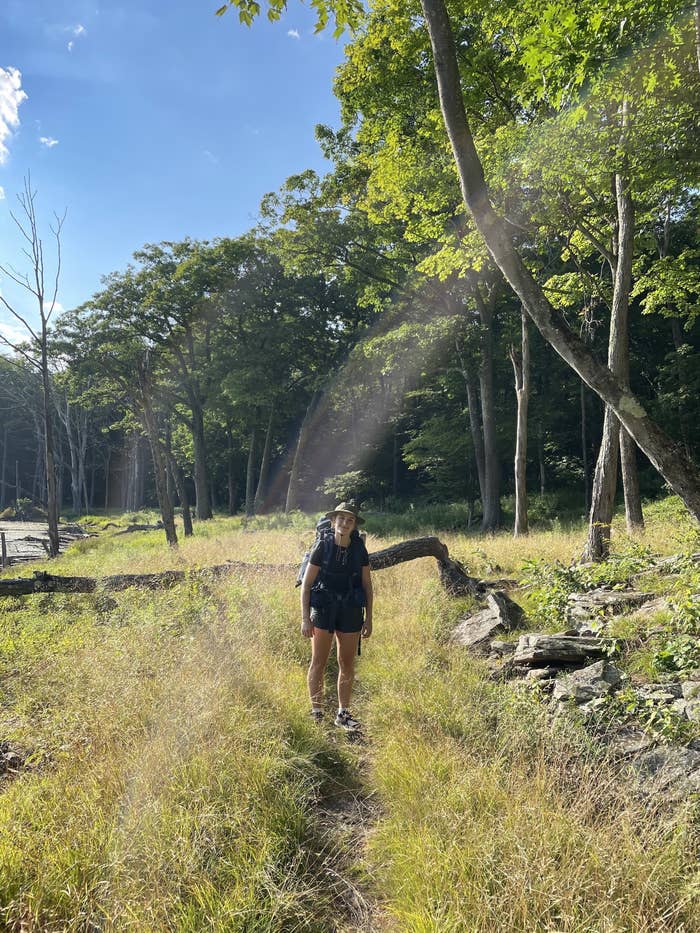 It's a two-person freestanding tent with tons of space and ventilation making it perfect for three seasons of use. It's suitable for car camping or backpacking at its 3 lbs., 10.7 oz. total pack weight and is versatile enough to use for nearly any occasion.
I recently took this tent to go backpacking in upstate New York and upon arrival at the campsite, I took inventory of the pieces I'd need to set up. This included the Telos tent stuff sack, which had handy instructions etched on the side for easy assembly. Plus, the sack for the rainfly, poles, and stakes easily fit together for an effective design that helped me remember not to leave anything behind.
From there, it was super easy to put down the tent's footprint and the collapsed tent. It was simple to lay out the compactable tent poles over the top to form the tent's shape, pop them up to create the frame, and hook the fly clips onto the frame to secure the tent.
Pitching this tent really is as simple as following the easy-to-digest instructions. It was super intuitive and took all of 10 minutes to put together, which, after a long day of hiking to the campsite, was much appreciated.
Whether it's your first time camping or your 100th time, it's always important to feel prepared when you're staying the night in the wilderness. The tent's pieces are all made of lightweight aluminum, making them more durable than your typical plastic pieces. This design feature ensures small, essential parts aren't going to break when you're assembling, which is critical when you're out in the wilderness for several days at a time.
Once the tent was assembled, it was time to set up our sleeping bags, pillows, and put our essentials inside (which I always recommend doing in advance of sunset because putting together a campsite in the dark is no fun). The included rainfly made it super easy to keep all of our items protected while we took a quick water and snack break before we got to unpacking the rest of our gear.
A cool feature I noticed once I was inside the tent was this little pocket that could easily hold my phone, lip balm, and headlamp aka all the things I knew I'd be reaching for throughout the night.
Another exciting design element was how spacious the tent was on the inside. I'm only 5'2 so I don't require a ton of room, but I was sleeping in the tent with one other person and we both fit totally comfortably. If only one person were to stay in the tent they could totally fit their gear and themselves without having to do any finagling.
Camping is something I love to do, but only when I am completely prepared. A huge part of my journey to feel totally comfortable and therefore fully enjoy my time in the wilderness has been finding the right gear for me. This is where you hear me sing Sea to Summit's praises even more than I already have been because their Ascent down mummy sleeping bag ($349+ from Sea to Summit) truly changed my life.
While there's not much to the sleeping bag's assembly, it is worth mentioning that it takes up every inch of space in the stuff sack (talk about efficiency) without causing you to work up a sweat while taking it out or putting it away. Plus, it's made of super cushy and lightweight down material that can withstand temperatures up to 25 degrees F while weighing less than 2 lbs in total.
Not to be a total nerd, but, let's talk about the zippers. This sleeping bag is called the Ascent down mummy for a reason. Not only does it have zippers on the right and left sides as well as at the foot for extra ventilation during warmer months, but it also has snaps to keep your sleeping bag securely zipper during chillier times of year.
The next morning we took a much-needed coffee break before putting the Telos tent to the final test and I'm glad we did because it definitely required a bit more focus than anticipated.
The only element of tent assembly that was *slightly* tricky was Sea to Summit's super cool "hangout mode" feature. I had seen this feature advertised, but I hadn't tried to put it together before this past camping trip and once we learned how to balance it properly it was no biggie. I was super intrigued by the design and once we had the chance to look over the instructions and get to work, I was super impressed with the results.
Well, there you have it folks, a full review of Sea To Summit's Telos tent ($499 from Sea To Summit or REI) as well as a bonus review of their Ascent down mummy sleeping bag ($349+ on Sea to Summit). If you're looking to get moving this summer/ fall and have been looking for special items to invest in that will last you a lifetime (or pretty close to it) I highly recommend checking out these products.