Attention all breakfast connoisseurs! I reviewed Misen's nonstick pan set ($165) to put its nonstick capabilities to the ultimate test. Although it has consistently blessed me with perfectly cooked sunny-side-up eggs and pancakes with every use, I wanted to make sure it could stand up to the ultimate challenge before giving it my full recommendation.
I've had these pans for about six months now and they've truly become a kitchen staple. I'd always loved Misen's knives so I thought I'd give their cookware a go and what do you know? Love at first bite. I recently made breakfast using their nonstick pans every day for a week and you're just gonna have to keep reading to see just how well they performed.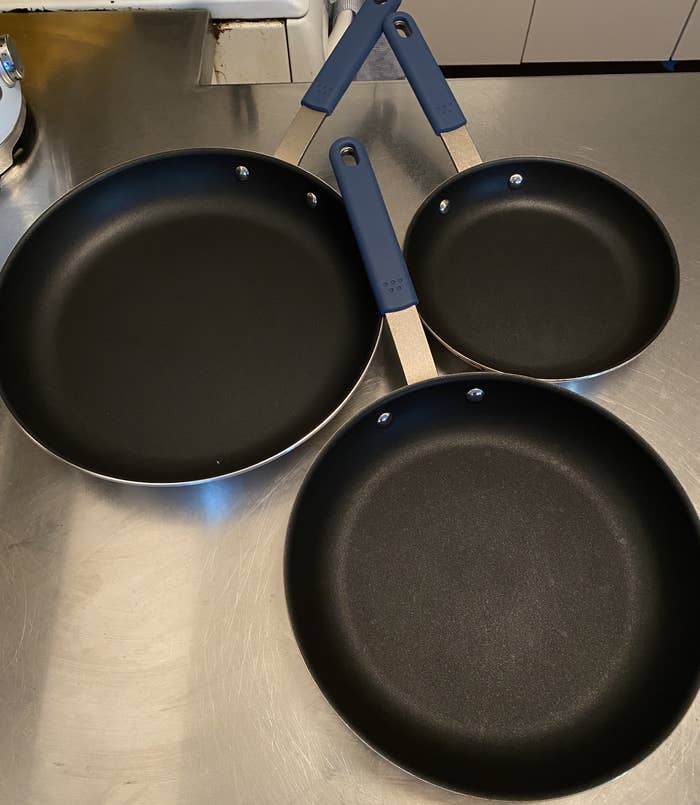 First on the docket in my week of breakfast meals was, of course, a classic stack of pancakes (yes, they were as delicious as they look). I started by adding a little butter to the 12-inch pan, which is the ideal size for larger cooking projects and those that require delicate flipping skills. I buttered the pan just to add some flavor to the flapjacks and because it was early and I wasn't thinking too carefully about testing the nonstick element (or anything really, it was 6 a.m., ok?).
As you can see, they turned out impeccably and got that super crispy rim that's always helped along by a little browned butter. However, I wanted to give the next round a try without any butter or oil to see how it held up to the nonstick test. I've had these pans for several months now and while I often use them without any oil at all, there's usually a liquid element, read: canned tomato for shakshuka or chicken broth for a saucy one-pan protein with a grain. I was excited to see how the pancakes fared in test two.
While they definitely expanded to the space more than in the buttered pan (I was only able to make two rather than three), they definitely cooked just as well. If you're lactose intolerant or just looking to find healthier alternatives to the classic buttery pancake, scooping the batter directly onto the heated pan is definitely the way to go.
Another exciting revelation was that it passed the flip test with flying colors. Not only did it easily slide around in the pan without me having to pick up a spatula to move it along, but it also didn't fall apart mid-air because it was cooked so evenly that it didn't get all runny and liquidy in the middle.
If you need further proof that this pan cooks this ultra-evenly, just check out this glamour shot of the *chefs kiss* pancake of my dreams. Misen uses PFOA-free, three-layer platinum construction for a super safe and eating experience. Confused about what exactly that means? Basically, any harmful chemicals or materials that might be used in other nonstick cookware are absolutely not present in any of Misen's products.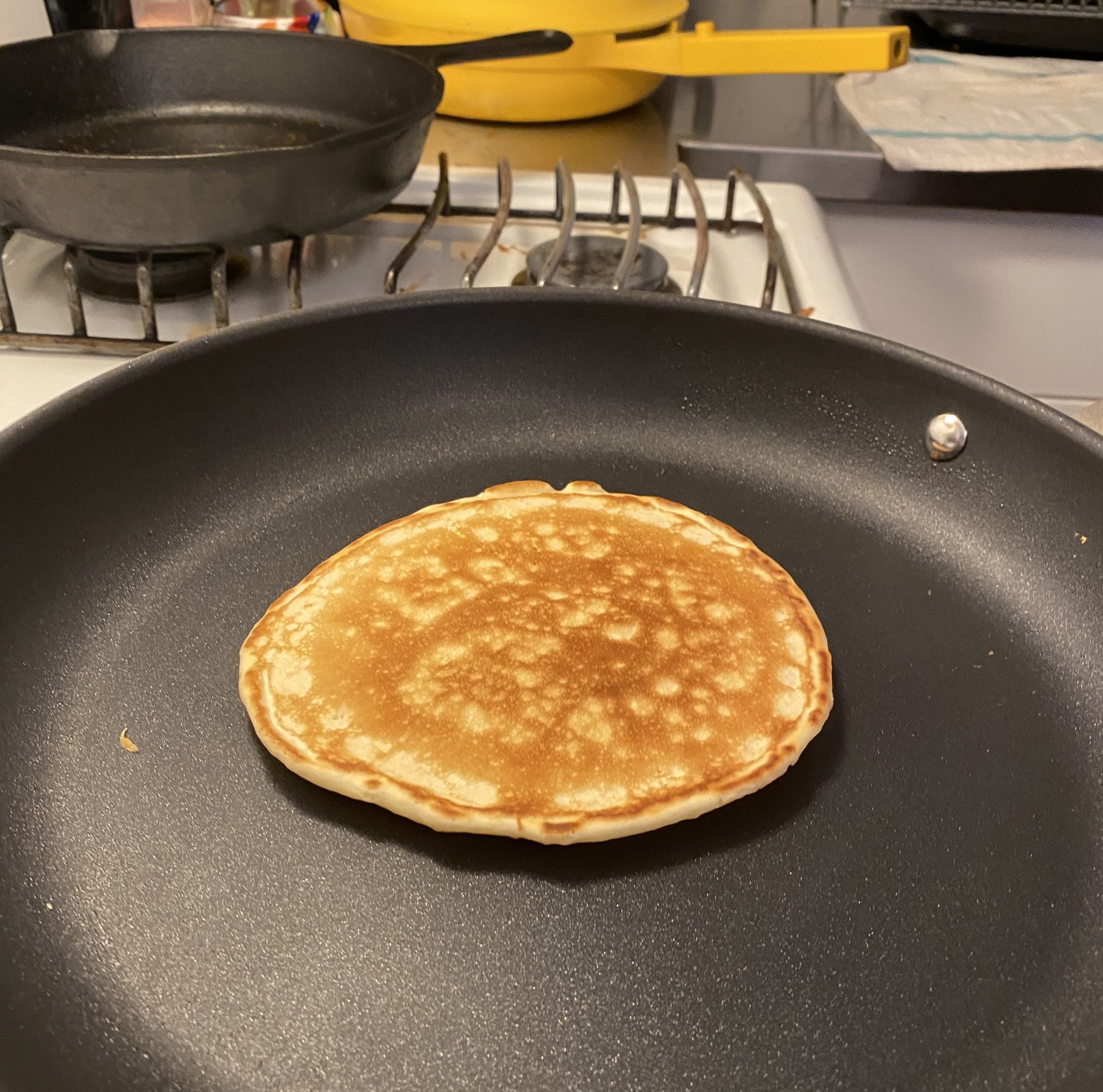 The final result of my pancake breakfast was so excellent I only snapped this one picture before completely devouring the stack.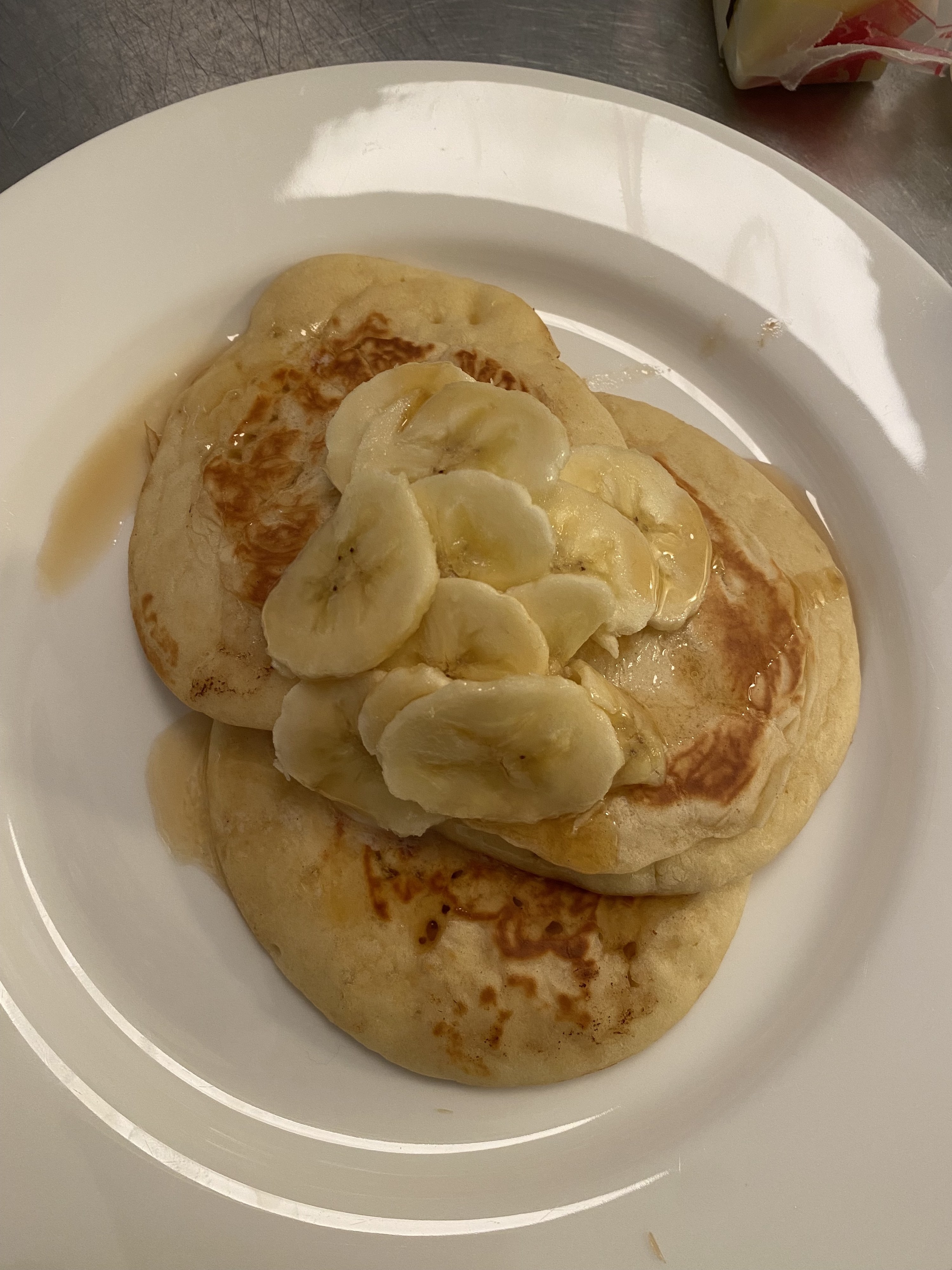 Next on the docket for breakfast was a little something I like to call Greek Eggs. Apparently the New York Times Cooking app likes to call it that too, because that's where I got the recipe from, and let me tell you it was as satisfying to eat as it was to cook. I whipped these up in the slightly smaller 10-inch pan since I didn't need a ton of surface area for this breakfast for two.
Now that you're aware of the pan's excellent nonstick capabilities, I thought I'd showcase its versatility through a more complicated recipe that requires more steps and, therefore, shows more of its phases of life.
Something that really set this pan apart from other brands for me is its ergonomic stay-cool silicone grip handle. If you tend to be a bit clumsy and often get hurt in the kitchen (me me me me me), this nifty design takes all the risk out of some of those trickier cooking maneuvers. Swirling a pan of hot tomato sauce or flipping a pancake? That was definitely *not* a thing, until now.
Once the garlic, tomatoes, and oil cooked down and the pan barely had any lubrication, it was time to add the beaten eggs and dried oregano. With a regular pan, this might have been a sticky situation, but not with Misen.
I was easily able to swirl the egg and tomato mixtures together to create a perfect blend of the two that went directly from pan to plate. Plus, I didn't have to deal with the messy cleanup that usually comes with eggs getting stuck to the high sides of a frying pan.
The final result? Truly couldn't have been any prettier or tastier. This go-to meal made in the go-to pan is mash-up you didn't know you needed in your life.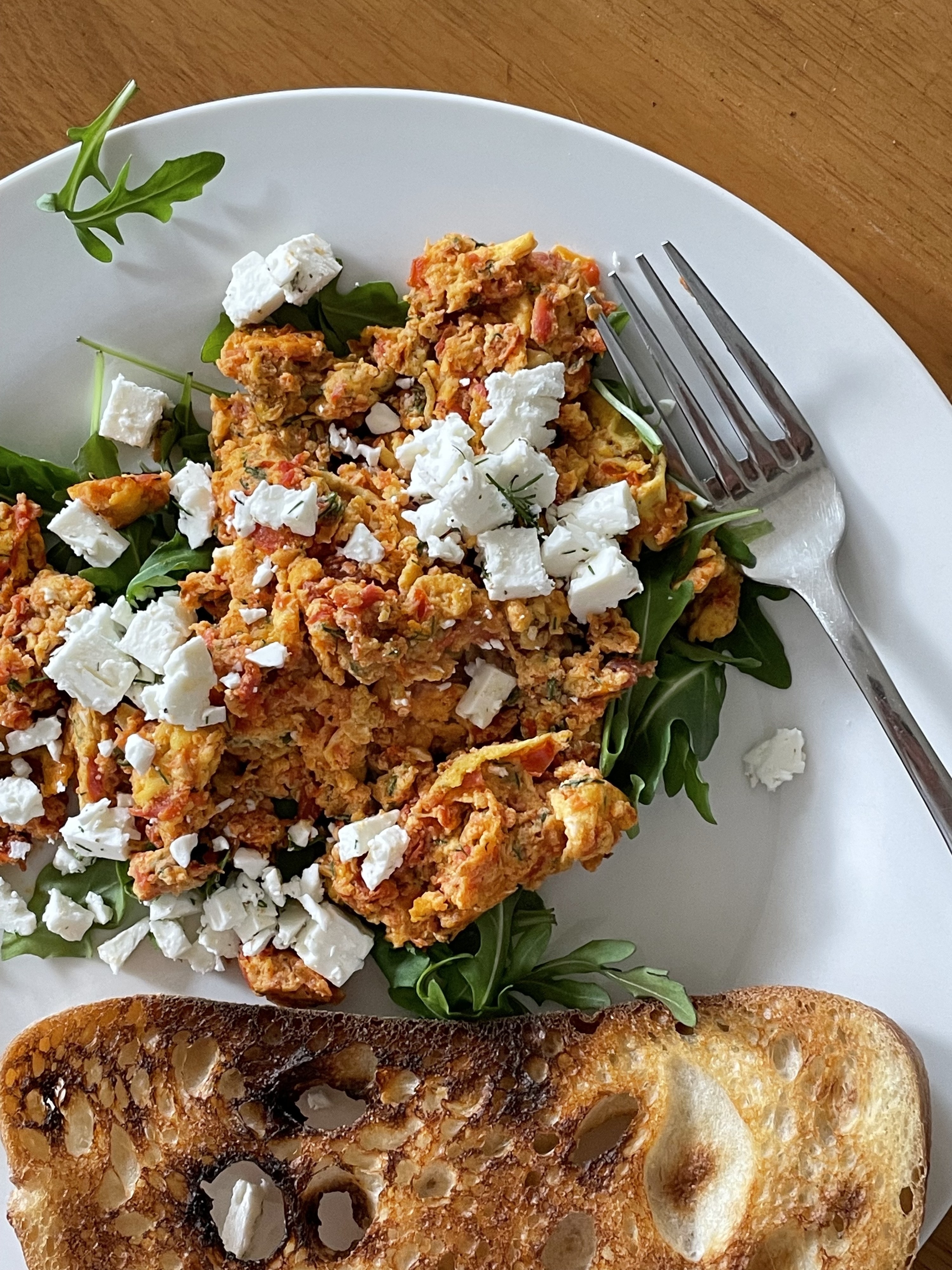 Last, in this week of breakfasts was a single pan-fried egg, which might be the most versatile brunch food out there. For this one, I used the perfectly petite yet still spacious 8-inch pan that feels like it's practically made for a solo egg brekkie.
If you had any further questions about its nonstick capabilities, let this picture quell any doubts in your mind. Without a single drop of oil or butter, the egg will literally lift itself off the pan by curling at the edges, making for the perfect scooping opportunity. So you can say goodbye to scraping your egg all around the pan with a spatula and hello to ready-to-go meals that you can slide easily onto a plate.
As far as longevity goes, I've had these pans for going on six months now and I haven't noticed any difference in their performance from the time I got them up until this point. For reference, I cook almost every meal every day and I only have one other go-to nonstick pan that's a bit deeper.
Voilà! If you're looking for a pan that will give you a perfectly cooked egg every. single. time. Misen is definitely the way to go. I tend to get a little icked-out by eggs if they aren't cooked perfectly to my liking and with this pan they come out the way I like them every time I cook them.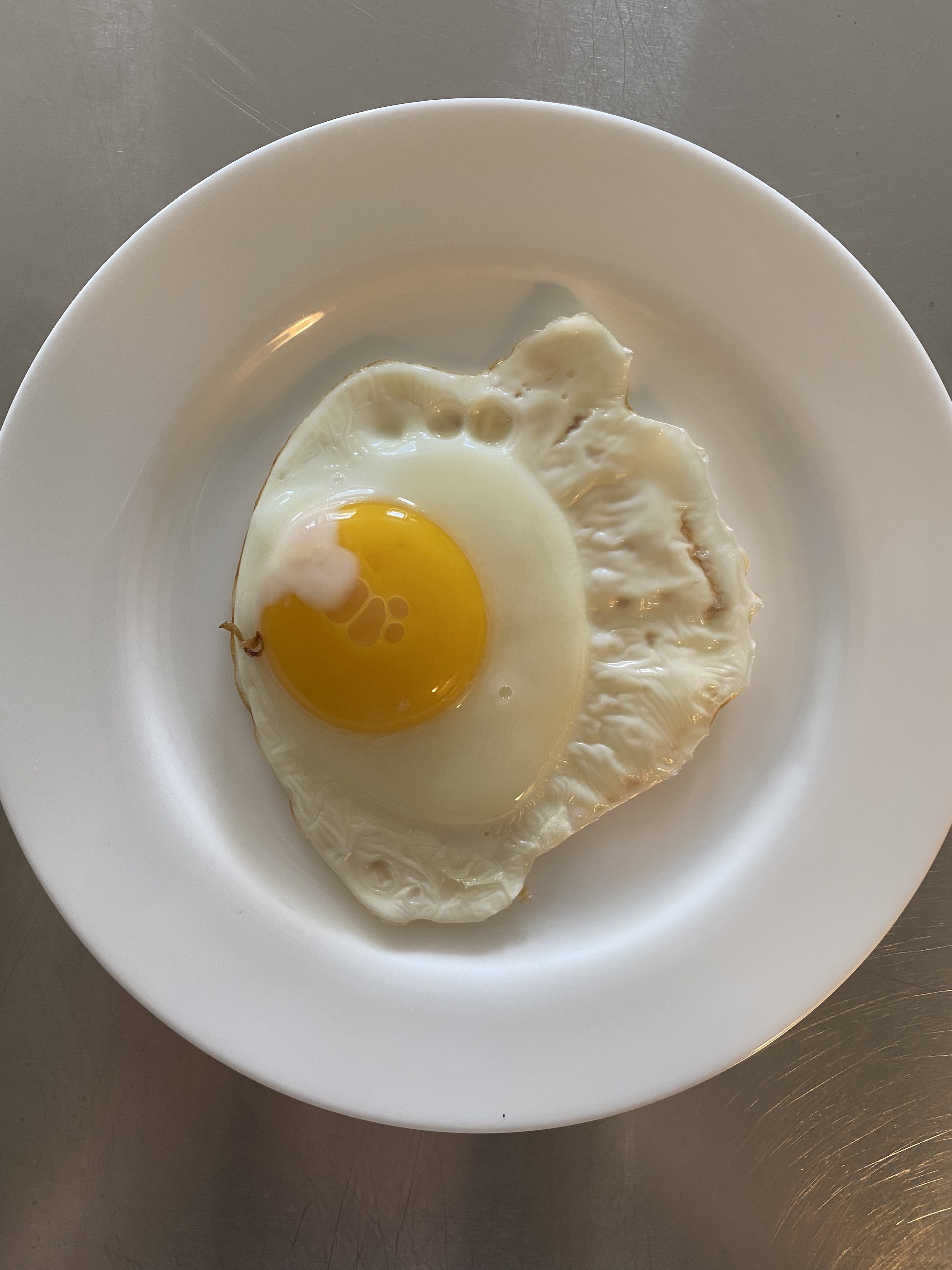 Just be sure to get some flapjack recipes prepared for their arrival!