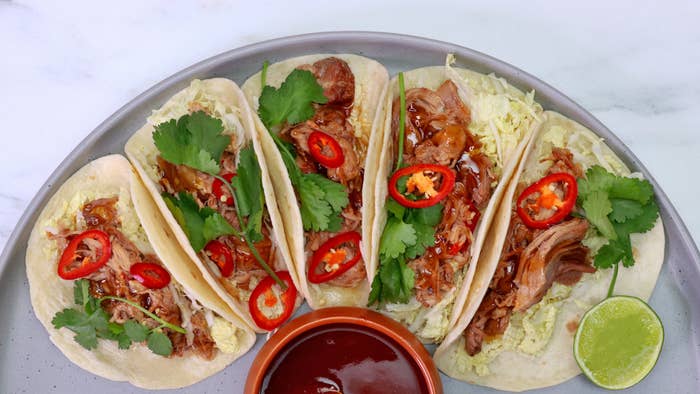 Ingredients
1 onion, diced
1 green capsicum, diced
1 red capsicum, diced
1 yellow capsicum, diced
1 tsp garlic, minced
1 tsp ginger, minced
1 cup pineapple, diced
2.5kg pork shoulder
¼ cup brown sugar
Salt, to taste
Pepper, to taste
Sweet & Sour Sauce
1 cup tomato sauce
3/4 cup pineapple juice
1/4 cup rice wine vinegar
2 tbsp soy sauce
2 tbsp oyster sauce
To Serve
12 mini soft tortillas
½ wombok, shredded
12 coriander sprigs
2 chilli, sliced
1 lime, cut into cheeks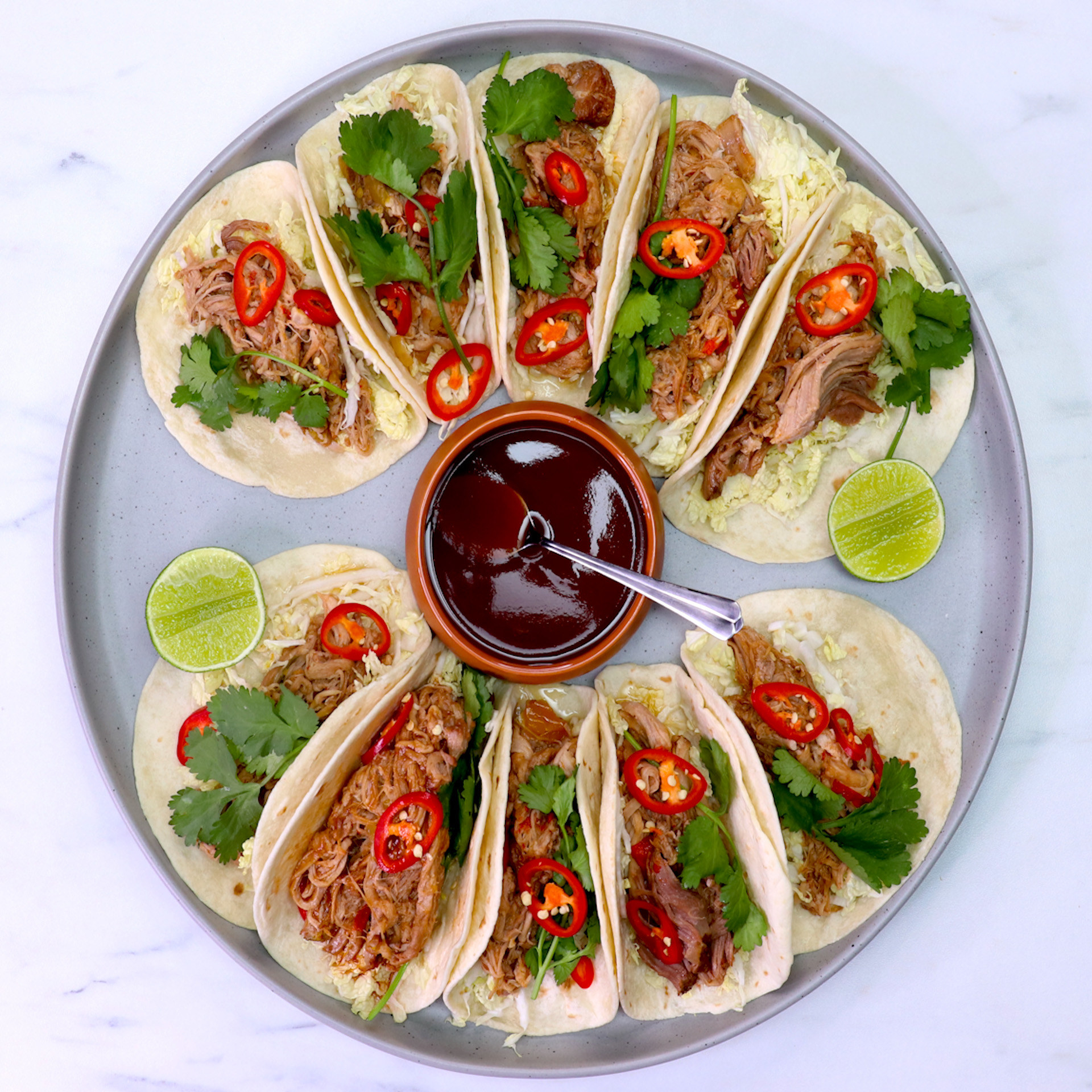 Method
STEP 1: Set a slow cooker to medium heat (or high if the slow cooker does not have a medium function). Then add the onion, green capsicum, red capsicum, yellow capsicum, garlic, ginger and pineapple. Stir to combine.
STEP 2: Add the pork shoulder on top of the mixed vegetables, then cover with brown sugar and season with salt and pepper.
STEP 3: To make the sweet & sour sauce, add tomato sauce, pineapple juice, rice wine vinegar, soy sauce and oyster sauce to a mixing bowl. Stir to combine, then pour ¾ of the sauce over the pork and reserve the rest for later. Add the lid on to the slow cooker and leave for 6 hours.
STEP 4: Remove the lid from the slow cooker, then peel off the layer of fat from the pork and discard. Using two forks, pull the pork in opposite directions until the whole shoulder has been shredded.
STEP 5: To assemble the tacos, fold a mini soft tortilla in half, then fill with a layer of wombok, a sprig of coriander, pulled sweet & sour pork and a few slices of chilli. Drizzle with leftover sweet & sour sauce. Repeat until all tortillas are filled. Arrange the tacos on a serving plate and garnish with lime cheeks.