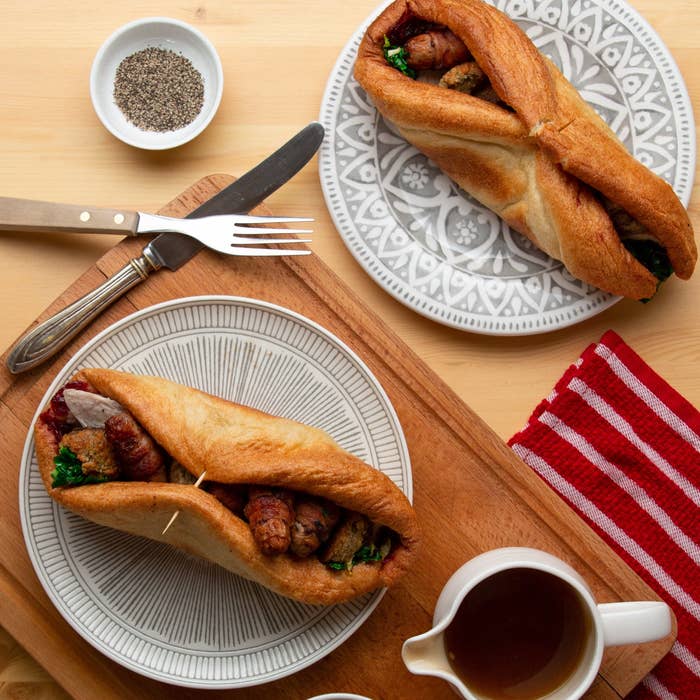 Ingredients
2 Aunt Bessie's Giant Yorkshires
1 tablespoon butter
50 grams shredded seasonal greens (we used a mixture of kale and shredded Brussels sprouts)
2 tablespoons oil
100 grams or 4 balls of stuffing
4 tablespoons cranberry sauce
6 pigs in blankets, cooked
4 slices of turkey breast
4 thyme sprigs, leaves picked
200 millilitres gravy
Salt and freshly ground black pepper
Preparations
1. Preheat oven to 180ºC.
2. Remove the Aunt Bessie's Giant Yorkshire's from the freezer. Either allow to defrost for 2 hours or microwave on high for 1 minute. Once defrosted, splash a tiny bit of water around the edges (to prevent cracking) and roll out to a flattened circle. Set aside.
3. Add the butter to a preheated frying pan. Once the butter begins to sizzle, add the leftover greens with some salt and pepper and sauté on a high heat for 2–3 minutes until softened and cooked al dente. Set aside.
4. In the same pan, add the oil. Halve your leftover stuffing balls and brown for 1–2 minutes on each side until crunchy and golden. Set aside.
5. Assemble your wrap. Spread two tablespoons of cranberry sauce on each Aunt Bessie's Giant Yorkshire, followed by the turkey slices, pigs in blankets, stuffing, and greens. Sprinkle thyme leaves on each wrap, then roll up the wraps and use a cocktail stick through the middle to hold everything together.
6. Place the wraps on a baking tray and bake for 7–8 minutes until warmed through.
7. While the wraps are cooking, reheat your gravy in the microwave or on the hob until piping hot.
8. Serve each wrap with a ramekin of gravy, dip in, and enjoy!