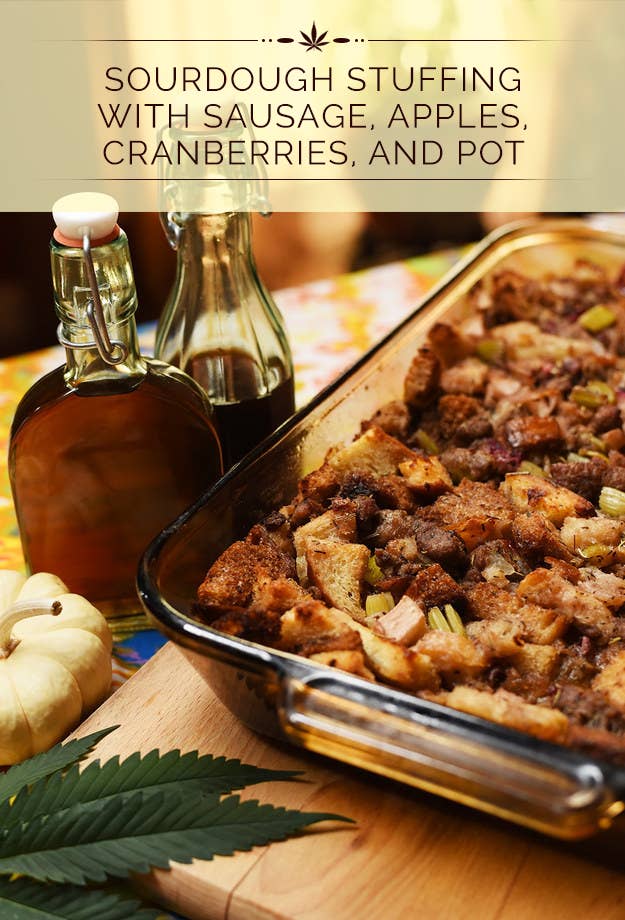 Sourdough Stuffing With Sausage, Apples, Cranberries, And Pot
Serves 10
INGREDIENTS
5 1/4 cups day-old sourdough bread, cubed
1 pound sage pork sausage
1 cup chopped onion
3/4 cup chopped celery
2 1/2 teaspoons dried sage*
1 1/2 teaspoons dried rosemary*
1/2 teaspoon dried thyme*
1 Granny Smith apple, cored and chopped
3/4 cup dried cranberries
1/3 cup minced fresh parsley
1 cooked turkey liver, finely chopped (optional)
1 3/4 cup Turkey Stock (can substitute store-bought chicken stock)
4 tablespoons Cannabis Butter, melted (click for recipe)
*substitute fresh herbs, if available, but you'll need to increase amounts to adjust
Special equipment:
Large baking sheet
Large skillet
Large bowl
Large casserole dish (13 x 9 x 2 works well)
DIRECTIONS
1. Preheat oven to 350°F
2. Spread the bread cubes in a single layer on a large baking sheet. Bake for 5-7 minutes or until evenly toasted. Transfer cubes to a large bowl.
3. In a large skillet, brown the sausage and onions over medium heat, breaking up any lumps.
4. Add celery, sage, rosemary and thyme to pan; continue cooking for a few minutes to blend flavors
5. Pour sausage mixture over bread in the bowl. Mix in chopped apples, dried cranberries, parsley, and liver.
6. Put stuffing mixture into a lightly oiled casserole dish.
7. Drizzle with turkey stock and melted butter.
8. Bake at 350°F for 40 minutes, covered; then 15 minutes uncovered. Serve.