How To Make Sourdough Stuffing With Sausage, Apples, Cranberries, And Pot
This recipe is part of our Danksgiving party menu.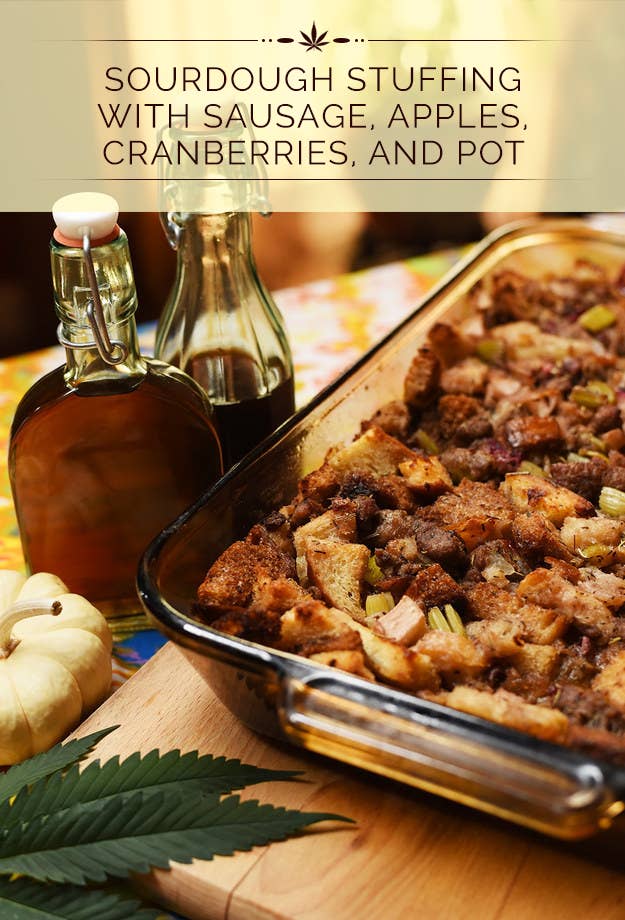 Sourdough Stuffing With Sausage, Apples, Cranberries, And Pot
Serves 10
INGREDIENTS
5 1/4 cups day-old sourdough bread, cubed
1 pound sage pork sausage
1 cup chopped onion
3/4 cup chopped celery
2 1/2 teaspoons dried sage*
1 1/2 teaspoons dried rosemary*
1/2 teaspoon dried thyme*
1 Granny Smith apple, cored and chopped
3/4 cup dried cranberries
1/3 cup minced fresh parsley
1 cooked turkey liver, finely chopped (optional)
1 3/4 cup Turkey Stock (can substitute store-bought chicken stock)
4 tablespoons Cannabis Butter, melted (click for recipe)
*substitute fresh herbs, if available, but you'll need to increase amounts to adjust
Special equipment:
Large baking sheet
Large skillet
Large bowl
Large casserole dish (13 x 9 x 2 works well)
DIRECTIONS
1. Preheat oven to 350°F
2. Spread the bread cubes in a single layer on a large baking sheet. Bake for 5-7 minutes or until evenly toasted. Transfer cubes to a large bowl.
3. In a large skillet, brown the sausage and onions over medium heat, breaking up any lumps.
4. Add celery, sage, rosemary and thyme to pan; continue cooking for a few minutes to blend flavors
5. Pour sausage mixture over bread in the bowl. Mix in chopped apples, dried cranberries, parsley, and liver.
6. Put stuffing mixture into a lightly oiled casserole dish.
7. Drizzle with turkey stock and melted butter.
8. Bake at 350°F for 40 minutes, covered; then 15 minutes uncovered. Serve.