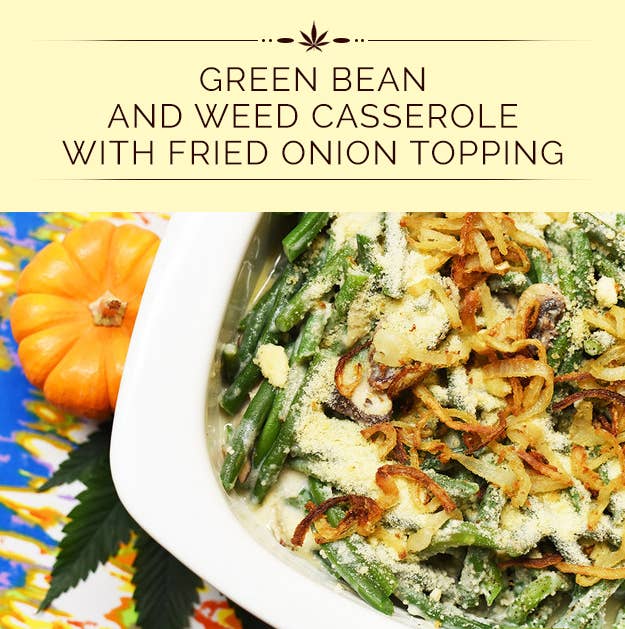 Green Bean And Weed Casserole With Fried Onion Topping
Serves 8
INGREDIENTS
For the casserole
2 pounds of green beans, trimmed and halved
6 tablespoons of Cannabis Butter (click for recipe)
1 pound mushrooms (your choice of variety — button or shiitake work well)
2 garlic cloves, minced
4 tablespoons flour
1/2 teaspoon salt
Pepper to taste
2 1/2 cups milk
1 tablespoon soy sauce
For the onion topping
1/2 onion, peeled, cut in half and sliced thin
1/2 cup flour
4 tablespoons Cannabis Butter
Salt to taste
Equipment
Large sauté pan
Large pot
Slotted spoon
Large casserole dish
DIRECTIONS
For the casserole
1.Preheat oven to 350°F.
2.In a large pot of boiling salted water, cook beans until tender, about 6 minutes. Drain the beans and rinse with cold water to stop the cooking. Pat dry. (This step can be done a day in advance. Just refrigerate the beans until ready to use)
3.Melt Cannabis Butter in a large sauté pan over medium heat. Add garlic and mushrooms and cook for 2-3 minutes, stirring occasionally.
4.Sprinkle in the flour and stir — careful not to let the flour burn — for about 1-2 minutes.
5.Add salt and pepper.
6.Whisk in the milk and soy sauce and scrape bits off the bottom of the pan to incorporate. Bring to a simmer and continue to whisk and cook until the sauce thickens (about 5 minutes).
7.Mix the sauce with the prepared green beans and scoop mixture into a casserole dish.
8.Bake in the oven until bubbly — about 15 minutes.
9.Remove from oven and top with fried onions (directions below). Serve.
For the Fried Onion Topping
1.While the casserole is baking, put flour in a re-sealable plastic bag.
2.Add onion slices to bag and shake until evenly coated with flour.
3.Melt the canna-butter for the topping in a large sauté pan over medium heat.
4.Shake excess flour from onion pieces before adding them to the pan.
5.Cook for 1-2 minutes per side until golden brown (they cook quickly, so keep an eye on them). Don't crowd the onions in the pan. Depending on the size of your pan, you may need to do this step in batches.
6.Using a slotted spoon, place cooked onions on a paper towel lined plate and season with salt. Set aside for topping casserole. (The onions can be prepared up to 2 days in advance and stored in an air-tight container lined with paper towels at room temperature).