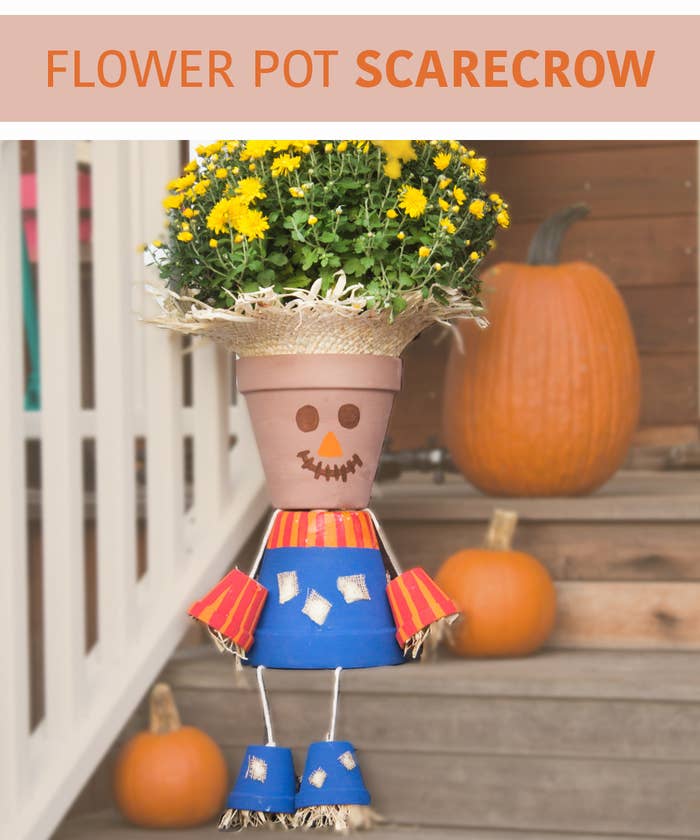 Supplies:
2 large flower pots
4 small flower pots
Tan paint
Brown paint
Orange paint
Red paint
Blue paint
Flowers
Straw hat
Jute or cotton rope
Instructions:
DECORATING THE POTS
1. Before painting, seal all terra-cotta pots with a sealant.
2. Paint your first big pot tan and once that dries, draw a scarecrow face onto it.
3. Turn your second large pot upside down. Paint the "top" half orange. Once dry, paint on red stripes for decoration.
4. Once the top half is dry, paint the other half of that pot blue.
5. When the blue is dry, cut small squares of ribbon to make "patches" and glue them on the blue area of the pot for decoration.
6. Paint 2 little pots orange with red stripes.
7. Paint the other 2 little pots blue and glue little ribbon "patches" onto them.
ASSEMBLING THE SCARECROW
1. Take a piece of rope that is about 3 feet long and tie it in half. Create a knot that is large enough to NOt fall through the drainage hole on your large pot.
2. Place the rope into the "head" pot with the knot resting above the drainage hole and the loses ends coming out from the bottom on the pot.
3. On those loose ends, tie the 2 little orange/red striped pots.
4. Place a star hat upside down in the "head" pot (so that the brim is resting on the edge of the pot).
5. Place your flowers inside the pot (on top of the hat)
6. Glue strips of hay into the little pots.
7. Take another 3 foot rope tied with a large knot at the center. String the loose ends through the drainage hole on the large orange and blue pot (but this one should be upside down) and loose ends of the rope coming out from underneath the pot.
8. Tie the little blue pots to those lose ends.
9. Place the head on top of the body and secure with heavy duty glue.