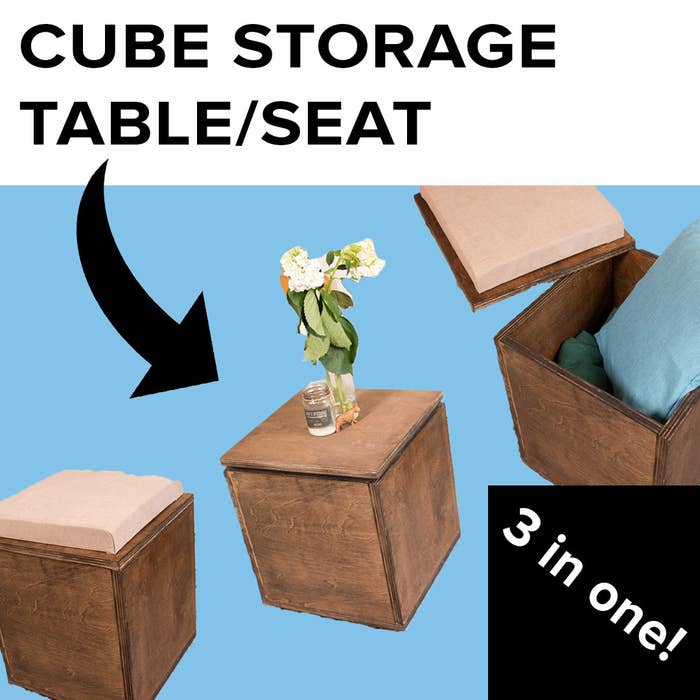 SUPPLIES
4 18x18 planks, 1 inch thick
2 16x18 planks, 1 inch thick
Wood glue
INSTRUCTIONS
Assembling The Cube:
1. Make the perimeter of your cube by using wood glue to attach two 18x18 planks and two 16x18 planks. Once the wood glue is dry, reinforce the glued areas with nails every 2 inches.
2. Apply glue to the edges ot the wood and place a 18x18 plank on top. Once the wood glue is dry, reinforce with nails.
3. Sand down the entire cube.
4. Wipe off any debris left from sanding.
5. Prime, stain and seal the wood.
6. Screw 4 wheels to the bottom of the cube.
Creating The Cube Lid:
1. Repeat steps on a separate 18x18 plank.
2. Create a seat cushion by using spray adhesive to attach a 16x16 piece of foam to a ¼-inch thick piece of wood.
3. Upholster the cushion with durable fabric and a stable gun.
4. Map out a 16x16 space in the center of the 18x18 piece of wood.
5. Sand slightly, wipe away the excess shavings, and add glue the upholstered cushion to the 16x16 space on the lid. Allow 24 hours to fully dry.