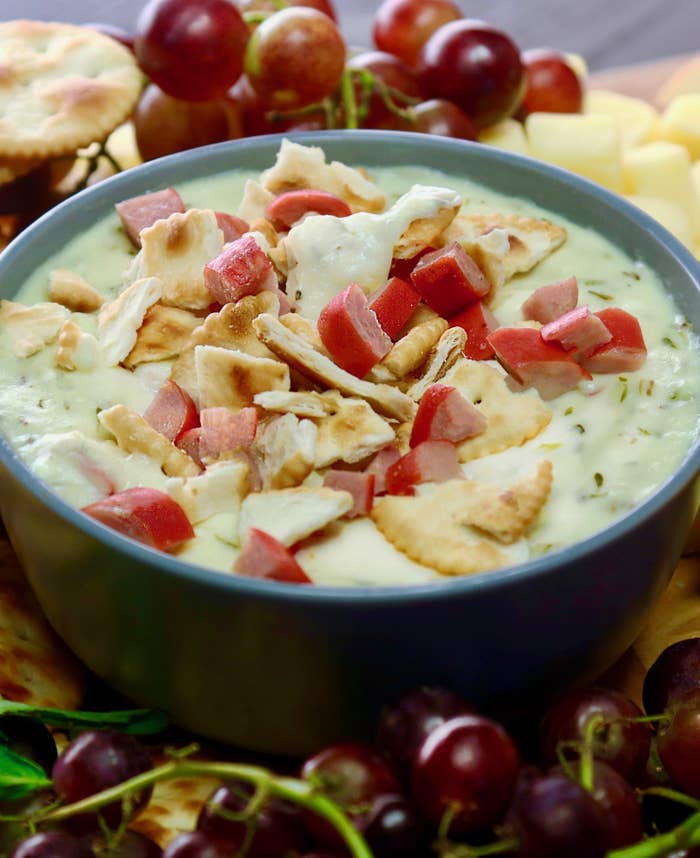 INGREDIENTS
* 30g unsalted butter
* 3 tbsp plain flour
* 500ml full cream milk
* Dried thyme leaves to taste
* ¼ tsp garlic powder
* ¼ tsp salt
* ½ tsp pepper
* 2 tsp dijon mustard
* 1 cup gruyere, shredded
* 75g cream cheese, cubed
* 1 cup shredded tasty cheese
* 1 cup cabanossi/kabana, chopped
* Chopped cabanossi/kabana for garnish
* Chopped Jatz/Savoy for garnish
PREPARATION
In a medium saucepan, melt butter over a medium heat. Add flour, whisking until mixed completely.
Remove saucepan from heat and gradually whisk in milk.
Return pan to a medium heat, add thyme, garlic powder, salt, pepper and mustard until smooth. Bring to boil.
Reduce heat to medium and add gruyere, whisking constantly until smooth. Whisk in cream cheese until melted and then cheddar until melted. Remove from heat.
Stir in chopped cabanossi/kabana.
Garnish with chopped Jatz/Savoy and chopped cabanossi/kabana.
Serve immediately with Jatz/Savoy.