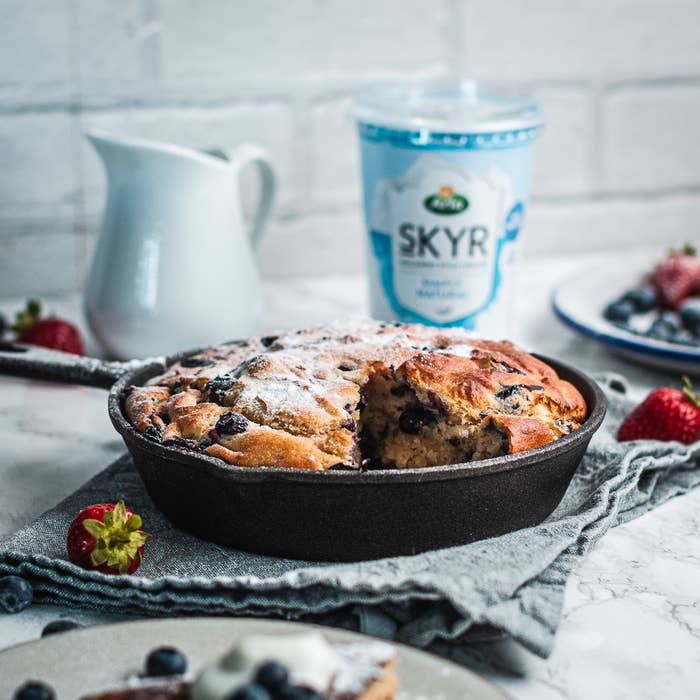 Ingredients
450 grams Arla Skyr Natural Yogurt
75ml milk
2 eggs
75g butter, melted and cooled
50 millilitres maple syrup
300 grams self-raising flour
3 teaspoons baking powder
½ teaspoon salt
200 grams blueberries
To serve
Arla Skyr Natural Yogurt
Maple syrup (optional)
Strawberries
Icing sugar (optional)
Preparations
1. Preheat the oven to 180˚C, and grease a 25-cm diameter frying pan with a little butter. Set aside.
2. To make the pancake batter, add the Arla Skyr Natural Yogurt, milk, eggs, 5 tablespoons melted butter, and maple syrup to a bowl and mix with a whisk. Set aside.
3. To a large bowl sieve the flour, baking powder, and salt.
4. Next add 160g of the blueberries to the dry ingredients. Stir to combine and make a well in the center of the dry ingredients.
5. Add your yogurt mixture and stir until fully combined. (The key here is not to overmix! Lumps are all good! If you overmix the batter, you will end up with a rubbery pancake!)
6. Pour the batter into your greased frying pan, smooth over the top, and sprinkle over the remaining 40g of blueberries.
7. Bake in the oven for 25–30 minutes or until golden brown and cooked through.
8. Once cooked, slice and serve with an extra dollop of creamy Arla Skyr Natural Yogurt, maple syrup, strawberries, and a dusting of icing sugar. Enjoy!