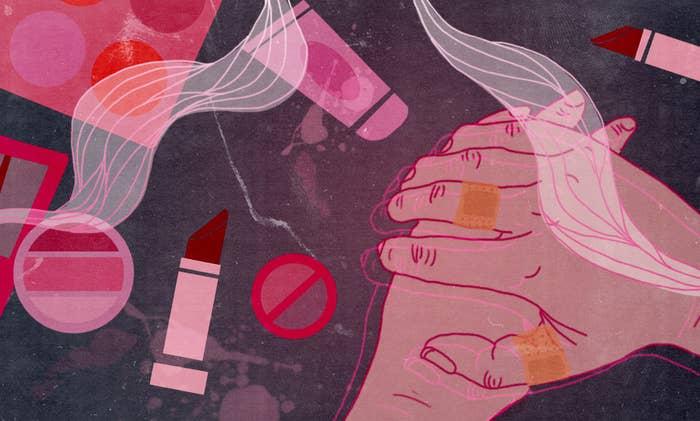 Most of the time I feel like a stranger to myself. Learning to love a stranger is difficult and unsettling: It's walking to your front door and seeing someone new, having them around the house for a bit to be polite, and then suddenly their toothbrush is in the bathroom and you find their stray hairs on your clothes on the way to work. They're stuck with you, and you have no idea how or why. This is a visit with my body. It is the unwelcome relative, a stranger I'm obligated to love.
It wasn't always like this, but it's stretched into the past few years, and crawling out of this particular chrysalis has been proving more difficult than I'd hoped. As a misguided resolution for the year, I challenged myself not to tell my stories through the lens of my post-trauma body and mind — but I clearly failed, because I couldn't write for weeks. I wanted to be better than it and past it. Because I do want to be better now, I want to have a clear before and a clear after: a simple transformation, a feel-good story of success. It's a fantasy, but one I can try to commit to. In an effort to get there I try to find myself in new ways. I try to find a way back to my body all the time; I re-create myself over and over again, looking for something new to believe in, a version of me I can recognize and find interest in.
I find this in rituals.
First came perfume. Navigating a body by pulse points: This is an abbreviated love. A brief manipulation of memories. Intimacy with no pressure. A stranger can be fun; you trail them and follow the smell, not the sight. Disassociating smells from vision in this way helps, a lot, because in winter at night everyone looks like my nightmare, dressed in black fur, walking too fast. I know that the people I meet who get close enough will never forget the smell of me, a particular mix of vetiver and powder and fruit.
Second came my nails, my hands in general. It's an unspoken thing when you're a queer girl — often when you're sleeping with someone, you cut your nails to the quick for the mechanics of sex itself. I was always a sadist in relationships, though. I cherished growing my nails into carefully manicured stilettos, and I'd spend hours tracing bodies until they swelled and bled. Nails were always particular in their process, long and giving and cruel.
Now that I don't shape them, I find that they break in ways they never did before. I keep rescheduling manicure appointments for no reason at all. I pick the skin around my fingers until they bleed. I do this when I'm nervous, or scared, or just simply bored. It's not a relief to pick, but it's something I have to do often until one of my friends grabs my hands and refuses to let them go.
Picking makes my relationship to my body worse, but at least it's a solid anchor between my mind and body, and it might be the only constant one I have right now. It is an explicable measure of time. Here is a scab, pick it off, wait for it to grow, pick it off. Like breathing. As necessary, as hypnotic. I watch the skin harden, and paying attention to its recovery helps me remember I own this damage. I am controlling this particular hurt. It doesn't make it right, but it does make something. Wanting to hurt yourself is still a kind of wanting, even if it's the wrong kind. You have to start somewhere.
The picking has replaced most of the pleasure I would otherwise seek out. On my birthday, I sat in the chair and let someone else hurt me — which is to say I went to a spa, and I got a facial and extractions, my blackheads scooped out, my acne poked and prodded for no less than an hour. Facial extraction is a bit like getting blood drawn: When you get blood drawn, the prick of the needle is half a second long. Multiply this by 15 times a minute, throughout your entire face, and you're suddenly in a spa. It hurts, but it's a good hurt, an exorcism of sorts. It's totally fine to tear up in a spa. This is a pain you pay for, you pay professionals to do to you, navigating your filth with expert precision and a magnifying glass so you don't have to.
It's strange, but wincing under that kind of examination made me feel so incredibly self-possessed. I had handed over my imperfections completely to someone else, and it was the first time in months that I felt entirely seen — and cared for too.
It was unnerving how much enjoyment I received out of that hurt, because I knew exactly why it meant so much to me. The willful pain of an extraction has the same limits as a good relationship: They check in to see if you hurt, you navigate the hurt together; you know each hurt is good for you. You're both finding the points to push through and the points to pass over. It is a healthy process with a clear beginning and clear end; one that is good for you, one that edifies and that you feel better for enduring. There are limits here, and they are all good.
Necessarily, I don't really have that neat or positive narrative anymore — with romantic partners, least of all with myself. I have to exist, all of the time, on terms that bend and wane with the fluctuating value of my self-worth and the value of my body. That agency is hard won. It is a small victory, over and over again. I can't say I'm better now entirely, though there are times when I have recovered, where I have won. For awhile. But these small victories and rituals don't mean I'm done. They are survival mechanisms, but not necessarily ways to thrive. And that difference — it's the difference between treading the water and swimming to shore. Agency is not given to women, but it's constantly taken away. And when it is stolen from us, we realize with a sinking terror, the value of what was lost.