Hi. You know Gerard Way, frontman of My Chemical Romance, and Steve Aoki, EDM musician and producer extraordinaire.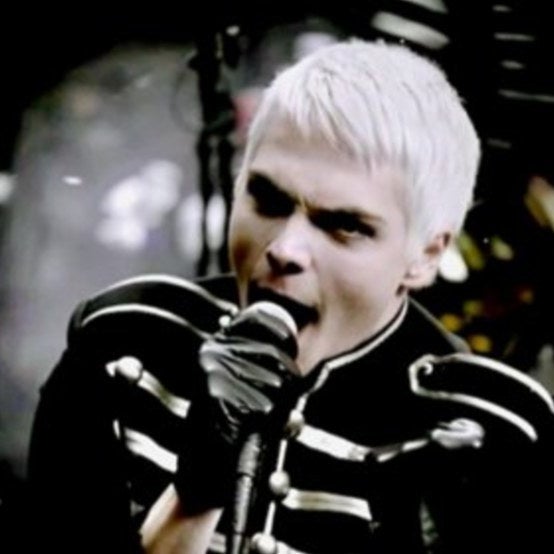 Well, they've paired up for a special 10th anniversary remix of MCR's iconic song "Welcome to the Black Parade" that we're releasing exclusively here on BuzzFeed.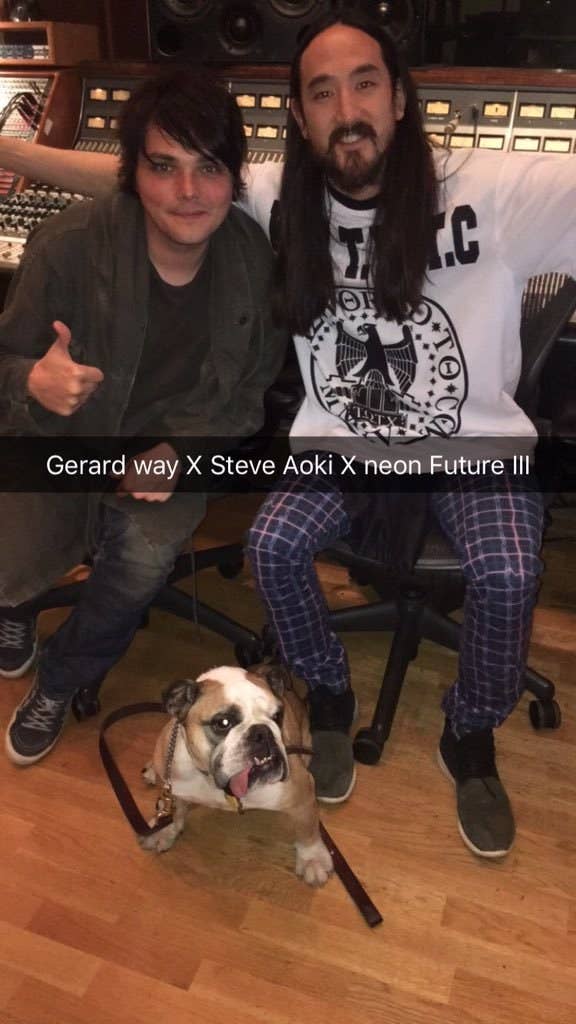 We chatted with these extremely talented dudes about their process, what this song means to them, and of course, those MCR reunion rumors.
So this is obviously huge, the 10th anniversary of The Black Parade. What does this record mean for each of you today?
Gerard Way: It represents a very intense time, which is funny, because it's a really intense time right now. We really tried to make this record kind of a universal theme about death, and that seems to always be relevant. To me, it means the purest kind of creative artistic expression that we could possibly have created.
Steve Aoki: And from a fan perspective, for me to be able to work on this song, and just for someone that loves this song... All the great bands, they always have a song that has the weight that "Black Parade" has — this is a song that's not just representing My Chemical Romance, it represents an entire culture. This is absolutely one of the most important songs of our generation. I'm just happy that the 10-year anniversary came out and I was lucky — honored — to be able to work on it.
So, Steve, what was your process like remixing this song? Because it is so iconic.
SA: Well, I know it sounds like I'm over-dramatizing, but it really did take me a few months to wrap my head around how I was gonna, you know, ~get into~ the song. Because when you have an incredible song like this, you don't wanna take away certain parts that are so integral, so important — how do you mess with something that's already so good? I worked on this remix a lot more than most remixes, for sure. Because it's a complex beat, and it destroys any formula for writing music. Which is incredible, because it became what it was for that reason, too. Everything that I worked on with this song, everything was fresh — everything was inspired by the song.
And Gerard, what was your reaction to hearing Steve's remix of a song that means so much to you?
GW: You know, when you've written a song, sometimes it's really hard to wrap your brain around what somebody else is doing, or maybe the way that they see the song. But right away, I really loved his remix. And what I love about it is the sounds are phenomenal, and he's kept the intensity, and I think in some ways, the purpose of the song. So, I loved it right away. I was like, this is really cool. And it's always fun to hear somebody, especially somebody as talented as Steve, it's fun to hear the way they see the song. It has that bed of music there, still, that the band was a part of. It has those important melodies, and it has those important root notes. So, you know, I think it does a really great job of capturing the essence of the song and turning it into something new.
You guys have created this friendship over the years, and you're fans of one another. Steve, what's your favorite My Chemical Romance song, and Gerard, what's your favorite song by Steve?
SA: "Black Parade" is the all-time song. I mean, I love "So Long and Goodnight," that's like another epic song from that period in time —
GW: Oh yeah, "Helena."
SA: I love that song.
GW: For me, it's pretty easy. I love "I Love It When You Cry." It's a hard sentiment to pull off, you know? The melody is incredible, and the music under it, I think that that's my favorite.
I have to ask — there's so much excitement surrounding the 10-year anniversary of The Black Parade and My Chemical Romance. Is there a reunion planned?
GW: You know, there aren't any plans for a reunion, or a tour, or anything like that. I guess what is just really cool, you know, the relationships between the people in the band are really solid. I think everybody misses each other, and we definitely miss playing with each other — but at the same time, everybody is really happy with their lives. And we're able to recognize that My Chemical Romance was this one period, this moment in time that we're really proud of. But I think the most important thing is that everybody is happy creating, and doing what they want to do, and have really great relationships with each other.
And do you guys have any plans to work on more music together in the future?
SA: Yeah, well, we wanna keep people on their toes, but we definitely jumped in the studio together, and you know, we're gonna start... Whatever we do, we'll let you know for sure.
You can download the 10th anniversary remix of "Welcome to the Black Parade" right now on iTunes and Apple Music, and stream it on Spotify.