Listen to British Music of the 1960s and Rock On!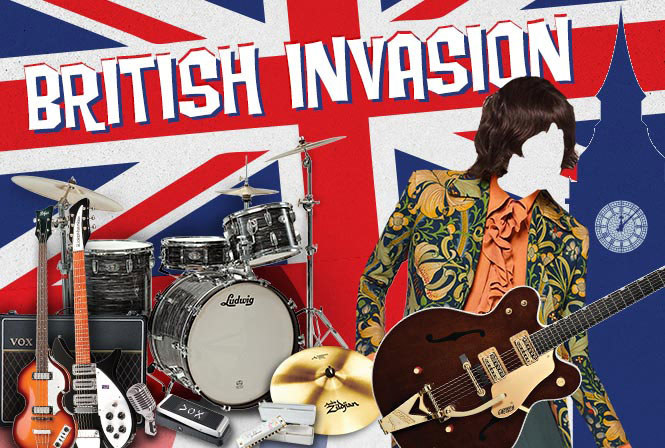 1. Because - Dave Clark Five
Year: 1964
'It's right, it's right to feel I do,
Because, because I love you.'
2. You Really Got Me - The Kinks
Year: 1964
'Girl, you really got me going.
You got me so, I don't know what I'm doing now.'
3. Hush - Deep Purple
Year: 1968
'I got certain little girl, she's on my mind
No doubt about it she looks so fine.'
4. Arnold Layne - Pink Floyd
Year: 1967
'Arnold Layne had a strange hobby,
Collecting clothes,
Moonshine washing line'
The song 'Arnold Layne' is the band's first debut single. One of their most famous songs are 'Another Brick The Wall' - 'we don't need no education'. Their song, 'Shine on You Crazy Diamond' is the song choice of Sandra Izbasa, a Romanian gymnast, during her floor exercise in London Olympics 2012.
5. Happy Together - The Turtles
Year: 1967
'I can't see me loving nobody but you,
For all my life.
When you're with me,
Baby the skies will be blue,
For all my life'
6. Drive My Car - The Beatles
Year: 1965
'Baby you can drive my car,
Yes! I'm gonna be a star,
Baby you can drive my car,
And maybe I'll love you.'
A song famously written by Sir Paul McCartney (but not as overplayed as 'Hey Jude').
7. My Generation - The Who
Year: 1965
'Just because we get around,
Talkin' 'bout my generation.'
So many things have happened in the 1960s, to name a few remarkable events they are: JFK assassination, Civil Rights Act of 1964 (banning discrimination on: race, gender, religion and ethnicity) and Voting Rights Act of1965 (US President Lyndon Johnson allows African-American to vote).
Meanwhile at home (the UK): 1960s was the decade when Parliament debates about the UK's membership of the EC (European Community - the former name of the EU European Union).
8. Satisfaction (I Can't No) - The Rolling Stones
Year 1964
'I can't get no satisfaction,
I can't get no satisfaction,
cause I try, and I try, and I try...
I can't get no, I can't get no'
Who would ever forget the most famous song sung by Mick Jagger?
9. The House of the Rising Sun - The Animals
Year: 1964
'There is a house in New Orleans,
They call the Rising Sun,
And it's been the ruin of many a poor boy'
10. Catch the Wind - Donovan
Donovan is not a band, but he is rather a musician from Scotland.
Year: 1965
'In the chilly hours and minutes
Of uncertainty, I want to be
In the warm hold of your loving mind'
This post was created by a member of BuzzFeed Community, where anyone can post awesome lists and creations.
Learn more
or
post your buzz!